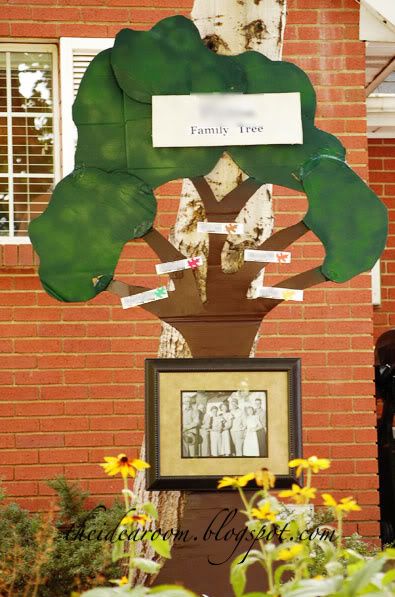 My parents were recently in charge of an annual Family Reunion a couple of weeks ago. My siblings and I were all given different assingments to help with the reunion. My job was to come up with a way to display the Family Tree. With the help of my mom and sisters, we decided to make a tree to display each individual family member and connect them to the aunt or uncle they directly descended from.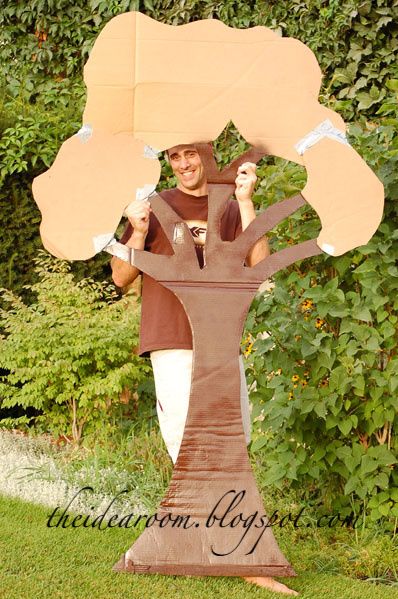 Remember my hubby's love for collecting all things cardboard under our porch? Well, it came in handy once again. I was able to find some large peices of cardboard to make a large cardboard tree. Although I have grumbled about his "trash" collection, once again I have found it quite useful. Can't you see that look of smug satisfaction on his face?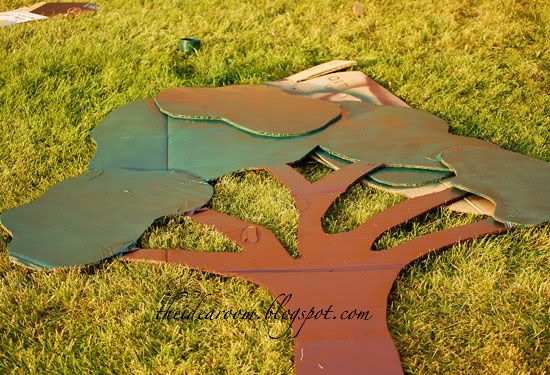 Since the cardboard was not as wide as I needed, I cut out a couple more "fluffy" leaf shapes and added them to each side of the tree with duct tape. Then I spray painted the leaves green and the trunk brown. I hammered a couple nails into the cardboard to attach the cardboard tree to a real tree to display it. The top nail was also used to hold up a sign that had our family name displayed on it and the lower nail was used to also hang the picture frame from. I wrapped wire around the picture hanger and the nail to ensure that the picture would not be accidently knocked off and broken.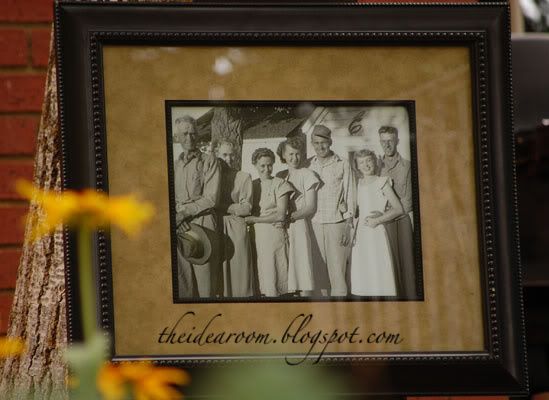 My mom enlarged a picture of my grandmother's immediate family (the reunion is for all of their descendants) and I placed it in a frame that normally houses a family photo in my entry way.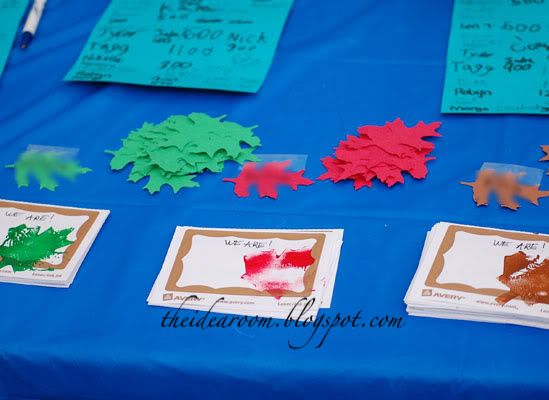 My sister prepared some name tags that were colored coded according to which brother or sister you came from. Each person was to wear the colored name tag and also write their name on a cut-out leaf of the same color. When each person arrived, they placed their name on the limb of the tree that was labeled with their ancestors name. It was fun to be able to get a visual of just how many people came from this little family and to be able to see who belonged where.
I know that the season for family reunions is usually summer and we are moving beyond that, but maybe this will be something you can use and adapt for an upcoming reunion or activity. Or maybe it will inspire you to host your own family reunion. In the near future I will post some of the fun activities we did at the reunion!