**Next week my kids are out of school for Spring Break. I will be off playing with them and so therefore I plan on taking a short blogging break. I will not be answering emails or sending out items purchased from the Idea Room Store. (Everyone who has ordered as of right now…your orders have been sent). I do have a couple of posts scheduled next week, including a guest post and another giveaway so be sure to check back in…you won't want to miss them. I will also sneak online to announce the MikaRose and Kid Giddy giveaway winners! But before I sign off, here are some last minute Easter ideas.
Rice Chex Krispy Bunny Pops
Ingredients:
1 stick butter
1 package (10 oz.) miniature marshmallows*
6 cups Rice Chex
Directions:
1. Melt the butter in a large skillet over medium low heat.
2. Add the marshmallows and stir frequently until they have melted.
3. Add the Rice Chex and stir until all of the Chex are throughly coated.
4. Spread the Rice Chex mixture into a greased 9 x 13 casserole dish.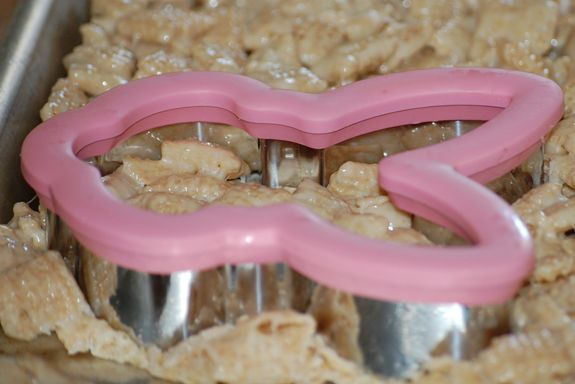 Before they have cooled completely, take a cookie cutter and cut out some Easter Bunny shapes (the cookie cutter is made by Wilton's). Stick a sucker stick up into the bottom of the bunny's head and let them cool completely.
Then take some almond bark or white meltable candy coating (or white chocolate chips) and melt it in the microwave. Spread the chocolate onto the bunny head. Then add two chocolate chips for the eyes and a pink Peanut M&M for the nose. To make the ears I just sprinkled a pink decorating sugar in the shape of the inner ear.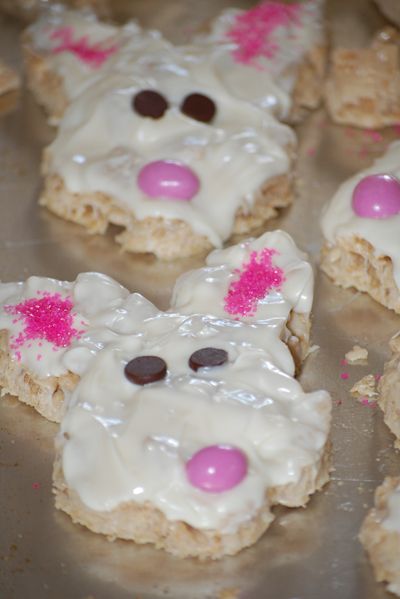 Make some cupcakes and decorate them to look like a robin's nest with some bright blue robin eggs. Simply frost the cupcake with white frosting and then dip it into some toasted coconut. Top with 3 blue Peanut M&M's.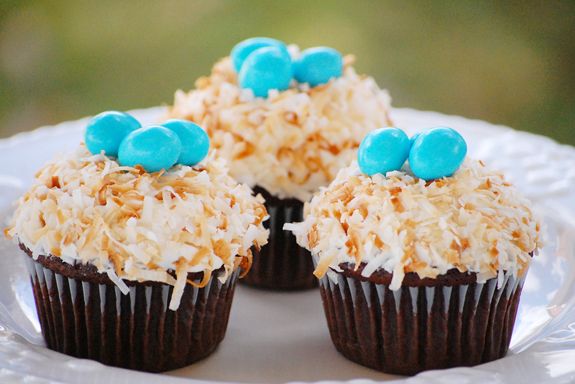 Or…make some bunny cupcakes. Use some melted white chocolate and spread it out onto wax paper into the shape of a rabbit ear. Before it hardens, slide some toothpicks into the bottom of the ears. Then add some pink frosting or some more pink sugar to make the inner ear.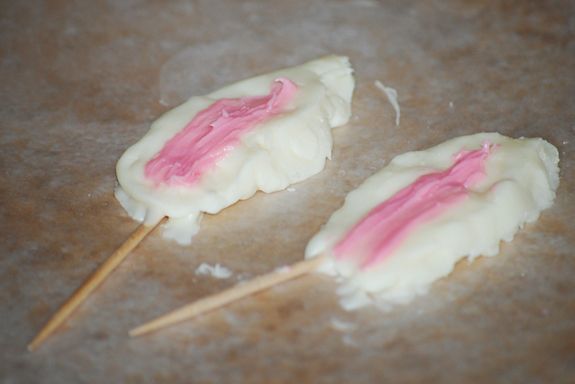 Then simply let the ears dry. When they have dried, carefully remove them from the wax paper and stick the toothpick end into the top of the white frosted cupcake that has already been dipped into some shredded coconut. Add some eyes and a nose and you are all set.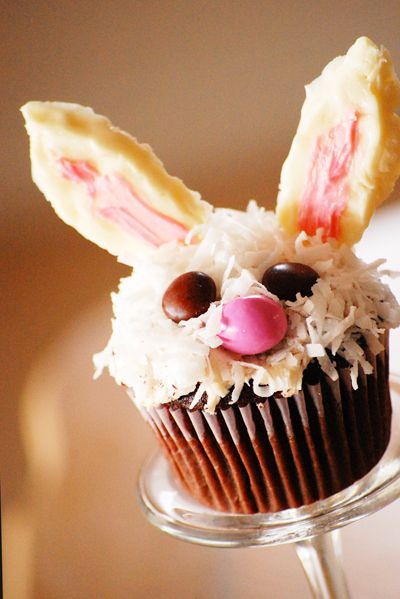 Make some Jumbo Marshmallow bunnies on a stick. Take a large marshmallow and stick a sucker stick in it. Take another marshmallow and cut it into thirds with some kitchen scissors. These will be your ears (eat the other one :). Add some pink sugar to the sticky inside of the marshmallow and pinch both ends to make an ear shape. Melt the bottom of one marshmallow with a match (carefully). Quickly attach it to the top of the marshmallow on the stick. Add some eyes and you are set. So simple, but so cute!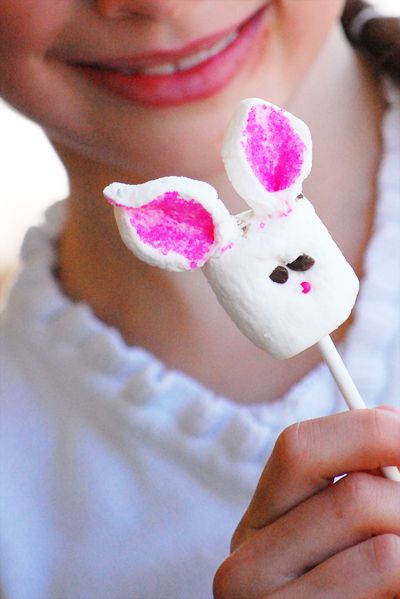 Oh…and two last little idea. Have you ever eaten Resurrection Rolls for your Easter Breakfast? These are so simple but so yummy (I do not have a picture). Simply take some roll dough (homemade or frozen dough that has been thawed). On Saturday night, let the children wrap a piece of bread dough around a large marshmallow. Put them on a cookie sheet in the oven and tape it shut (signifying sealing the empty tomb) and leave them there overnight. The next morning take them out and preheat the oven. Bake the rolls, and when they are done let the children open them. The marshmallow will be gone! The little "tombs" will be empty and hollow. Enjoy the rolls with breakfast; they will have a sweet taste to them.
The rolls are similar to some Ressurection Easter Story cookies that I posted about last year. We do this every year and the kids LOVE it! I love it because it is a great reminder as to the real reason we celebrate Easter. You can find the recipe and story here.
I hope you all have a great Easter!