Ok, I'm just going to get this over with. I already feel like I'm losing some of you…am I losing you? How many of you have an SLR and using this info? Ok, since so many asked about RAW, I will attempt to tackle the subject from my understanding.
*For a printable version of this tutorial click here.
I ♥google. I ♥wikipedia. I use them both a lot. Just now I needed to be reminded how to type a ♥ and they helped me out. I typed in RAW and this is what wikipedia told me:
Raw image files are sometimes called digital negatives, as they fulfill the same role as negatives in film photography: that is, the negative is not directly usable as an image, but has all of the information needed to create an image. Raw files are so named because they are not yet processed and therefore are not ready to be printed or edited.
Make sense? I got it before, but that definition really sums it up.
#1 reason I ♥RAW: I tweak the RAW, convert to JPG, but can go back to my RAW's (think film negative) and change it back to its original. A jpg–once you edit it, there is no going back once it is saved (unless you save as a new file number).
#2 reason I ♥RAW: The ease of using a few sliders to get my desired result quickly.
Ok, I decided to use another image that isn't as well exposed so you could see a bigger difference.
Below, my red arrow is pointing to my white balance. This is AWESOME! I usually keep my camera setting on shade white balance. I shoot 85% in open shade, so it's most accurate. Some shoot in Auto White Balance, but I like shade. This feature in RAW, if I happen to be in the sun and my camera is set to shade, I will change the slider to sun in myRAW edit software (photoshop cs3 bridge, ACR).
If I want to go back to my original RAW image, I go to "as shot" and can start all over.
So I did my tweaking….I put the white balance to shade, then lightened it with the exposure slider, warmed it a bit with the temperature slider, and a slight bump in saturation. I mostly use those elements here:
-exposure
-temperature
-saturation
-sometimes shadow
Notice the numbers in the white box to the right of the sliders are different. See how the images is warmer (temperature) and a bit brighter (exposure)?
The only other thing I do is add a slight vignette by clicking on the "lens" tab. Then pulling the "amount" tab to the left and the "midpoint" tab slightly to the left. It didn't show up much on this image, but does on others.
#3 reason I ♥ RAW: You can edit MULTIPLE images at the same time!!! This only works if they are in similar settings with similar exposures, but I use it a lot. In photoshop, to lighten an image, it is painstaking to do a bunch. I can quickly edit 100 RAW images in 5 minutes or less.
I took a bunch of shots of the family by the bridge, all with same settings. I can "select all" and edit all the same ones as I did the above, moving the sliders as needed–and they all get done at the same time!
After editing RAW files, hit DONE to go back to bridge.
Now to convert to JPG. You will then have all your RAW files stay as is, and a new folder to create the JPG's of those RAW images.
When all the images are highlighted that I want to convert, I hit:
Tools–Photoshop–Image Processor
You will get a pop up window that asks where you want the folder of jpg images to go.
I say to save in same location (it will create a folder for you called "jpg") and then apply my color pop action to all my images. This is GREAT if you have a "go to" action that you apply to every image no matter what.
Then hit "RUN" and it will process each image. Depending on the speed and how full your computer is, it will take 5 minutes to an hour. Also depending on how many images you are processing. It takes mine about 10 minutes to process 100 images. With my workflow, I shoot an average of 250 images per session. I go through my RAW images and assign a star rating (1-5) to my images. All 5′s get processed, the 1′s don't. That way I am only actually processing half of the images I took. I don't quite get rid of all the RAW's though. An overall image may not be great enough to show to clients, but could be useful for a headswap for one later.
Drawbacks? RAW files are HUGE! My 5D can shoot over 500 large jpg images on a 4gb card, but a little over 200 RAW files.
If you are unsure, shoot in RAW+jpg mode and you will get both, but will take up even more space.
There you have it…RAW in all its glory. Any questions? I'm sure I missed something. Have a great day!
Kristen
**Grab a button and you will have access to all of Kristen's posts in one click!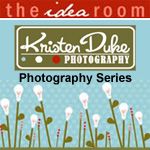 <a href="http://www.theidearoom.net/search/label/Kristen%20Duke%20Photography" target="_blank"><img border="0" alt="Photobucket" src="http://i285.photobucket.com/albums/ll45/huntleygang/idearoom/idearoomkristendukebutton.jpg"/></a>