*For a printable version of this tutorial click here.
I've been planning this post in my head for a while, but couldn't seem to find the right explanation to relay to all you folks out there. Lets cross our fingers this makes sense.
A lot of you asked about getting the background blurry, and I talked about f-stop early on and the importance of a lens with a lower apperture (1.8 or 2.8).
Now I'll talk about the next step which is multi-point auto focus. Yes, I use auto focus as opposed to maual focus. Meaning I don't turn my lens to focus just by eye (I don't trust my eyesight) I use the sensor on the camera to assist in focusing for me.
Now, this is a 4th dimension of things you will have to "fiddle" with as you are taking shots. I started this method probably 2 or 3 years ago (I really can't remember when it started, but its changed everything for me). With enough practice, it's become natural to me. When I stop to think about all the things I am adjusting as I take shots, its amazing its all set in my brain now…I would have never thought it 5 years ago.
SLR's when you look inside your viewfinder, you see a few things. I want to point out the diamond of red lights you see…well, you see the lights when you hold your shutter button part way down.
Get your camera–do you see it?
When you first get your slr cameras and shoot on auto mode, the camera is focusing the full frame for you. Everything is in focus, all lights are red, nothing artsy about it. Though I only shoot in full manuel, I hear that AV mode and the other non-auto modes can use the multi-focus points, too.
Well, we are going to change our focal point.
Take a shot like this (my baby turned 1 pics)
If I had it set on the above diagram and had all the red lights show up, you would see the flowers between she and I more in focus. But I wanted to focus on her cute little face, so I selected just the middle red light to come on, and it looked like this inside:
So the most in focus of the entire image was her face, and the flowers between us are big yellow blobs because they were thrown out of focus. Got it?
Now lets rewind just a tad. Have you heard about back button focus? I'm sure some of you have (so many photography enthusiasts on here) but if you haven't, I'm going to educate you:)
I've just read up on this tonight, and it's late, so don't quote me on other make/model cameras.
Back Button Focus–The idea is to separate the focus function from the shutter function. While this technique may take a little getting used to, in the long run you'll be more accurate with your focus.
A lot of you probably have your camera set so that you focus by pushing the shutter button partway down, it will focus, then all the way down to take the picture. By switching modes, you will now have a new button to focus (that BACK * button) and the shutter is just to take the picture. From here, your focus will be controlled by the * button on back of the camera by your right hand thumb. When you press the * button the Auto Focus will be engaged and will focus on whatever the red box in your viewfinder is set on. To stop focusing simply take your thumb off the * button.
If you want to try it (and have a Canon camera–not sure how Nikon's do this) follow these steps:
1. Go to MENU, custom function 4 and set it to setting 1. (setting 0 is default)
2. Turn your AF setting to AI Servo. (I've used One Shot and seems to be ok, but my research is showing AI Servo, so I am trying it out.
Ok, so now that you are set on back button (have you located the cute * near where your thumb grips?) lets try another focal point.
To get those great off-center portraits, I use the focal point (or little red light) all the way to the right or left. I more often use the left, as in this shot below:

I actually did a similar shot as the one with the flowers above and focused on their faces (off to the left) through a chain link fence. (Both sessions I photographed in the past week). The little red dot was RIGHT on their faces. If it wasn't, I'd focus on the fence and they would be blurred (which can be a cool artistic shot in and of itself).

So I am constantly changing my focal points as I see fit throughout a session.
If you are set to back button focus, you will use both of those buttons, one to select which focal point or red dot to use, the other to focus. Here is my camera, the canon 5D:
First you push the button with blue arrow. It will light up all the red lights in the view finder. You turn the dial (green arrow) to go through your options….1 focus in center, 1 focus to left, all focus/all lights. Once you have selected via the dial, you then push the back button * to focus and then SHOOT!
Oh, I hope that made sense because as I mentioned, a whole new world opened up to me once I did this.
Another pic—
Mmm, now doesn't that look delicious? Part of a calendar I helped with a few years ago. I picked one chocolate chip to focus on above and had a low f-stop and all else went blurred in varying degrees.
Lastly, when you have people, always have the focal point land on the white of the eyes. Close up or distant, go for the whites. Crisp eyes are number ONE in deciding if a portrait is great or not. (Isn't my sis in law beautiful)?
I feel like I've answered most questions and not sure what to cover next, so make your voice heard if you have something! To see more from the images above, check
my blog
.
Have a great day!
-Kristen
**Grab a button and you will have access to all of Kristen's posts in one click!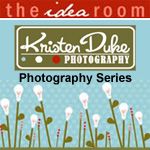 <a href="http://www.theidearoom.net/search/label/Kristen%20Duke%20Photography" target="_blank"><img border="0" alt="Photobucket" src="http://i285.photobucket.com/albums/ll45/huntleygang/idearoom/idearoomkristendukebutton.jpg"/></a>