I can't believe how quickly this month has gone by and that the Holidays are here. I have a couple of last minute treat ideas for your upcoming parties if you are still need ideas. Make some easy Chocolate Pepper*Mint* Cookies…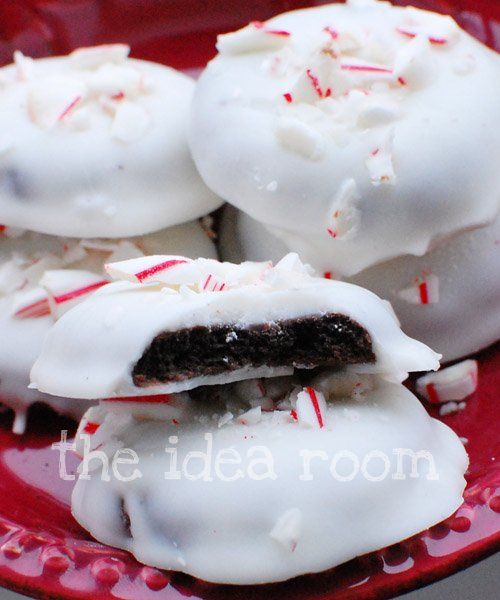 To make these Chocolate Covered Pepper*Mint* Cookies simply take Keebler's grasshopper cookies and dip them in white chocolate and sprinkle with some crushed candy canes. They are so simple and fast to make for a last minute gift idea or party snack.
Or make some of my FAVORITE fudge. This is my Grandma's recipe and it is tradition to have it for our Christmas festivities every year!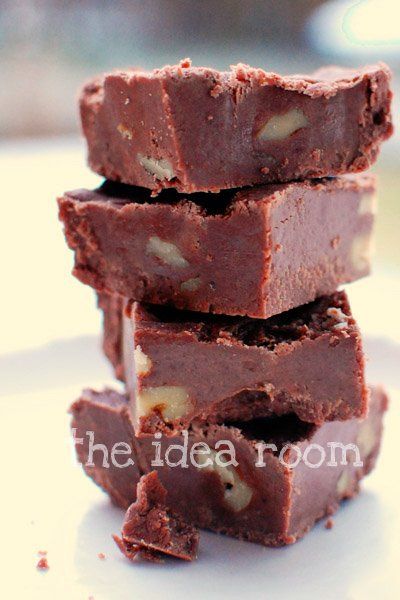 Hershey's Fudge:
4 1/2 cups sugar
1 12 oz. can unsweetened evaporated milk
1/2 cup butter
pinch of salt
Mix together in a large saucepan and boil on high all of the above ingredients. After you have a good boil going turn the heat down to med-high heat and boil for about 5 minutes and then remove from heat.
Add the following to the hot mixture:
2 (7 oz.) bottles Marshmallow Creme to boiling mixture.
2 1/2 large Hershey Bars (without nuts)
1 cup semi-sweet chocolate chips
1 tsp vanilla
1 cup chopped walnuts
Beat together by hand and stir until partially set (very tiring but worth it). Pour mixture into 2 buttered 9×13 baking dishes. Let cool and then cut into small squares. Keep refrigerated.
**Edit–So, I didn't realize there were so many different sized Hershey's candy bars out there. The size you need for the fudge recipe is the 4.4 oz. bar. It is larger than a regular sized candy bar but not their giant sized bar…


Let me know if you try it! I would love to know how you like it!
{Only 2 more sleeps 'till Christmas…Wahoo!}
★Amy