Last month Kenmore asked for my biggest household challenge as a Mother of a young family. And I shared with you how difficult it is for me as a mom to keep up with the mess and the clutter everywhere. This month, I'm sharing my Genius Tip on how I TRY to overcome that challenge!
I love a clean house…Then I had children. Five kids in 9 years. And it my clean house became not so clean.
And…when my house is messy, it make me feel unhappy, crazy and disorganized. And we all know that if momma ain't happy or organized, then nobody is happy or organized.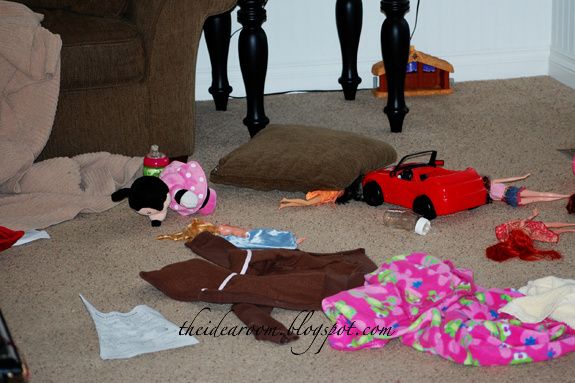 My kids are given chores that rotate each week and they are responsible for keeping their rooms and the bathrooms that they use clean on a DAILY basis. If it is clean, then they are allowed to play with friends or have video or computer time. If not…then they don't get their privileges. This works pretty well for the most part. Not perfect, but pretty well considering.
The trouble I was having was just keeping up with the everyday clutter that gets left out. Shoes on the kitchen floor, toys here and there. A jacket on the floor by their locker. Backpacks and homework papers, books…you know the kind of mess I mean. Everyday stuff ya know?
So I decided to implement a daily 10-15 minute clean up. It has now a become a game for us. We set the timer for 10 to 15 minutes and then everyone runs around the house cleaning up and putting away things (in the proper place) as fast as we can. We go from room to room. We have a system now that works pretty good. And, it doesn't matter who got it out….we all clean it up.
I can't believe how quickly this can get the house back in order. Something that would take me 2 hours to pick up on my own can get picked up in minutes with 7 people all pitching in to help. It has made a huge difference in my workload as well.
It is seriously a life saver. We usually do this at night right before dinner or right after dinner when everyone is still together. Then the house is fairly clean. This makes it so nice for me and then gives me time to actually get to some of the deep cleaning rather than just always dealing with the clutter.
And the best part is that when I wake up…the house is already fairly clean. I wake up a much happier and nicer Momma that way.
So if you are having some of the same clutter issues with your young kids, this might be something that you could try in your home. What do you think? Is there anything that you have done in your own homes that have helped you cut down on your clutter and the management of it? I would love for you to share it.
Kenmore is on the search for everyday genius & each month they are giving away $3,000 in Kenmore gift certificates and a chance to have YOUR tip become the best Genius Tip and turned into an Ad! Enter your Genius Tip Today!
What is your Genius Tip? Kenmore wants to know, and is giving away up to $3,000 in Gift Certificates and a chance to have the best Genius Tip turned into a TV Ad! Visit their Facebook page and enter today!
Share your quick genius tip with us:
This is a sponsored conversation written by me on behalf of Kenmore. The opinions and text are all mine.