Ingredients:
3 packages unflavored gelatin
1 cup ice cold water, divided
12 ounces granulated sugar, approximately 1 1/2 cups
1 cup light corn syrup
1/4 teaspoon salt
1 teaspoon vanilla extract
1/4 cup confectioners' sugar
1/4 cup cornstarch
Nonstick spray
Directions:
Place the gelatin into the bowl of a stand mixer along with 1/2 cup of the water. Have the whisk attachment standing by.
In a small saucepan combine the remaining 1/2 cup water, granulated sugar, corn syrup and salt. Place over medium high heat, cover and allow to cook for 3 to 4 minutes. Uncover, clip a candy thermometer onto the side of the pan and continue to cook until the mixture reaches 240 degrees F, approximately 7 to 8 minutes. Once the mixture reaches this temperature, immediately remove from the heat.
Turn the mixer on low speed and, while running, slowly pour the sugar syrup down the side of the bowl into the gelatin mixture. Once you have added all of the syrup, increase the speed to high. Continue to whip until the mixture becomes very thick and is lukewarm, approximately 12 to 15 minutes. Add the vanilla, food coloring (I also added a few drops of peppermint extract) during the last minute of whipping. While the mixture is whipping prepare the pans as follows.
Combine the confectioners' sugar and cornstarch in a small bowl. Lightly spray a 13 by 9-inch metal baking pan with nonstick cooking spray. Add the sugar and cornstarch mixture and move around to completely coat the bottom and sides of the pan. Return the remaining mixture to the bowl for later use.
When ready, pour the mixture into the prepared pan, using a lightly oiled spatula for spreading evenly into the pan. Dust the top with enough of the remaining sugar and cornstarch mixture to lightly cover. Reserve the rest for later. Allow the marshmallows to sit uncovered for at least 4 hours and up to overnight.
Using a lightly oiled and dust with cornstarch mixture, cookie cutter and cut marshmallows into desired shapes. Once cut, dampen the front and back of each marshmallow on a wet paper towel (to make them a little sticky to hold sugar) and cover all over with colored sugar.
Use store bought colored sugar or make your own. Simply take about 1/4 cup of granulated sugar and add a couple drops of food coloring. Take a fork and mix thoroughly until the color is dispered throughout the sugar evenly.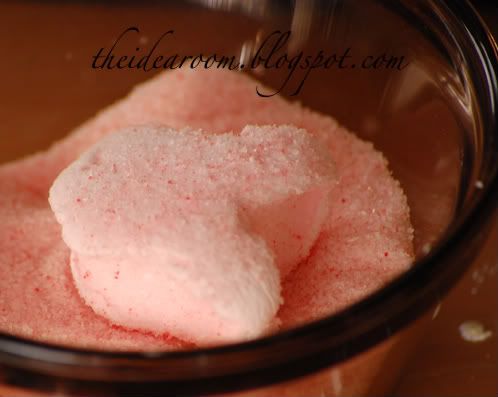 And there you have them. Peeps! I am actually not a big fan of Peeps. But my husband and kids LOVE them. My son said these were better than the real ones. So I tried one. Bad idea! I could actually eat these and enjoy it. I think it was the hint of peppermint. So go ahead and whip some up today. They were fun and super easy too.