We have an over abundance of delicious tomatoes this year. Too many to eat, so I have been canning them for use this winter in my husband's delicious homemade spaghetti sauce, soups and Lasagne. I do not have a sophisticated canner and you don't need one. You can make one bottle or a lot and you can do it using regular pots and pans on your stove. They do not need to be canned in a pressure canner since they are a fruit and the natural acids inhibit bacterial growth. Here is how you do it: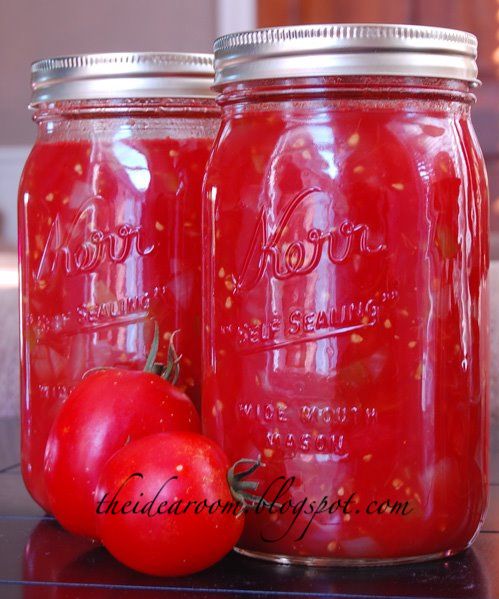 Gather your canning jars (I like to use the quart size jars), lids and rings. Wash bottles in your dishwasher on high heat setting. Just as the jars finish the wash cycle and begin the heated drying session, begin cooking your ingredients.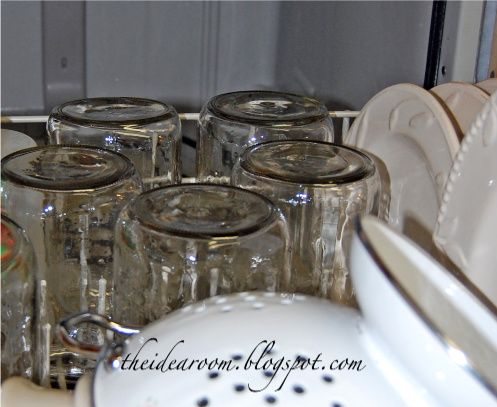 Gather your tomatoes and wash well. Remove any spots or decayed areas and plant material. You will need 4 different sauce pans. A large stock pot for your tomato mixture, two medium sized pans and a smaller sauce pan. You will also need quart size canning jars along with new lids and rings. Lids should never be re-used but the rings or "band" may be re-used.
Then simmer the following ingredients on the stove for 20 minutes or until soft:
1 diced green pepper
1 diced onion
1/2 c. water
After you start the above ingredients simmering, put another saucepan of water on the stove and heat to boiling.
While simmering the above ingredients, fill sink about 1/2 full with tomatoes. Cover tomatoes with your boiling water to loosen tomato skins. Remove skins from tomatoes and place in separate bowl. Be careful for they will be hot! Smash up and/or chop tomatatoes to whatever size suits your tastes and needs.
After simmering pepper and onions, combine tomatoes in same pan and add the following:
1 T salt
Pepper to taste
1 T vinegar
2 tsp sugar
Simmer for another 10 minutes.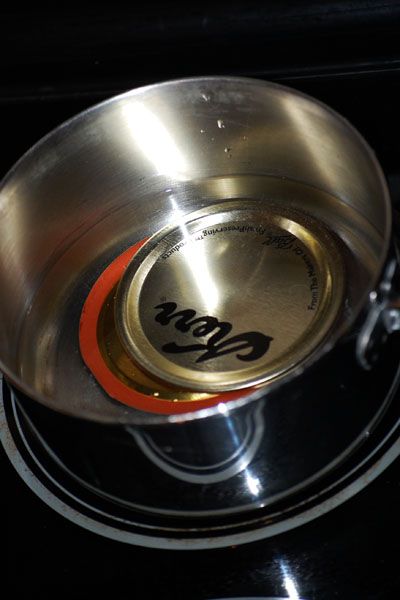 Place the lids in a pan of water and bring to a simmer. After they simmer turn the heat off and let them sit in the pan until ready for use.
In a larger pan, place one of your bottles (1 bottle at a time) prior to filling with tomato mixture to ensure a proper seal. As soon as you remove a bottle replace it into the boiling water with another one from the dishwasher. Keeping the bottles boiling hot will allow them to properly seal and prevent spoilage.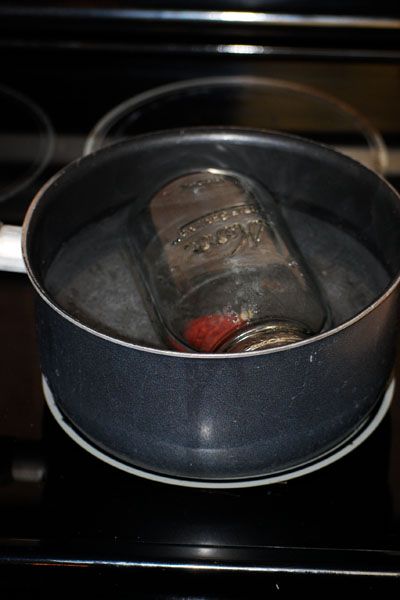 When the tomatoes are ready, remove bottle from pan and immediately fill with tomatoes. Leave 1/4 inch space at the top of the bottle and wipe the rim off with a clean cloth. Place the lid on and seal with a ring. Set aside. Within 5-10 minutes you should hear a light popping sound. That is your bottle sealing. The bottles lids should not make a popping sound when you push on them. These are unsealed and can be processed again or placed in the fridge to be used within a few days.
This recipe will make 3-4 quart bottles. You will use all 4 burners on your stovetop at some point. If you have more tomatoes to can, just repeat the above process.
*If you don't want to bottle them, you can simply wash them, pour boiling water over them to remove the skins, chop them into smaller peices and place in a Ziploc Freezer bag and store in your freezer.
JOIN OUR NEWSLETTER
Would you like more Recipes, DIY, Printables and Organization Ideas?
---
Subscribing to the newsletter will enable us to periodically send you creative content exclusively for Idea Room subscribers.
*View our Privacy Policy here.