Remember when I shared this yummy treat? Well, if you liked that…your gonna love our Fall and Christmas versions.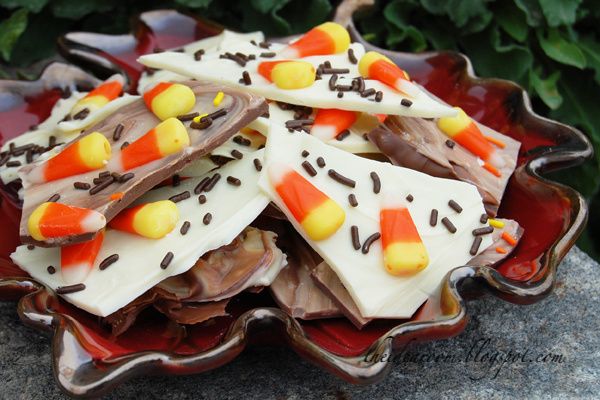 Do you like candy corn? I have a friend with a serious candy corn addiction. So this one is for you. You know who you are!
Candy Corn Bark:
1.  Line a cookie sheet with tinfoil and place a layer of milk chocolate (or white chocolate chips) and melt in a preheated oven at 250 degrees for 5 minutes.
2.  Spread melted chips in a smooth thin layer.
3.  Place in refrigerator for 20 minutes till chilled.
4.  Then add your next layer of white chocolate.
5.  Melt the chips in the microwave for 20 second intervals stirring the chips between each turn.
6.  Let cool till warm but still spreadable. Quickly spread over first layer.
7.  Add candy corn and sprinkles and place back in the refrigerator to chill.
8.  Once chilled break into bite size pieces.
9.  Store in a tupperware container and keep refrigerated to prevent melting.
Now…my absolute favorite bark is the Peppermint Bark! I love it. I make 2 batches and hide one of the batches for myself! If you have not tried it, you are seriously missing out! You are probaby thinking…why does she do this to me…where am I going to find candy canes this time of year. Sorry about that! As luck would have it, when I was cleaning out my son's drawer, I found two perfectly good, wrapped candy canes. After a fair trade for the candy canes, I whipped up a batch of Peppermint Bark as fast as I could! Hopefully you won't hate me too much! Candy cane season is right around the corner!
Peppermint Bark:
12 oz chocolate chips
1 pound white chocolate chips
1/2 teaspoon peppermint extract (I used 3/4 teaspoon)
1/2 cup peppermint candy, crushed
1. Preheat oven to 250. Line a 9×13 pan with foil, letting it hang over the sides. Spray foil. Pour the chocolate chips in an even layer on the foil. Place in oven for 5 minutes or until almost melted. Remove from oven, smooth with an offset spatula or knife. Place in refrigerator until cold and firm, about 20 minutes.
2. Melt white chocolate chips in a double boiler or in a metal bowl over simmering water (don't let bottom of bowl touch water), until chocolate is almost melted. You can use your microwave for this if you're brave! Remove bowl from water and stir until completely melted, stirring in extract. Let cool a little bit so it does not melt the chocolate layer when you pour it on top. Pour this over chocolate layer, and, working quickly, spread to cover.
3. Sprinkle with crushed candy.
4. Chill until both layers are firm. Lift foil out of pan and shake off excess candy. Trim edges. Cut into 2" wide strips. Peel bark from foil and cut each strip as desired. Chill in covered container. Makes about 2 pounds.
Make these at your own risk. I am not responsible for your ensuing addiction!
JOIN OUR NEWSLETTER
Would you like more Recipes, DIY, Printables and Organization Ideas?
---
Subscribing to the newsletter will enable us to periodically send you creative content exclusively for Idea Room subscribers.
*View our Privacy Policy here.