When we were first married, my hubby and I talked about each of our families Christmas traditions and which ones we wanted to incorporate in our own family. We have used some traditions from both our families and then started some new ones we have adopted from our friends families.
This Christmas book tradition was inspired by one of my students when I was still teaching high school. She explained to me one day how every Christmas season, they would buy a new Christmas book to add to their growing collection. Each night, her siblings would take turns picking a book to read together as a family bedtime story, saving the new book to read on Christmas Eve. I loved this idea as soon as I heard about it and so we added this to our list of Christmas traditions.
We have acquired about 18 books now most we purchased as that year's book (one each year) and some were given to us as gifts. We usually start our books around December 6, so that we can read one book a night. I wrap all the books each year (to solve fighting over who gets to pick which book as some are more popular than others) in the same wrapping paper, except for the new book. This new book is wrapped in a different paper and is saved until all the other books have been read. This book is read on a special night (more to come on that later) which we usually try to do on December 23.
I have really enjoyed this tradition as it brings a nice Christmasy feeling into our home each night. Most of the books have a nice Christmas theme to remind us of the "real reason for the season". In fact, it is probably MY favorite Christmas tradition!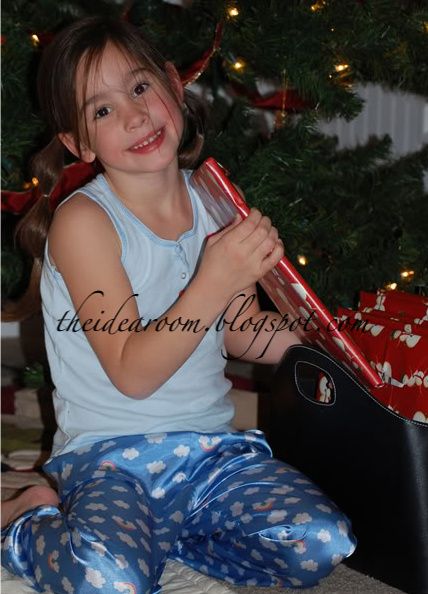 Here is a list of the books we have (although there are many other great books out there). This tradition can also be altered to represent the other December holidays you as a family may be celebrating other than Christmas (ie. Kwanza, Chanaukka, St. Nicholas Day, Boxing Day, St. Lucia Day, etc.)
1. Bear Stays Up For Christmas; Karma Wilson and Jane Chapman
2. Welcome Comfort; Patricia Polaco
3. The Giving Tree; Shel Silverstein
4. The Polar Express; Chris Van Allsburg
5. You Are Special; Max Lucado
6. How the Grinch Stole Christmas; Dr. Suess
7. The Touch of the Master's Hand; Myra Brooks Welch
8. The King's Highway; Heward Fullmer
9. Christmas Day in the Morning; Pearl S. Buck
10. Too Many Frogs; Sandy Asher
11. I Believe in Santa Claus; Diane G. Adamson
12. A Wish to be a Christmas Tree; Colleen Monroe
13. Christmas Oranges; Linda Bethers
14. Snowmen at Christmas; Caralyn Buehner
15. The Story of Holly and Ivy; Rumer Godden
16. Christmas Tapestry; Patricia Polaco
17. The Tale of Three Trees; Angela Elwell Hunt
18. Jacob's Gift; Max Lucado
19. The Little Match Girl; Hans Christian Anderson
20. A Christ Centered Christmas; Emily Belle Freeman
21. How Santa Really Works; Alan Snow
For a printable version of the above list, click here.
What are some of your favorite Christmas (or other holiday) books?
JOIN OUR NEWSLETTER
Would you like more Recipes, DIY, Printables and Organization Ideas?
---
Subscribing to the newsletter will enable us to periodically send you creative content exclusively for Idea Room subscribers.
*View our Privacy Policy here.