Love me some Cinnamon AND…I love me some bread! So I had no doubt I would LOVE this Cinnamon Swirl Bread!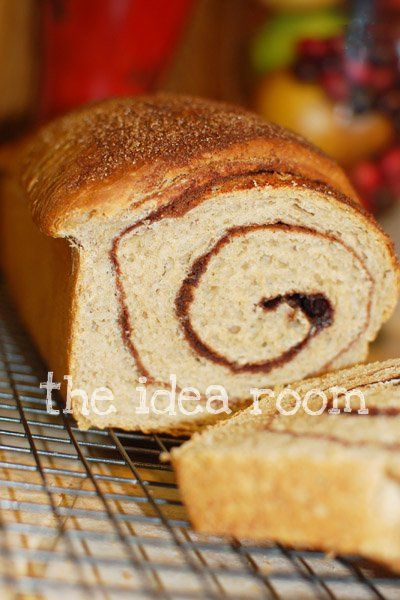 Yum! This bread was so delicious! It looks more complicated to make than it is too. This is the perfect breakfast for me…toasted cinnamon bread, a piece of fresh fruit or a yogurt and a glass of ice cold orange juice! Doesn't get much better than that!
I used to buy Cinnaburst Bread from a Great Harvest, but it is now about $5-6 a loaf. That is too expensive for me, especially when I, err the kids can gobble it up in one sitting. So I have tried a couple of different breads and have found one that I really like from The Fresh Loaf via Cooks Illustrated.
Cinnamon Swirl Bread
Filling/Topping:
1/2 cup granulated sugar
1/4 cup light brown sugar
5 teaspoons ground cinnamon
Bread:
1 1/2 cups whole milk, heated on stove top to 110 degrees
4 T. unsalted butter, (3 of them melted)
3 large egg yolks
4 1/4 cup AP flour, plus more if needed
2 1/4 t. rapid rise yeast (1 pkg.)
1 T. sugar
1 1/2 t. salt
1. In a small bowl, combine your filling/topping ingredients. Measure out 1/4 cup of your mixture and set the rest aside.
2. In a small bowl, whisk together the milk, melted butter, and egg yolks. Then, in the bowl of your stand mixer, combine the 1/4 cup of cinnamon mixture, 1 TBSP sugar, yeast, flour, and salt.
3. Using your dough hook, mix on low and slowly add the milk mixture. After the dough comes together, increase your speed to medium and mix the dough until it is smooth and comes away from the sides of the bowl. Your dough should stick to the bottom of your bowl, but not too the sides. You may need to add more flour if needed.
4. Turn out your dough onto a lightly floured surface and form into a smooth round ball. Place in a greased bowl, turning to coat. Cover with plastic wrap and allow to rise for about an hour, or until dough has doubled in size.
5. Spray a 9×5 loaf pan [I used a 4 x 12 pan from IKEA} with cooking spray. On a lightly floured surface, press dough into a 20 x 8 inch rectangle, with the short side facing you. Using a spray bottle filled with water, lightly spray the dough. Sprinkle on the cinnamon sugar mixture (reserving about 2-3 TBSP), leaving a 2 inch border along the top to seal. Lightly spray the cinnamon sugar with the water.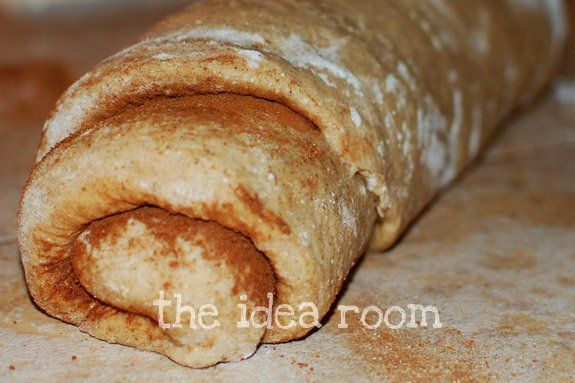 Roll up from the edge nearest you and finish at the sugarless end. Pinch to seal. Place in the loaf pan seam side down. Cover loosely with plastic wrap and allow to for rise another 1 to 1 1/2 hours.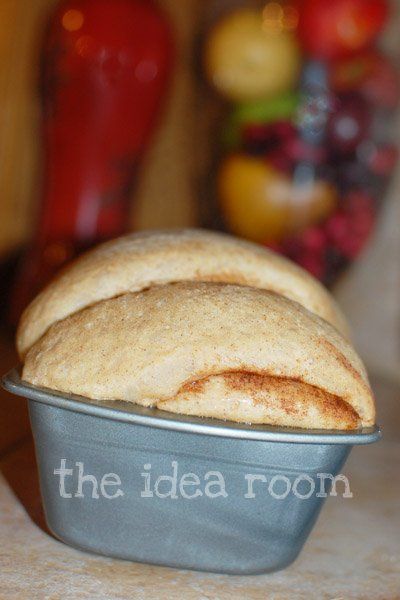 6. Adjust oven rack to middle position, and heat oven to 350 degrees. Melt 1 TBSP of butter and brush over top of dough. Sprinkle with remaining sugar, and bake until top is deep brown, about 45 to 60 minutes. Turn bread out and cool on wire rack.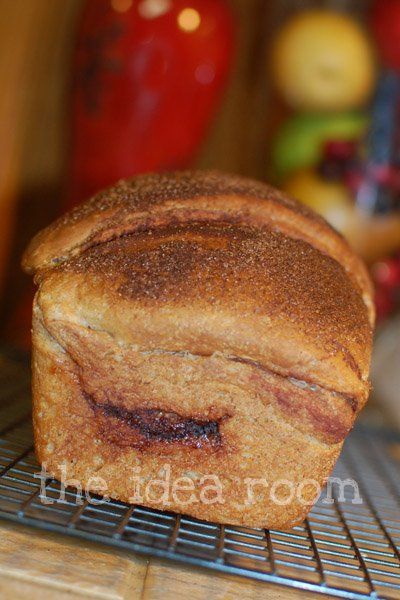 *Click here for a printable version.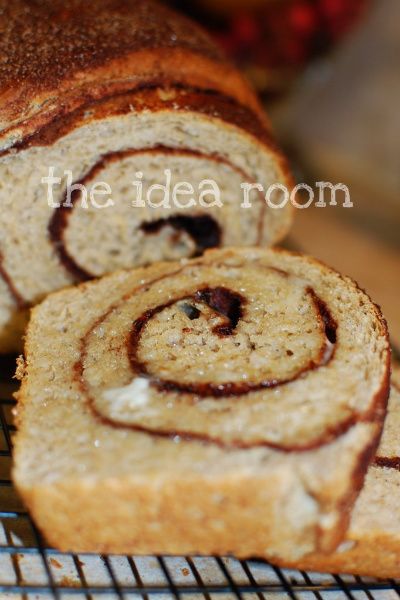 Hope you enjoy it…I sure did! Let me know if you make it, or if you have your own version of Cinnamon Bread that you love!
I know I haven't shared many crafts with you lately! Feeling a bit "crafted" out after the holidays. But I do have a few in the works that I hope to share with you soon…so hold tight!
JOIN OUR NEWSLETTER
Would you like more Recipes, DIY, Printables and Organization Ideas?
---
Subscribing to the newsletter will enable us to periodically send you creative content exclusively for Idea Room subscribers.
*View our Privacy Policy here.