Be sure to enter the Scribble It giveaway. Click here to enter, it ends tonight!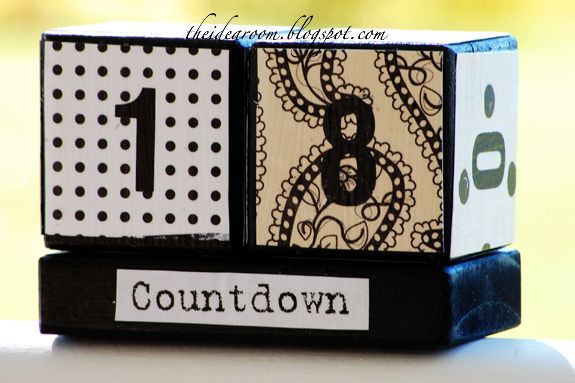 I first saw the idea for making these adorable countdown calendar blocks here. It seems like the kids are always asking how many days there are left for something we have coming up (birthdays, a vacation, a party, etc.) So I knew this would be a great way for me to quell some of the questions and give my kids something they could relate to.
I already happened to have the 2 inch square blocks begging for me to turn them into something cute. Then I used our Band Saw and cut me a flat block for them to sit on. I painted them black and then cut 12 different squares of different black and white scrapbook paper, one for each side of the blocks. Because I do not have a cricut machine, I used scrapbook stickers for the numbers on the blocks. Of course I used some Mod Podge on both the back and the front of the papers.
You will need these numbers for the first block: 0,1,2,3,4,5 and these numbers for the second block: 0,1,2,6,7,8. Make sure that the font you choose allows the 6 to be able to be turned upside down to double as a 9.
*There will be some double digit numbers you will not be able to make. If this bothers you, you may need to make an additional block and include the numbers 3, 4, 5, 6, 7, 8.
We are currently using the blocks to countdown to my son's upcoming birthday which hits before Halloween!
JOIN OUR NEWSLETTER
Would you like more Recipes, DIY, Printables and Organization Ideas?
---
Subscribing to the newsletter will enable us to periodically send you creative content exclusively for Idea Room subscribers.
*View our Privacy Policy here.