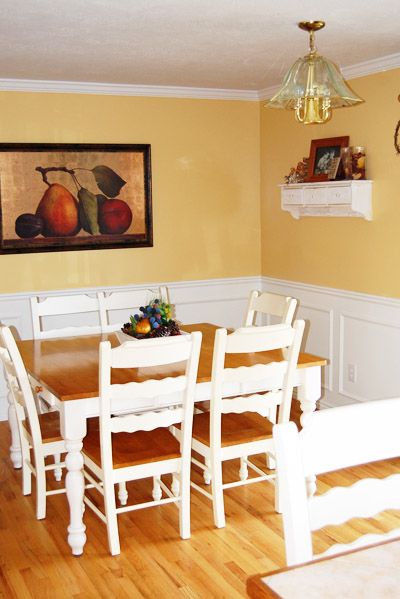 I gave you a sneak peek of one of the projects that has been keeping us busy the last couple of weeks. And today I want to share it with you. We added some faux wainscotting panels (and by faux, I mean without using premade wainscotting panels) to the lower half of our kitchen dining area walls and then painted the faux wainscotting white.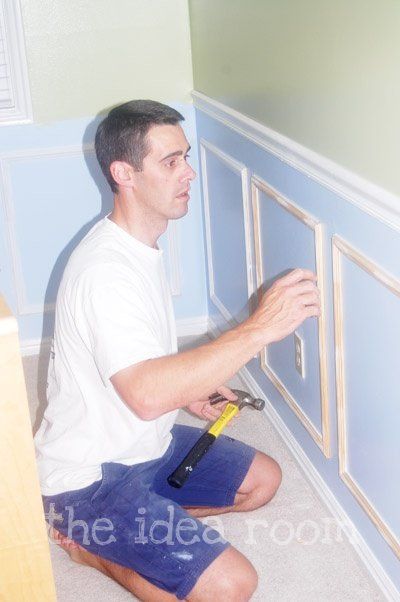 (This picture is of us adding the same faux wainscotting but in a different room. For some reason I did not take pictures of the process…I have no idea what I was thinking).
My husband was the brains behind figuring out the exact placement of the rectangular moulding boxes so I had him write up a litte explanation of what we did. The process is so simple and inexpensive and gives your room a whole new look. I LOVE how it turned out and how much brighter and cleaner our kitchen looks and feels.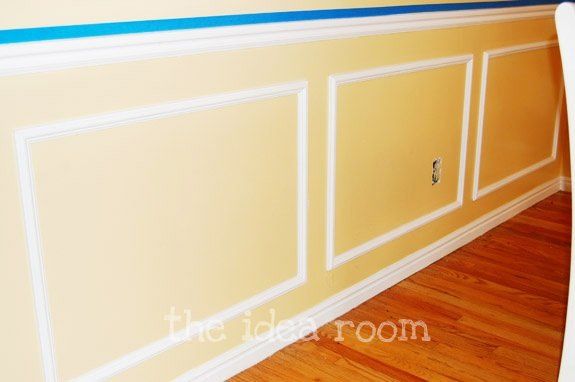 To start the project, we first needed to find the moulding we liked (a local building supply store had a 1 ¼ inch molding). Next, planning the measurements of how to cut the molding will save a lot of grief later. To do this, we did the following steps:
• decided how many faux panels we wanted on each wall
• decided to have a 4 inch gap between panels and between panels and baseboard/chair rail.
• measured the length of each wall.
• calculated length of horizontal pieces of panel. For instance, if the wall was 100 inches long and we wanted to put 3 panels on that wall, each panel would be 28 inches wide (100 inches – 16 inches (4 side and internal gaps) = 84 inches / 3 panels = 28 inches)
• cut wood blocks 4 inches wide to use as spacing templates when nailing the moulding on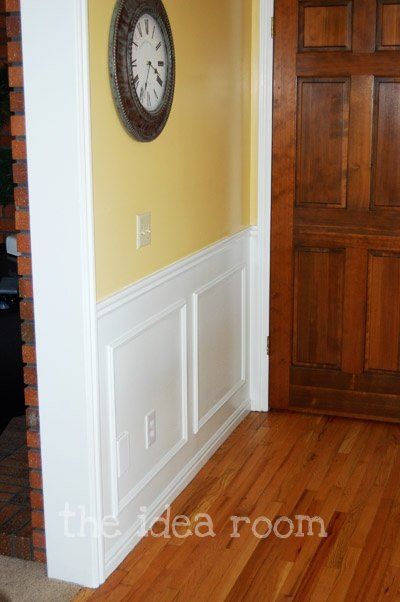 We cut the molding to each appropriate length with 45 degree angles (we wanted the thicker part of the molding to be on the outside edge of the panel so the cuts were measured on that thicker side with angled cuts tapering in). Then using the 4 inch blocks(to ensure proper placement of the moulding), we nailed the moulding into position (if you are not using a nail gun, use a nail punch to get the finishing nail below the surface of the wood and putty the hole before painting).
After the molding has been attached, we caulked the edges for a clean look. We also sanded any rough edges. Then the wall was ready to be taped with painters tape and then painted.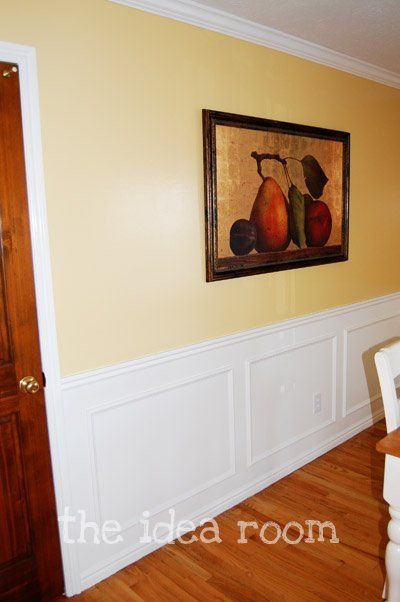 This project took us about a half day to complete, not including caulk and paint drying times. I LOVE it!
*edit-If you are interested in adding the pre-manufactured wainscoting panels, you should check out Wainscoting America. Using their design system, they can custom fit their wainscoting panels to precisely match your wall shapes and design…and they are priced lower than their competitors. So go and check them out!
**edit-The paint color in my kitchen is Behr paint in Warm Muffin. I LOVE my yellow kitchen. It is bright and cheery and has a nice warm tone.
Since I had so much fun seeing the things you have been working on, let's do another link party! Link up any home or decorating project you have completed and want to share with your fellow Idea Room readers. Like the past link up party, I will visit each and every link and then choose some to share with you here in a Reader Spotlight post.
Please add The Idea Room Link-up button to the post on your blog that you are linking up.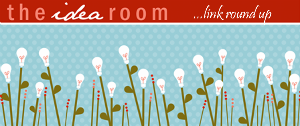 &lta href="http://www.theidearoom.net" target="_blank"&gt&ltimg border="0" alt="Photobucket" src="http://i285.photobucket.com/albums/ll45/huntleygang/idearoom/idearoomlinkup-1.png"/&gt&lt/a&gt
Thanks everyone! I am looking forward to seeing your creativity and what you have been up to.
JOIN OUR NEWSLETTER
Would you like more Recipes, DIY, Printables and Organization Ideas?
---
Subscribing to the newsletter will enable us to periodically send you creative content exclusively for Idea Room subscribers.
*View our Privacy Policy here.