Today I want to share with you a Lego Table my sister and her husband built for their 3 boys all of whom are HUGE Lego fans. They seriously spend hours playing with and building amazing lego creations. So…they have a lot of Legos.
My sister was tired of the Legos being scattered everywhere and underfoot. Ever step on a stray Lego? Yeah…me too! So you can understand her dilemna.
So my sister and brother-in-law purchased an activity table from Pottery Barn that had a lip (wood strip) around the top of the table.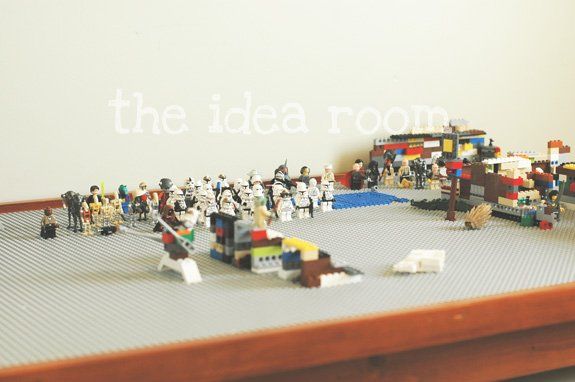 But any table could really work for this. Even if it doesn't have a lip around the top. What is the purpose of the lip you ask? Well, I will explain that here shortly.
After you have your table, you can add a top lip using quarter rail or flat moulding that you can find at your local Hardware store. Cut the strips to fit on all four sides of the table and cut the ends so that they are cut on a 45 degree angle and fit together snugly in the corners. Then glue with wood glue or use small finishing nails to attach the wood strips to the top of the table.
After the glue has dried you will want to putty (or use painter's caulk if painting) the seams along the edges of the quarter rail. Then either stain or paint them to match your table.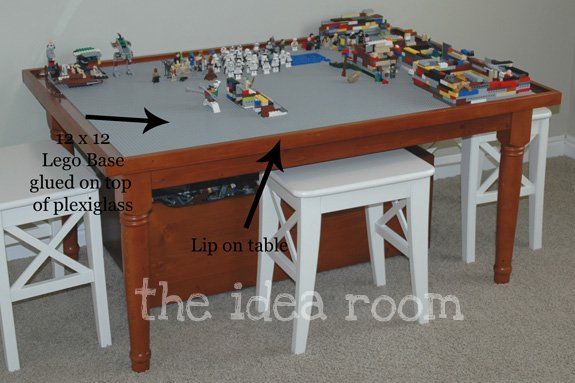 Then they had a piece of plexiglass cut so that it fit perfectly on the table and in between the lip of the table. The lip will prevent the plexiglass from slipping around the table top. Very important so your child's lego creations don't get knocked to the ground. That usually causes some major trauma…not that I would know :)! Then they took some 12 x 12 lego base plates and glued them right onto the plexiglass. *But before you glue, be sure to place Legos onto the bases where they connect to one another. If you glue them with the plates right next to one another, the legos will not connect to the base around the edges of each separate place correctly. Does that make sense? And that's it! Pretty amazing huh?!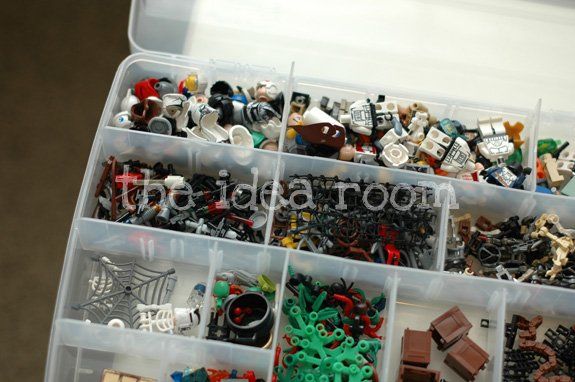 My sister also has some storage organizers to help keep some of the important Lego pieces organized so the kids can find them. I can't imagine how she keeps them so organized…but she inherited a bit of the same OCD that I have. And, if you noticed, they have a wooden bin under the table that holds all the other Lego bricks. And I am sure you couldn't help but notice the awesome Camoflauge wall. Yep, she painted it that way with the help of her sister-in-law. She got the idea from a pair of her son's camoflauge pajama pants that she really liked. She simply took the pants into the hardware store and they were able to match three of the colors and mix her up some paint. Then using the pants as their pattern guide, they drew the odd shaped patterns onto the wall using pencil. Then they labeled each paint with a numbers, 1,2 and 3. Each shape was given a number so they would know what paint color to fill it in with. Then using small brushes they outlined each shape in the proper color and then filled them in with larger paint brushes! All paint colors are Ralph Lauren brand. Main background color: English Tan Camo-spot colors: Kauai Jungle, Neutral Brown, Prince, and Artist Brown. Isn't that so fun? Her boys love their room! Can't say as I blame them!
Check out more Lego Table Ideas here….
JOIN OUR NEWSLETTER
Would you like more Recipes, DIY, Printables and Organization Ideas?
---
Subscribing to the newsletter will enable us to periodically send you creative content exclusively for Idea Room subscribers.
*View our Privacy Policy here.