I know Halloween is still a couple of months out, but we have been in a crafting slump around here. I have had a nasty head cold for a week, the hubs has a herniated disk in his lower back and we have been super lazzzzzy! So I went back in my photo file and decided to start gradually posting some of the things we eat every year at our Halloween themed feast. The first item being our Edible Eyeballs.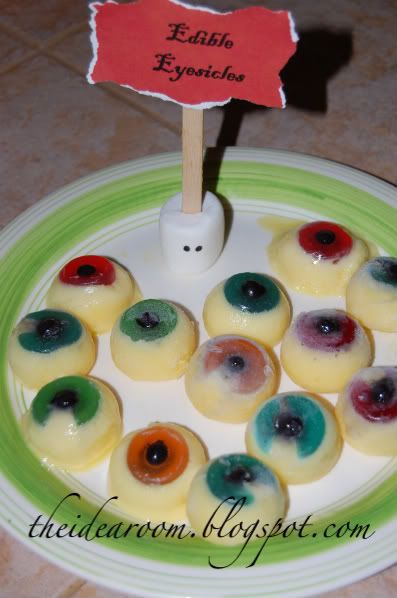 We found this recipe idea at FamilyFun.com.
Edible Eyeballs:
3.4-ounce box vanilla pudding mix
Jelly beans (we use the black ones)
LifeSavers Gummies
Plastic Easter eggs (we use the smaller half)
2 empty egg cartons
Make the pudding according to the directions on the box.
Fit a jelly bean in the center of a gummy Lifesaver and place it in one half of the plastic egg.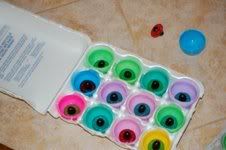 (sorry about the small pic)
Do this for each eyeball. Fill the egg with a dollop of the pudding (so it's the size eyeball you'd like) and place in the egg carton for support. Place in the freezer for about 3 hours.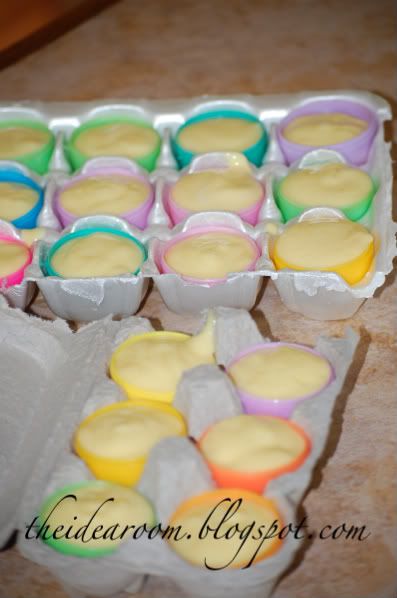 You want them to be firm. To remove after they've set, let them rest at room temperature for about 5 minutes and then gently squeeze them out of the plastic egg. Ready for use immediately or place the eyeballs into a freezer safe dish and keep for up to 2 days before use. Makes about 24 eyeballs.
These are always the hit of the party with the adults and kids. They actually taste pretty good too.
JOIN OUR NEWSLETTER
Would you like more Recipes, DIY, Printables and Organization Ideas?
---
Subscribing to the newsletter will enable us to periodically send you creative content exclusively for Idea Room subscribers.
*View our Privacy Policy here.