Sharing our FAVORITE Christmas Candy Recipe today…English Toffee!
We love English Toffee! Who would believe it could be so EASY to make. This recipe is so simple and yet the candy looks so professional when you are finished. This is one of our favorite treats to give away during the holidays. Try some for yourself!
Here is our recipe:
1/2 cup chopped toasted almonds or pecans (for bottom layer)
1 cup butter (salted)
1 cup sugar
1 T light corn syrup
3 T water
3/4 cup semisweet chocolate chips
1/2 cup chopped toasted almonds or pecans (for top layer)
Line a cookie sheet with tinfoil and sprinkle 1/2 cup of toasted almonds in the pan on the foil. In heavy saucepan melt butter. Add sugar, corn syrup and water. Cook and stir over medium-high heat to boiling.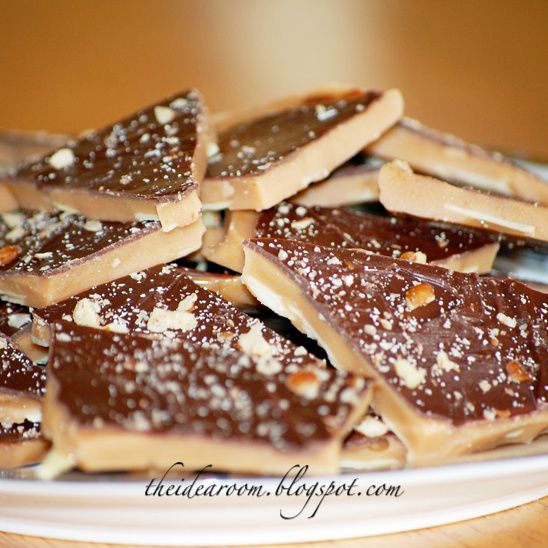 Cook and stir over medium heat to 290 degrees using a candy thermometer (soft-crack stage). Watch carefully and stir, it can burn easily after 280 degrees. Remove from heat and pour mixture over the nuts in the pan immediately. Let stand 5 minutes or until firm but still hot. Sprinkle with chocolate chips and let the stand for 1 to 2 minutes. When softened, spread chocolate over mixture. Sprinkle the chocolate with nuts. Chill till firm. Break into peices. Store tightly covered. Makes 1 1/2 pounds.
JOIN OUR NEWSLETTER
Would you like more Recipes, DIY, Printables and Organization Ideas?
---
Subscribing to the newsletter will enable us to periodically send you creative content exclusively for Idea Room subscribers.
*View our Privacy Policy here.