Create these animal finger puppets using our finger puppet patterns! These are a fun and creative way to play with your kids and build their motor skills!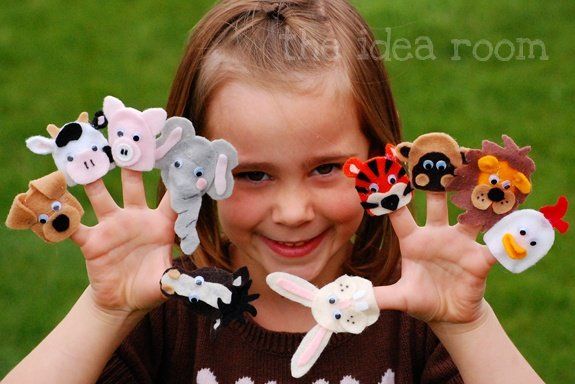 FINGER PUPPETS
Finger puppets might seem like simple fun, but research has shown that finger puppet play helps teach motor control, self-control, memory, social skills and vocabulary and language skills in young children. Using finger puppets to play with your child allows you to interact in a way that can encourage their little minds and nerves to be stimulated while building their hand-eye coordination and fine tuning their motor skills.
FINGER PUPPET PLAY
Here are some of the key benefits of finger puppet play and a few ways parents make playing with finger puppets fun for them and their child.
Fine tuning fine motor skills. Making finger puppets with your child is a great way to allow them to practice fine motor skills with the art of crafting. They come in contact with a variety of textures and feels while using their fine motor skills to glue, cut and glitter!
Building empathy through imagination. Develop story lines which will engage your child and teach them life lessons through role playing and story telling.
Bonding with your baby and siblings. Finger puppets are great for children of all ages. Include the whole family in the play and allow them to make up stories and actions of their own and to interact and problem solve with others.
ANIMAL FINGER PUPPETS
I created this set of animal finger puppets when my oldest was just a couple of years old. They have been played with and loved by all 5 of my children. I have even made a couple of different sets to gift to some of my friends children! So I thought I would make the finger puppets available to you and created some patterns for you to make your own…just like these pictured.
The animal finger puppets come in two different sets of patterns as listed below.
FARM ANIMAL FINGER PUPPETS
Horse
Duck
Dog
Cow
Cat
Rooster
Pig
Frog
Sheep

ZOO ANIMAL FINGER PUPPETS
Bear
Moose
Bluebird
Monkey
Tiger
Lion
Elephant
Rabbit
Penguin
BUY FINGER PUPPET PATTERNS
Are you interested in making some of your own? Or do you want to re-create the exact Animal finger puppets I made?
I have created these animal finger puppet patterns to share with you for those of you who are interested. They are so easy to make and can provide hours of entertainment! They are fun to put together by yourself or as a family activity!
If you would like to see some of the other patterns I have shared in the past you can check them out here:
Star Wars finger puppets
Frozen finger puppets
Animal Finger puppets
Christmas finger puppets
Nativity finger puppets
Thanksgiving finger puppets
Thanks for stopping by! xoxo
JOIN OUR NEWSLETTER
Would you like more Recipes, DIY, Printables and Organization Ideas?
---
Subscribing to the newsletter will enable us to periodically send you creative content exclusively for Idea Room subscribers.
*View our Privacy Policy here.