Got Fruit Flies? If so, you can use this simple and effective Fruit Fly Trap to get rid of those annoying fruit flies in your house and kitchen.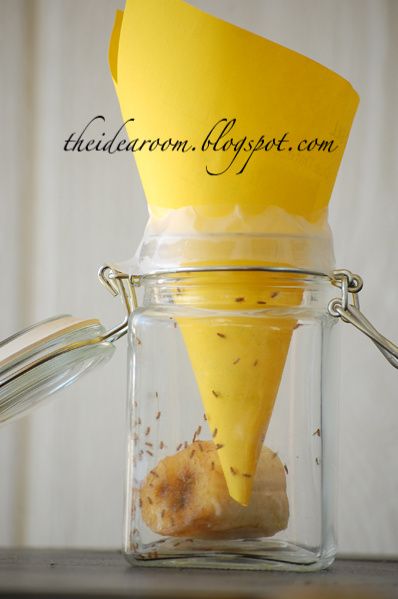 FRUIT FLY
It has been a crazy week around here with three afternoons spent canning and making freezer jam so the craftiness and cleanliness at our house has been suffering! So I am catching up on that this weekend. But I did find a clever and efficient way to get rid of all the pesky fruit flies that have been swarming my kitchen due to the large quantities of produce it has processed.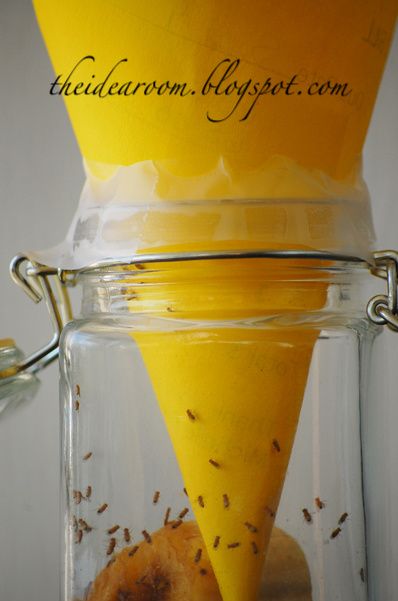 FRUIT FLIES
Seeing all those flies in the jar brought back a lot of memories of my 8th grade science class. Remember Heidi? We had to breed them and then spent hours counting, sorting, charting and recording genetic traits! I LOVED it! Weird I know, but it is actually the first time I remember my interest in science was sparked. I was amazed that we could actually predict the type of genetic traits we would get. Anyways…I am sure none of you wanted to know all that!
HOW TO GET RID OF FRUIT FLIES
I remember hearing somewhere, long ago, that placing a funnel with a tiny opening into a jar containing a cut piece of fruit would make a good Fruit Fly trap. And guess what? It really works! They were all trapped within about 12 hours! I used tape and sealed the edges when I discovered some of those sneaky flies were escaping and that worked like a charm. Then when all the flies were trapped, I just released them back into the great outdoors.
Below is a list of the supplies and the direction to make your own fruit fly trap.
SUPPLIES:
Mason Jar
8 1/2 X 11 sheet of paper
Tape
Fruit
DIRECTIONS:
Place fruit in bottom of mason jar. I like to use a slice of peach, but most fruit will work just fine.
Roll up paper into a cone shape. Tape it together. The smallest part of the opening should be pretty small. You don't want the fruit flies to come out once they get into the jar.
Place cone into mason jar. Make sure that the cone is not touching the bottom of the jar. The fruit flies won't be able to enter the jar if the paper is touching the bottom of the jar.
Once positioned, tape the cone to the mason jar. Make sure that it is completely sealed so that the fruit flies don't escape.
Now watch the magic happen! Once you have a good amount of fruit flies, you can release them outside and then make a new trap.
FRUIT FLY TRAPS AND INSECT SPRAYS
Summer is one of my favorite seasons but, with summer comes lots of insects and bugs. I really don't mind looking at insects or bugs, I just don't want them on me or eating my garden that I have planted. I have gathered some 
Natural Homemade Insect Sprays and Traps
 from all over the web that will help keep all those pesky insects under control without all the harmful chemicals found in some of the commercial insect sprays and insect traps.
You can find these recipes HERE:
FRUIT WASH SPRAY
Let's face it, our environments are filled with a lot of different chemicals that we encounter on a daily basis. We all know the damage these chemicals can create with continued exposure over long periods of time. So in our home we are doing our best to try and limit the chemicals we come in contact with. That means we have slowly been making changes in our home how we eat and the products we buy. One of the first things I started doing was making sure we were eating clean foods without GMO's and pesticides and washing our fresh produce with a produce wash.
You can find the recipe HERE.
JOIN OUR NEWSLETTER
Would you like more Recipes, DIY, Printables and Organization Ideas?
---
Subscribing to the newsletter will enable us to periodically send you creative content exclusively for Idea Room subscribers.
*View our Privacy Policy here.