One of our advent calendar activities is to make graham cracker gingerbread houses. I have hosted a "cousins" party at my house for the last 4 years (including this year). I make the houses the night before (one for each kid) by gluing graham crackers into a house shape with hot glue. Yes…you heard me…Hot Glue!
This ensures that the houses are STURDY so little hands can frost and place candy on it without it crashing down. The kids know this and do not eat the graham crackers or glue when they are finished. But they can still pick off the candy and eat it. I place each house on a paper plate with their name on it. My older children help me make them by getting the crackers ready and putting the cousins names on the plates while I do the gluing. There are 19 cousins to make houses for now!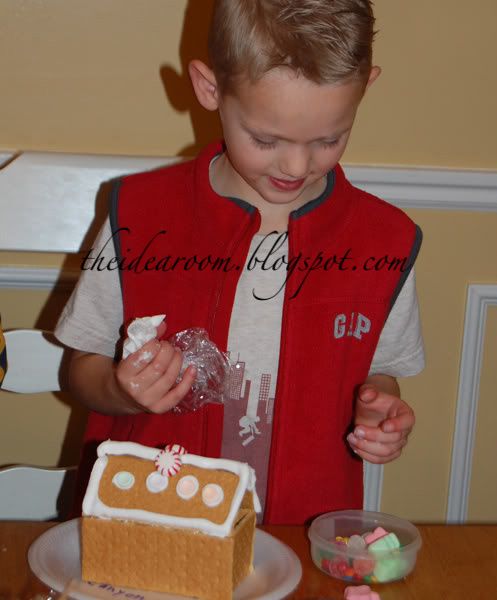 My sisters and sister-in-laws each bring a couple of different types of candy to decorate the houses with or the frosting (we use Royal Icing). We decide before hand who will bring what. When all arrive, we divide up the candy so that they each have their own little cup of candy to use on their house. We also fill small plastic baggies with their own frosting and cut the corner of the bag so they can spread the frosting easily. They each are given their own plastic knife so they aren't licking and sharing :)!
Want To Make Your Holiday Planning EASY And ORGANIZED?
Check Out Our CHRISTMAS ESSENTIALS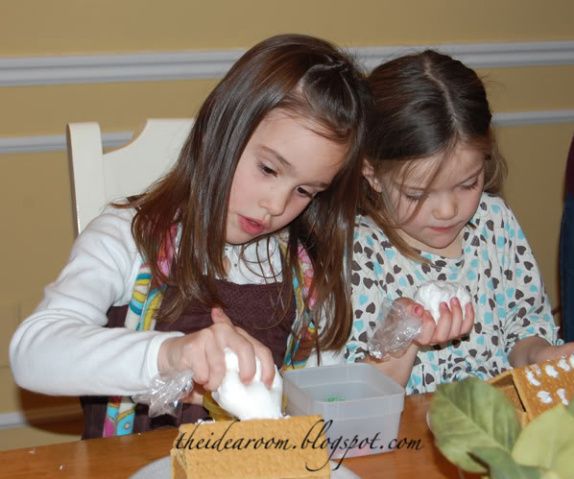 It is so fun to see each of their individual personalities as they decorate their houses. Some pile globs of frosting and candy together and call it good. While others spend the entire time carefully decorating with precise candy placement and color patterns. It is a lot of fun, and a little messy, but so worth it. The cousins look forward to it every year and so do I! (The pictures are from last year's party).
**edit—Royal Icing Recipe:
Makes about 2 1/2 cups
2 large egg whites, or more to thin icing
4 cups sifted confectioners' sugar, or more to thicken icing
1 lemon, juiced
Directions:
Beat the whites until stiff but not dry. Add sugar and lemon juice; beat for 1 minute more. If icing is too thick, add more egg whites; if it is too thin, add more sugar. The icing may be stored in an airtight container in the refrigerator for up to 3 days.
*You can substitute 5 tablespoons meringue powder and 1/3 cup water for raw eggs.

JOIN OUR NEWSLETTER
Would you like more Recipes, DIY, Printables and Organization Ideas?
---
Subscribing to the newsletter will enable us to periodically send you creative content exclusively for Idea Room subscribers.
*View our Privacy Policy here.