At our house, we have a Halloween feast. It is usually done sometime within the week before Halloween. I have already shared with you a couple of our feast items like the edible worms and eyeballs. For the main portion of the meal we usually make individual Mummy Pizzas or Mummy Dogs.
To make Mummy Pizzas just take some bagels and spread spaghetti sauce on each half. Place whatever toppings you would like on top of the sauce (ie. ham, pepperoni, pineapple, etc). Then take a stick of sting cheese and tear it into strips. Lay the strips on the bagel so that it looks like the mummy rags. Then place in the oven on broil for 5-8 minutes. Watch closely so that they don't burn. We caught ours just in time! The best part is that each child can make their own just how they like it!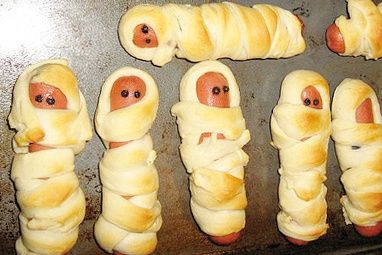 *picture from here by emergencyfan2000. I could not find the pictures we had taken of ours.
To make Mummy Dogs you will need some bread dough and hot dogs. We used a store bought tube of Pillsbury crescent dough. Wrap the dough around each hot dog so that they look like mummies. Bake at 350 degrees for 12-15 minutes. Add drops of ketchup or mustard for eyes.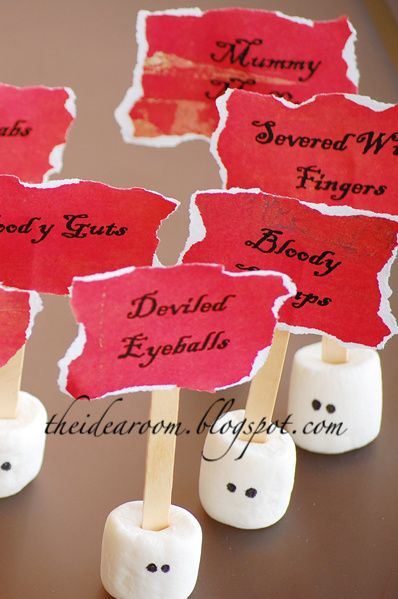 I like to label all the food we eat at our feast with some marshmallow ghosts. I save them and use them each year. I just took some large marshmallows and added eyes with a Sharpie. Then I just printed the name of the food item on some red scrapbook paper and tore it around the edges and attached it to a popsicle stick which I inserted into the marshmallow. (I realize you could have figured all that out by looking at the picture…but just in case)!
I also found a fun link that has quite a few ideas for some Halloween cupcakes here.
JOIN OUR NEWSLETTER
Would you like more Recipes, DIY, Printables and Organization Ideas?
---
Subscribing to the newsletter will enable us to periodically send you creative content exclusively for Idea Room subscribers.
*View our Privacy Policy here.