Keeping my home clean is a daily challenge. Seven people can destroy a clean home pretty quickly if they don't clean up after themselves. I try to keep an organized home so that everything has a place. My children each have expected responsibilities every day which include cleaning their room and their shared bathroom. Then each child has 1-2 family jobs that they are also required to complete.
I made up a chore chart that we use to let the kids know what their chore is for the day. This system has worked pretty well for us. We aren't perfect everyday but it keeps us pretty organized.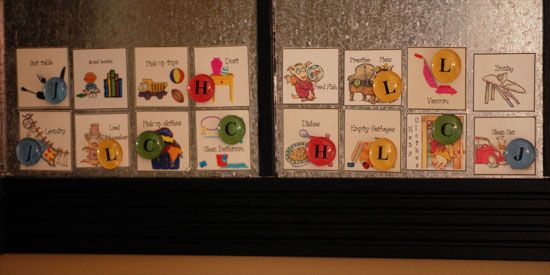 I also have the older kids help out with the laundry now and they are learning how to sort the different clothing. When the laundry is dry we throw the clean laundry into their individual laundry baskets and then each child is responsible for folding and putting their laundry away in their closets and drawers.
We also will have a 10 minute clean up after dinner sometimes if the house has had a particularly rough day…(aka Mom has been crafting). We set the timer and run around the house one room at a time cleaning up as fast as we can.
And lastly we just incorporated a great tip from Heather Johnson who shares great Parenting Tips here on The Idea Room, called the Magic Item. We pick one secret magic item and whoever puts it away gets a special reward. You should see the kids scramble to be the lucky winner! Makes clean up fast and fun.
Keeping your home clean can definitely be a challenge despite all your best efforts. And some days we are better at it than others.
What about you?
Do you have a housekeeper?
Do you have your kids help you out?
What tips and tricks do you have to get your family to help you clean up?
Want to hand over cleaning to the experts? Tell us how you have taught and encouraged your kids to clean and be entered to win one of two prizes!
First Prize: House Cleaner for a day plus $100 in product from GreatCleaners.com.
Second Prize: A Copy of the Book Over 100 Helpful Household Hints
With GreatCleaners.comClean Club, you'll never have to shop for cleaning products again. With the simplicity of automatic shipments that fit your schedule and free shipping on every order, plus 25% off your first order, you'll never have to be without your favorite, essential cleaning products. Click here to join the Clean Club today!
*This is a sponsored conversation written by me on behalf of GreatCleaners.
The opinions expressed by me do not necessarily reflect the view of the Arm & Hammer Brand.
JOIN OUR NEWSLETTER
Would you like more Recipes, DIY, Printables and Organization Ideas?
---
Subscribing to the newsletter will enable us to periodically send you creative content exclusively for Idea Room subscribers.
*View our Privacy Policy here.