Learn how to Make Lip scrub with this DIY Sugar Lip Scrub Recipe. We are sharing an easy, step-by-step recipe for this Watermelon Lip Scrub. It's perfect for a fun gift idea too!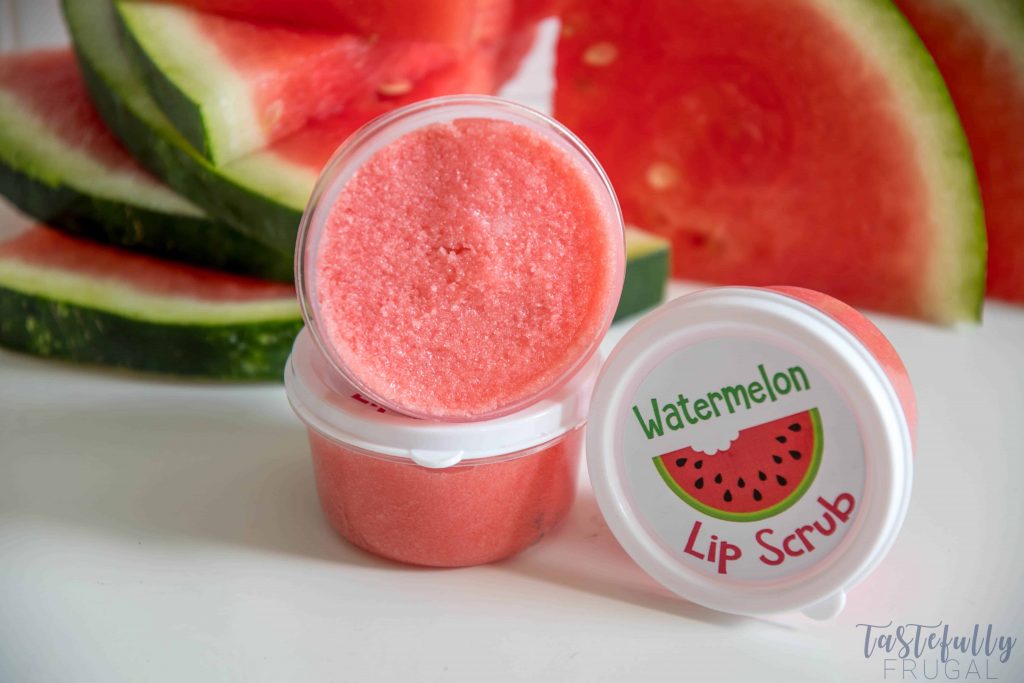 LIP SCRUB
During the summer we always want to make sure our legs are smooth, are arms are smooth but what about our lips?! I know I didn't exfoliate my lips as much as I should, that was until I started making my own lip scrubs.
Lip scrubs are super easy to make and are a great afternoon craft for the kids. My boys love mushing the sugar and coconut oil in their fingers. It's really affordable too! I have the sugar, coconut oil and Kool-Aid already in my pantry. I get the containers I keep my lip scrubs in from Dollar Tree (you can get a 10 pack for $1). You can also use mason jars or any other type of small jar that you have lying around. Just make sure it has a sealable lid!
Lip scrubs also make great gifts! I made these Cherry Limeade Lip Scrubs for the aids at my son's school for Teacher Appreciation Week and I made extra of these Watermelon Lip Scrubs and plan on giving them to a few girlfriends.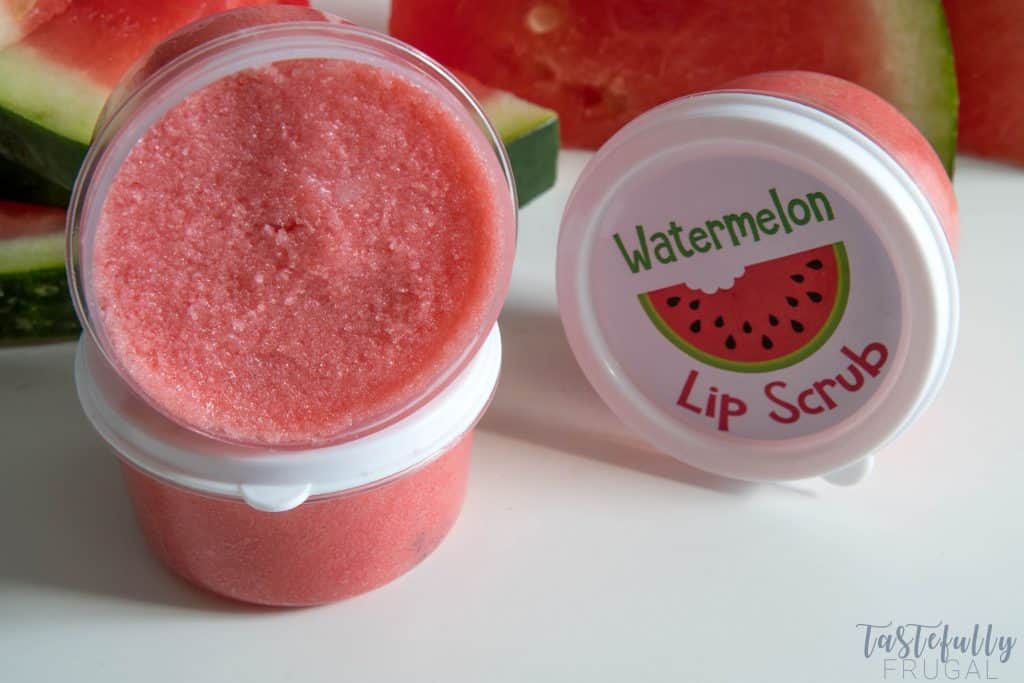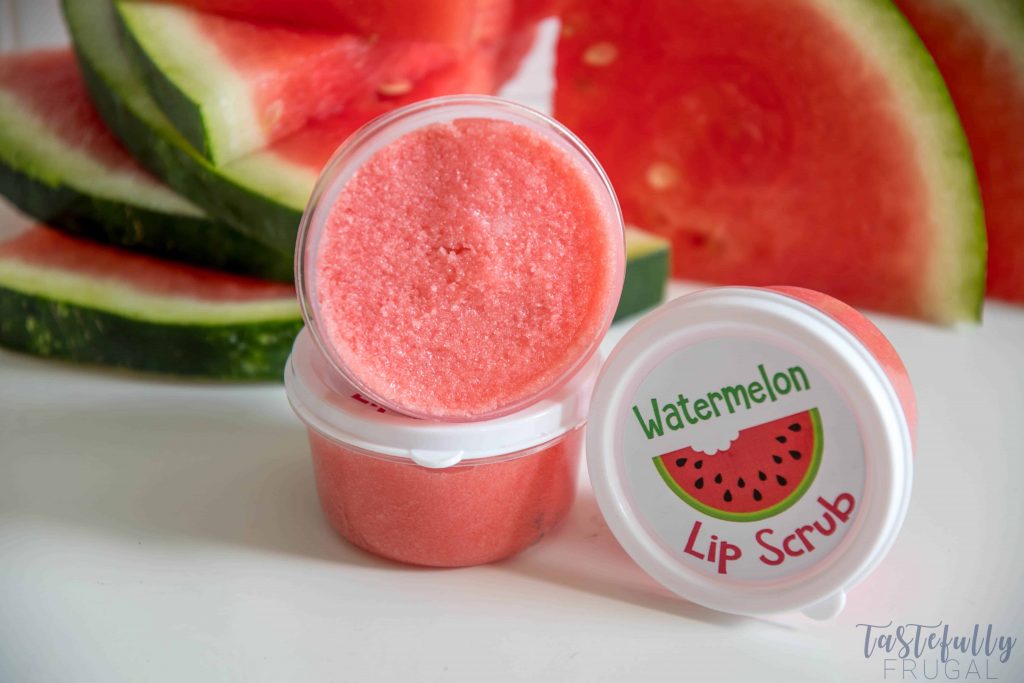 LIP SCRUB
What is a lip scrub? Lip scrubs are very important in preventing chapped, dry lips. Lip scrubs are made up of an exfoliant (in most cases this is sugar) and an emollient (which is often a type of oil). Most often, there also will be an additive that adds a specific flavoring or aroma to the lip scrub. 
Exfoliant: The exfoliant will exfoliate your lips by removing any dead skin cells. It helps smooth out and soften your lips. In most cases this is sugar. Sugar is a great exfoliating agent that is safe for sensitive skin. You can use either white sugar, brown sugar, or cane sugar. 
Emollient. The emollient component works to hydrate your lips. This is often a type of oil. The oil seals the moisture in your lips and leaves them feeling silky and smooth. Common oils to use for lib scrubs are coconut oil, olive oil, almond oil, lavender oil, and jojoba oil. Honey can also be used as an emollient. 
Additive/Flavoring. The additive/flavoring is what gives the sugar scrub that delicious taste and smell! The great thing about this, is you can choose whatever you want it to be. You can create your own custom lip scrub with your favorite scent or flavor! 
Some common additives include essential oils, such as lavender essential oil, peppermint oil, orange essential oil, lemon essential oil, just to name a few. You can add different extracts, such as vanilla extract or coconut extract. You can even add in vitamin e oil for extra hydration. If you love chocolate (as much as I do:)), add some cocoa powder and make a chocolate sugar scrub!
DIY LIP SCRUB
This is one of the best homemade lip scrubs and is so simple and uses natural ingredients: sugar, coconut oil, and flavoring! 
You can customize these exfoliating lip scrub recipes to whatever flavor you'd like. If you're making a large batch (more than 1 cup of sugar), you may want to add a few drops of flavor oil (I use LorAnn flavor oils that you can get off Amazon, Walmart or any hobby store). This batch made 3 containers full and the scent and flavor of Watermelon was perfect!
To use these lip scrubs, get a small amount of scrub out of the container onto your fingertips and massage into your lips with a circular motion for 15 seconds or so. Then, blot with a wet washcloth or rinse with warm water and apply some lip balm. I keep a container of these lip scrubs by the sink in my bathroom and use it twice a day after I brush my teeth.
LIP SCRUB RECIPE
Watermelon Lip Scrub Recipe
Learn How To Make Lip Scrub With This DIY Lip Scrub Recipe. We Are Sharing An Easy, Step-By-Step Recipe For This Watermelon Lip Scrub. It's Perfect For A Fun Gift Idea Too!
Ingredients
2

Parts Sugar

I used 1/2 cup and made 3 containers

1

Part Coconut Oil

I used 1/4 cup

1

Packet Watermelon Kool Aid
Instructions
Place all three ingredients together in a small bowl and stir until they clump together.

Store the mixture in an air tight container.
Recipe Notes
Makes about three small containers.
ADDITIONAL BODY SCRUB RECIPES
If you want to exfoliate and moisturize your dry skin and the rest of your body, check out our other body scrub recipes and skincare recipes! Not only will you have soft and moisturized lips, but your skin will be radiant and glowing! 
WATERMELON RECIPES
If you love watermelon, you will want to check out these delicious recipes!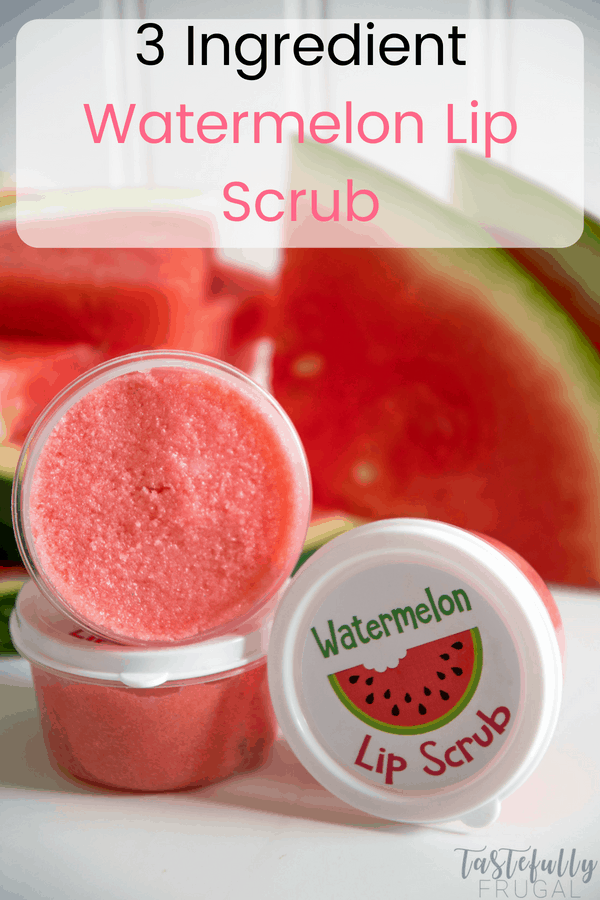 LIP SCRUB PRINTABLE LABELS
For the labels, print this image and either print it out and tape it on the top of your lids, or you can use printable sticker paper with your printer and/or cutting machine. Click the image below to download your FREE labels.
JOIN OUR NEWSLETTER
Would you like more Recipes, DIY, Printables and Organization Ideas?
---
Subscribing to the newsletter will enable us to periodically send you creative content exclusively for Idea Room subscribers.
*View our Privacy Policy here.