**Just a reminder…if you have used my ideas and then posted them on your blogs, please link back to my blog! I would really appreciate it! Thanks!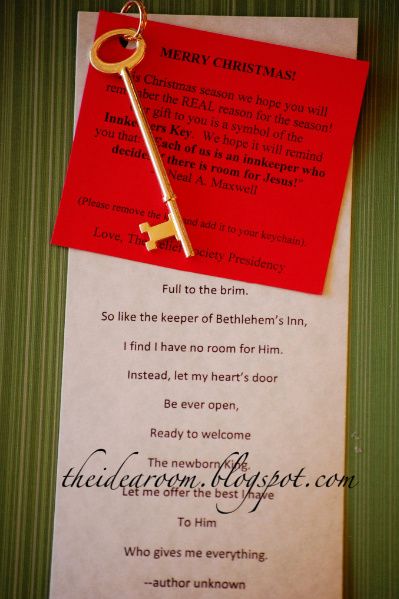 I mentioned in an earlier post that I am in charge of planning the women's activities for our church group. This past Tuesday was our Christmas Party. We gave each of the women one of these as a little Christmas gift.
They are brass skeleton keys meant to represent the Innkeepers Key. The innkeeper who said there was no room at the inn for Mary and Joseph in Luke 2 from the Bible. I included a quote from one of our church's apostles, Elder Neal A. Maxwell. He said that "each of us is an innkeeper who decides if there is room for Jesus."
The women can then remove the key from the paper and place it onto their ring of keys so that they could see it and always remember that they are the only one who can unlock the door and let Christ into their life.
I also included a poem to go along with the key which can be used as a bookmark.
The poem is called A Prayer For December:
Dearest God,
Please never let me
Crowd my life
Full to the brim.
So like the keeper of Bethlehem's Inn,
I find I have no room for Him.
Instead, let my heart's door
Be ever open,
Ready to welcome
The newborn King.
Let me offer the best I have
To Him
Who gives me everything.
–author unknown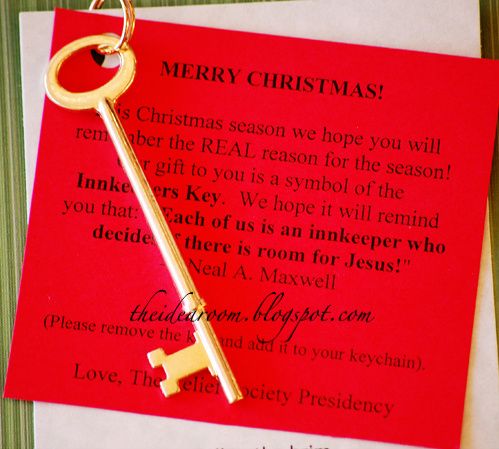 For those of you who celebrate Christmas and believe in the Bible, this idea is really universal. It would make a nice simple and inexpensive gift for a neighbor or friend.
Since I already have these all made up, in the spirit of Christmas, I have provided them for you to download and print for your own use. For the poem, click here. For the key tag, click here. I purchased my keys (which are sold in a pair) here. Please feel free to change them to suit your own needs!
JOIN OUR NEWSLETTER
Would you like more Recipes, DIY, Printables and Organization Ideas?
---
Subscribing to the newsletter will enable us to periodically send you creative content exclusively for Idea Room subscribers.
*View our Privacy Policy here.