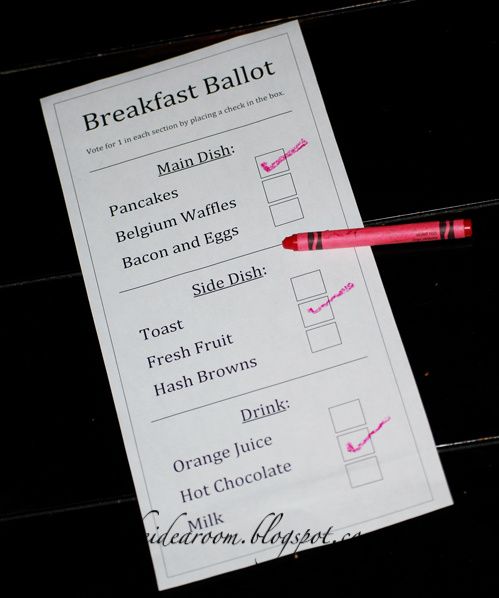 Election Day is tomorrow, November 3, are you exercising your right to vote? You can teach your little ones about the voting process with this fun activity. Tonight, we will have a little lesson about what freedom means and the right of every citizen to have a say in the democratic process. Then we will pull out some of our own personalized ballots and have each of the kids cast their own private (unless the smaller ones need a little help reading) vote for what they would like for breakfast on Tuesday morning. We will then tally the votes and serve them a breakfast based on the results. Even though this is something really small, I hope it will teach them a little bit about their right to help make choices and understand the importance of getting out to vote.
If you think this is something you would like to use in your home, click here for Word 2007 or here for a later version of Word, to download a printable copy of this ballot.
JOIN OUR NEWSLETTER
Would you like more Recipes, DIY, Printables and Organization Ideas?
---
Subscribing to the newsletter will enable us to periodically send you creative content exclusively for Idea Room subscribers.
*View our Privacy Policy here.