Guess who has been browsing the thrift store…
I had been wanting to put some little potted trees on my front porch and was searching for 3 pots that would fit with what I had in mind! I was so excited when I came across these beauties!! I got the matching pair for $1.50 and the popcorn jar was $1.00! Wahoo! I had wanted to get all three matching, but I feel pretty happy with what I was able to find.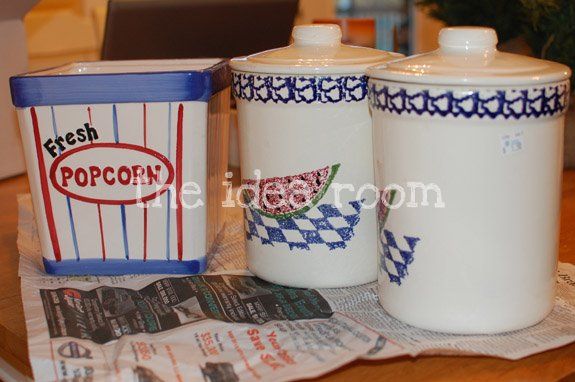 So how to cover up the prints? I simply primed them with primer using a regular brush but was very careful to paint them smoothly without any drips, etc. After they had dried, I spray painted them with some white Krylon outdoor spray paint. By the way…Krylon is my favorite brand of spray paint!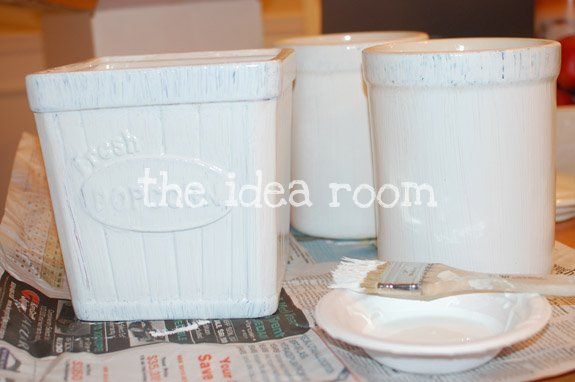 Then I glued a ribbon around the middle of the pot, threw in some small evergreen trees. I found mine at Hobby Lobby. They were orginally $7.99 but were 50% off! Gotta Love That!!
What do you think? I am really happy with these JOY trees. I might add a few little red or silver berries to them to spice them up a bit more! Have you been decorating your house for the Holidays? I just barely got all the bins and boxes put away…they have been out since the day after Thanksgiving :)! Feels good to have it done!
And thank you for all of you who have linked up your Christmas Projects and ideas…I am trying to get through all of them. You guys are doing some fun things!
★Amy
JOIN OUR NEWSLETTER
Would you like more Recipes, DIY, Printables and Organization Ideas?
---
Subscribing to the newsletter will enable us to periodically send you creative content exclusively for Idea Room subscribers.
*View our Privacy Policy here.