Thanks so much for stopping by! We love sharing how we have worked on our home one project at a time. We hope you enjoy what you see and maybe get inspired to make your home into one you love and enjoy daily!
This laundry room has gone through several different phases of remodel since we moved in 10 years ago.  This room originally had some really old and yucky outdoor carpet in it.  I think this room was the room where they kept a dog or two…so the floors were….well…gross.  The carpet was the first thing to go.  We replaced it with the tile you see in the picture.
(BEFORE)
Their was also a long folding table and cabinets on the wall opposite of the washer and dryer (not pictured).  We ripped that out and put in some lockers we had inherited from the gym that my husband did the finances for.
This room is finally finished…although there are a couple of things I want to do just to add a bit more pizzazz! Nothing big, but some fun decorative items to finish it off. I will be sure to add them here when I have gotten around to it!
Perhaps the most asked question is how we made our Café Shelves.  For that tutorial click on the following link:  Café Shelf Tutorial
At the other end of the Laundry Room we have an outside entrance. This door is right by my driveway and is closer than my Front Door. So when people come to my house, especially the kids and our extended family, they usually come through this door. Gah!
And with a large family of seven, we always have dirty laundry.  So I wanted this room to be NICE so that the first thing people saw were not piles of laundry.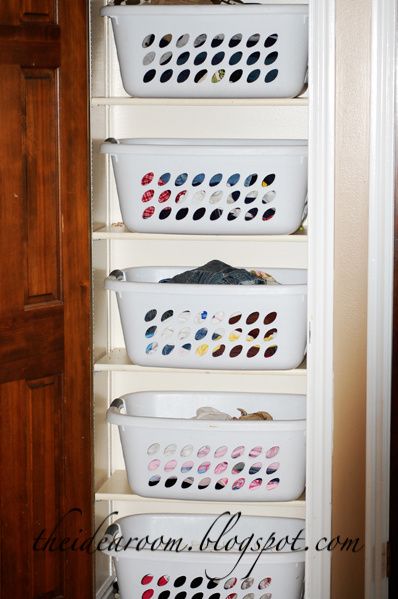 We turned one of the closets in this room to a laundry storage shelving system.  You can learn more about that by clicking on the following link:  Laundry Organization System
We painted our oak cabinets white.  They are 30+ years old and were not in the best shape.  To see how we painted them white and our tips for painting them so that they look like a professional painted them click on the following link: (this is a tutorial for when we painted our Master Bath cabinets, but it is the same process)  How to Paint Your Cabinets
Build a Washer and Dryer Platform
Since my husband and I are both tall, we wanted to raise up our washer and dryer but did not want to pay for overpriced washer and dryer pedestals that matched.  So we built this washer and dryer platform.  For the full tutorial, click on the following link: Build a Washer and Dryer Platform.
Because the Laundry Room is the entrance for all of my kids, I needed a "drop zone" to contain all of the clutter that comes along with school and kids.  I had a nice flat wall directly behind the outside door but not a lot of room for furniture as the door opens directly into this wall.  So we made a flat organization board that included hooks for the kids coats and backpacks.  For more information on what we use it for and how we built it, click on the following link:  Kids Organizational Board
We have a cat…and while I love animals, I do not love the mess that comes along with them.  So I had my husband cut out and place a cat door under the laundry room sink.  This is where we store the cat litter box and his bed and food.  It keeps it all hidden away.  To learn more about this click on the following link:  Hidden Cat Door
We added crown molding to this room and we raised the baseboards with a quick and easy trick.  This is a great solution when you don't want to tear out your existing baseboards, but want the more sophisticated look of taller baseboards.  To learn how we did this, click on the following link:  How to take your baseboards from small to tall
How to take your baseboards from small to tall
And finally, we had a little extra space that was not quite filled up with lockers.  We built our own locker with shelves to fill the entire wall with lockers so everyone in the family could have their own.  To see how we did this you can click on the following link:  How to Build Locker Shelves
The paint color on the walls is Revere Pewter by Benjamin Moore.
The trim color is a color we have been using for a long time.  I can not remember the original name but I have the formula just in case some of you are interested.  We LOVE WHITE trim.  There are a lot of colors of white and this one doesn't seem too turn yellow!!  We paint our trim in a high gloss finish.
I am happy to answer any other questions you may have.  Just leave a comment here and I will try to answer them as time permits!
JOIN OUR NEWSLETTER
Would you like more Recipes, DIY, Printables and Organization Ideas?
---
Subscribing to the newsletter will enable us to periodically send you creative content exclusively for Idea Room subscribers.
*View our Privacy Policy here.