Need a fun idea for a girls night out or a little girls birthday party?  Make candy jewelry…in the form of red rose rings!  My kids love Ring Pops and have collected a few of the empty ring forms hidden away in their "special collection boxes".  I found a few of them when cleaning out and organizing the kids closets this summer and was tempted to throw them away much to my kids complaints.
(image source)
And because my mind is always thinking of ways to create and reuse (a curse late at night), I saved them.  Well, it is a good thing that I did because a few days later I remembered a rose candy mold that I had laying around.
I melted some red and pink Candy Melts  (Wilton) that I had leftover from Valentine's Day and poured them into the candy mold.  Then I placed the now sterilized (through my dishwasher) plastic ring forms into each one of the rose candies.  I popped them immediately into the freezer to help them set up faster.
Within 15 minutes they were ready to go.  My kids immediately asked if they could have one.
Even the boys wanted one…but would not let me take their pictures wearing one…imagine that!  HeHe!  Boys!
The girls LOVED them!  And guess what?  They tasted even better than the real ring pops in my opinion.  And just imagine if I had made them with some real chocolate?  Wouldn't they be fun for a bridal shower or a girls night out?  Or a little girl's birthday party?  I know!  Well, since my now 7 year old just had a birthday and it is her year for a friends party…I made some more for her friends.  Look for that post soon!
Linking up here: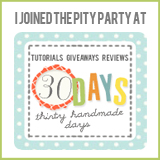 JOIN OUR NEWSLETTER
Would you like more Recipes, DIY, Printables and Organization Ideas?
---
Subscribing to the newsletter will enable us to periodically send you creative content exclusively for Idea Room subscribers.
*View our Privacy Policy here.