Guess what?  I have another version of my Oreo pops…Minnie Mouse Oreo Pops.  Are you getting tired of these yet?  A sickness I tell you.  But this time I had a good reason for making them…at least that is what I keep telling myself.  My daughter just had a birthday and she LOVES Minnie Mouse.  Ever since we had the good fortune of meeting Minnie Mouse at Disneyland last fall.  So for her birthday it was an obvious decision to have a Minnie Mouse birthday party.
I made some of these fun Minnie Mouse Oreo Pops.  They were really easy once I figured out you had to "dip" them in two different stages.  Here are the supplies you will need to make them.
Wilton Candy Melts (Midnight Black) or chocolate
Double Stuff Oreos (I need to buy some stock in that company)
Bite Size Oreos
Popsicle Sticks
red ribbon
Slide the popsicle sticks into your Double Stuff Oreos very gently by holding the cookie in one hand and sliding the stick with the other.  Then take one bite size Oreo cookie and separate it into two halves.  Scrape out the frosting with the edge of a knife.  Slide the smaller cookies into the top of the Oreo to make her ears.  Lay them out onto some wax paper.
Melt your candy melts in the microwave in 20 second intervals until it is melted to a smooth and creamy consistency.  Now "dip" the Oreos into the candy.  Now I don't actually dip them but rather take a spoon and smooth it onto the front of the Oreos.  You need to be very careful when doing this as the ears can come off very easily.  Just do the front and then set it onto the wax paper.  Do this for all of your Oreos and then pop them into the freezer.  After 20 minutes you can take them out and then cover the back side of the Oreos with the candy.  Make sure to cover the ears and the bottom of the stick well so that they do not fall apart.  Once they have been popped in the freezer again, they will be really sturdy and you should not have a problem with them falling apart…even if you accidently drop the tray onto the countertop!  Not that I may have done that…just saying!
Then take some ribbon and tie it into a bow around the base of the Minnie Mouse head to add a pop of color and detail.  Serve them to your party guests or send them home with this fun and tasty party favor!  Who wouldn't love a Minnie Mouse Oreo Pop?
Linking up here: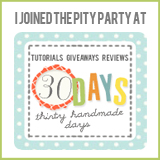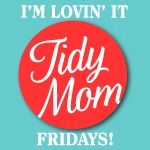 JOIN OUR NEWSLETTER
Would you like more Recipes, DIY, Printables and Organization Ideas?
---
Subscribing to the newsletter will enable us to periodically send you creative content exclusively for Idea Room subscribers.
*View our Privacy Policy here.