Here are just some more fun Valentine's Day treats you can whip up quickly for those special loved ones. Above are the chocolate chip icecream sandwiches I made up for our Family Home Evening on Monday night this week. (For those of you who have not heard of Family Home Evening, it is a weekly routine for members of my church to set aside Monday nights (or a night that works for your family) to have a spiritual lesson and an activity/game/outing as a family.
I have recently cut myself off from all desserts for a race I have started training for…YIKES! So I had a few carrots while my family enjoyed those beauties :(!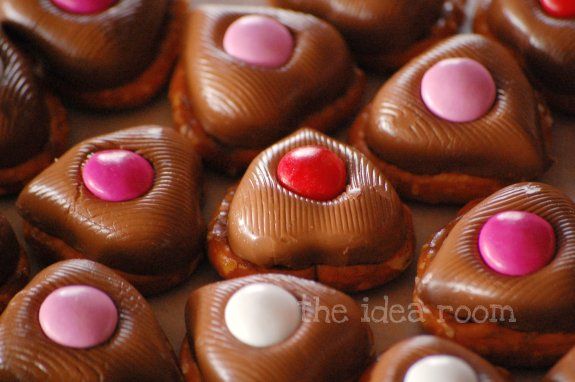 Then, for the superbowl, I made some chocolate pretzels using Hershey's heart shaped chocolates and pretzels. I unwrapped each chocolate and placed them on a pretzel. Placed them in the oven that was heated to 350 degrees. I watched them very closely till they started to get melty and then immediately removed them from the oven. Then I pressed Valentine M&M's to top them off and add a bit of color. I did manage to sneak a couple of these!
JOIN OUR NEWSLETTER
Would you like more Recipes, DIY, Printables and Organization Ideas?
---
Subscribing to the newsletter will enable us to periodically send you creative content exclusively for Idea Room subscribers.
*View our Privacy Policy here.