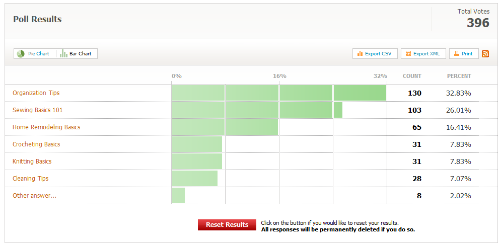 The poll results are in for our new Guest Blogger Series. Looks like the winner is Organization Tips. Thanks to everyone who voted.
Now comes the fun part. Anyone who is interested can submit their name for consideration to become the new Idea Room Organization Tips Series Guest Blogger. (That is a difficult title! LOL…will have to work on that).

There are a few guidelines for those of you interested in submitting your name for consideration:
1. Be able to provide at least 8 full length posts/tutorials over a period of about 16 weeks (1 post every other Thursday).
2. Be available to answer questions or comments any Idea Room Readers may have.
3. Submit posts in a timely manner.
4. Place the Idea Room Series button on your blog.
To submit your name for consideration, please do the following:
1. Send an email to [email protected] with your name.with "Organization Tips Submission" in the subject line.
2. A link to your blog.
3. At least 2 links to previous posts on Organization Tips or something similar.
4. A short bio about you!
Thanks so much! I am looking forward to this new adventure!
★Amy
JOIN OUR NEWSLETTER
Would you like more Recipes, DIY, Printables and Organization Ideas?
---
Subscribing to the newsletter will enable us to periodically send you creative content exclusively for Idea Room subscribers.
*View our Privacy Policy here.