**Be sure to enter the Giveaway for a fabric key chain here!
Do you like Oreo cookies? Then I have some yummy recipes for you…Oreo Truffles and Oreo Bark. Personally the Oreo Bark is my favorite. I have not made it since last March when I took these photos. I have a feeling that first thing in the morning, will have me at the grocery store stocking up on some more Oreos. Yum!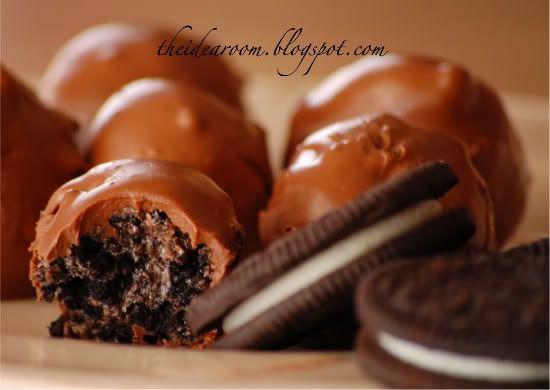 Oreo Truffles
(Recipe from Bakerella)
1 package oreo cookies (divided… use cookie including the cream center)
1 8oz. package cream cheese (softened)
white chocolate bark
1. Finely crush 7 cookies in a food processor or place them in a ziploc bag and crush into a fine consistency. Reserve for later.
2. Crush remaining cookies and stir in softened cream cheese. Use the back of a large spoon to help mash the two together.
3. Roll the mixture into 1″ balls and place on wax paper covered cookie sheet.
4. Melt chocolate as directed on the package and then dip balls into chocolate, tap off extra and set aside on wax paper covered cookie sheet to dry. You can sprinkle the tops with the 7 crushed cookies for decoration.
5. Once dry, refrigerate and enjoy!
Makes about 36 truffles.
Oreo Bark
Ingredients:
12 oz. milk chocolate (I use Ghirardelli chips)
6 oz. white chocolate
15 Oreos
Directions:
Put the oreos into a large ziploc bag and crush them until they are in small, bite-sized pieces.
Melt the milk chocolate in a double boiler.
When chocolate is melted and smooth, carefully stir in Oreo pieces.
Spread the mixture onto a foil covered cookie sheet, trying to keep the cookies in an even layer.
Melt white chocolate in microwave and drizzle it on top. Use a knife to swirl.
Let cool & harden (I put the tray in the refrigerator to speed things up). Break into bite sized pieces.
JOIN OUR NEWSLETTER
Would you like more Recipes, DIY, Printables and Organization Ideas?
---
Subscribing to the newsletter will enable us to periodically send you creative content exclusively for Idea Room subscribers.
*View our Privacy Policy here.