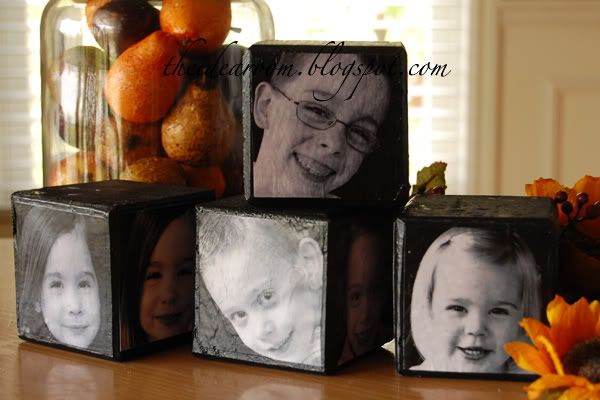 Does your mom, grandmother, or even you need some updated pictures of the kids or grandkids? Make some of these cute picture blocks for the favorite women in your life. They are super easy. I got this idea from my sister who had a friend make these a few years ago.
I went to Home Depot and bought a long square post (in the fence section). You can also buy precut blocks of wood now at Home Depot and in your craft stores. Mine happened to be 4 inches. So I had the hubby cut it into 4 inch sections so that each block was 4 inches square.
Sand all the rough areas of the block and then paint or stain with the color of your choice. Let dry completely.
Then I took some picture of the kids and in Photoshop cropped their faces to measure 3.75 inches by 3.75 inches (to fit onto the 4 inch block). You will need 4 different pictures for each picture block, so that each side of the block has a different picture on it of the same kid. You may need to paste your 3.75 x 3.75 picture onto a new blank photoshop background that measure 6×4 so that your photo store will not enlarge it to fit a 6×4 template they print on? Make sense? I made my photos black and white because I wanted black blocks, but colored pictures would also be cute.
Print your pictures from your favorite photo store. Having your pictures on real photo paper is important so that the ink does not run and the texture of the wood does not show through the finished photo.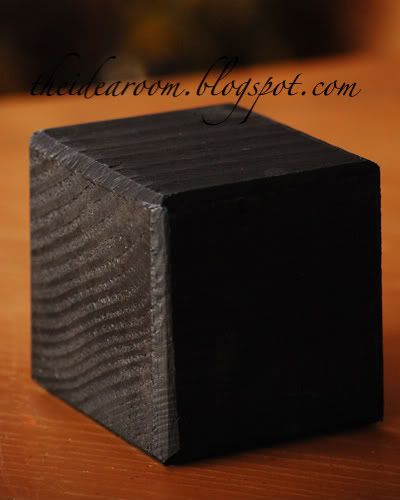 Cut out your photos and paint Modge Podge (I prefer the Matte finish to the glossy) onto the back of each picture. Place one photo on each of the 4 sides of your block. Let the Modge Podge dry. When it has dried, paint Modge Podge over the entire surface of each of the four sides and let it dry. You may want two or threelayers on the front of the four pictures. And there you have it!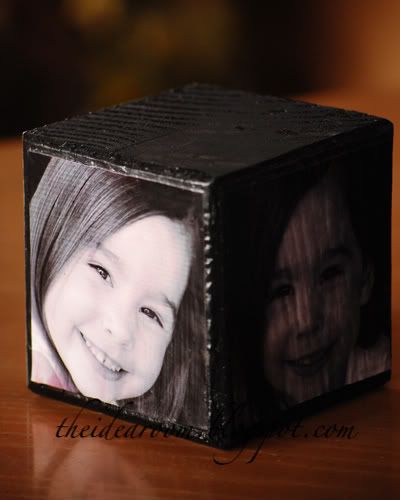 The nice thing about these picture blocks is that you can fit a lot more into one area than photos in frames. This is perfect for the Grandmother with 19 grandchildren. Now she can have room on her shelf to show off all of her grandkids!
*P.S. Thanks for all your kind words and comments! I really appreciate them!
Looking for more Modge Podge Ideas……http://modpodgerocksblog.com/learn-how-to-mod-podge
Check out more Modge Podge Ideas here.
JOIN OUR NEWSLETTER
Would you like more Recipes, DIY, Printables and Organization Ideas?
---
Subscribing to the newsletter will enable us to periodically send you creative content exclusively for Idea Room subscribers.
*View our Privacy Policy here.