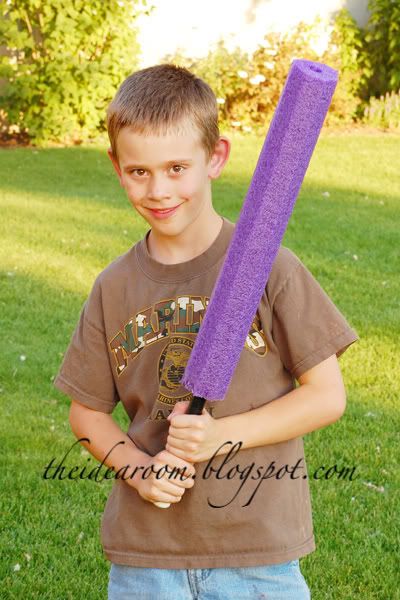 Do your kids (boys in particular) love swords and/or light sabers? Mine do. In fact everything at our house can be turned into a sword with a little imagination. We saw some of these swords at a craft fair a few years ago and decided to make some on our own. They are super easy.
Here is what you will need to make one:
swim noodle
26 inch length of 1/2 inch PVC pipe
1/2 inch PVC end cap
electrical tape
knife or hacksaw for cutting pipe and swim noodle
Take your PVC pipe and cut a length that measures 26 inches (or adjust according to what will fit your child best). Take one end of the PVC and wrap about 6-7 inches up the pipe with electrical tape. This is optional, but my boys really like the extra grip and the feel it provides. Place the end cap on the end of the pipe with the electrical tape. This is where your kid will hold the sword.
Take your noodle and cut off a 19 inch length. **You will need to use a swim noodle that has a hole down the inside of it. Then simply slide the noodle onto the length of PVC pipe. And there you have it…a sword or light saber.
We have a outdoor use only policy and strict rules about not hitting one another with them. The swords can only touch swords. They are only to be used in pretend combat as they could do some serious damage. My boys have also used them as baseball bats to hit tennis balls around our backyard.



JOIN OUR NEWSLETTER
Would you like more Recipes, DIY, Printables and Organization Ideas?
---
Subscribing to the newsletter will enable us to periodically send you creative content exclusively for Idea Room subscribers.
*View our Privacy Policy here.