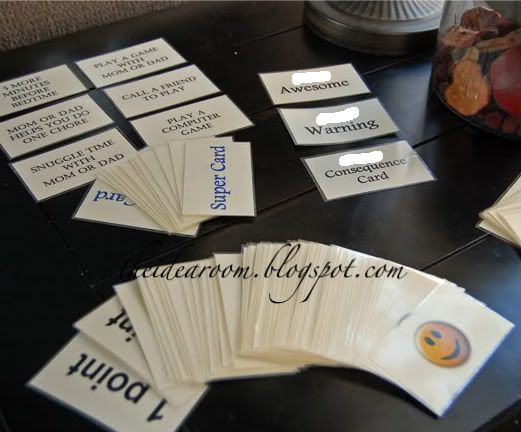 Because we do not pay our kids for their regular chores around the house, I needed to have a system in place to help "motivate" them to do them happily and quickly. We came up with a point system. I made some point and reward cards by simply buying some home printable business cards from Office Depot. Then I downloaded the template for my Word program from the Internet. Using the template (that matched the brand of business cards I purchased) I typed in some rewards for the kids. Here are some examples of the rewards (super cards=reward cards) we came up with:
staying up an extra 5 minutes before bedtime
getting an extra bedtime story
snuggle time for 10 minutes at bed with mom or dad
playing a game with mom or dad
earn a special snack
earn 30 minutes of TV time
earn 20 minutes of computer time/video game time
I also made point cards. Each point card is worth one point and had a smiley face on the opposite side.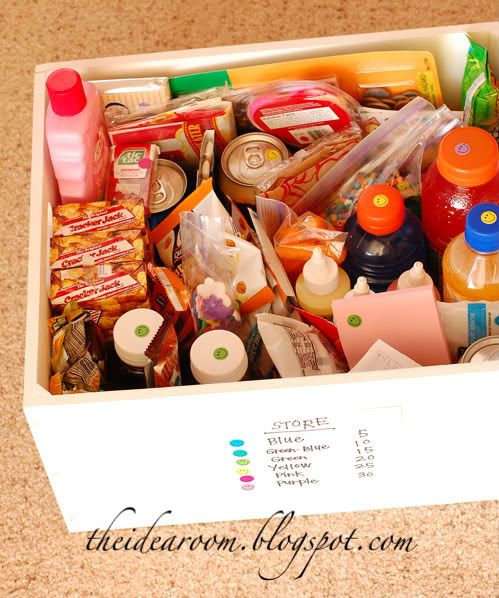 When the kids do their chores right away, with a good attitude and do them according to "mom's standards" I reward them with a few points. They save these points and then at least once a week we open the family "store". The family store is simply a collection of various items we have already around the house. It can be anything from food snacks, drinks, a bag of microwave popcorn, a package of post-its, stickers, dollar store toys, notebooks, etc.
Each item has a different colored smiley face sticker on it. On the box that holds the store inventory is a key that breaks down how many points a certain item costs.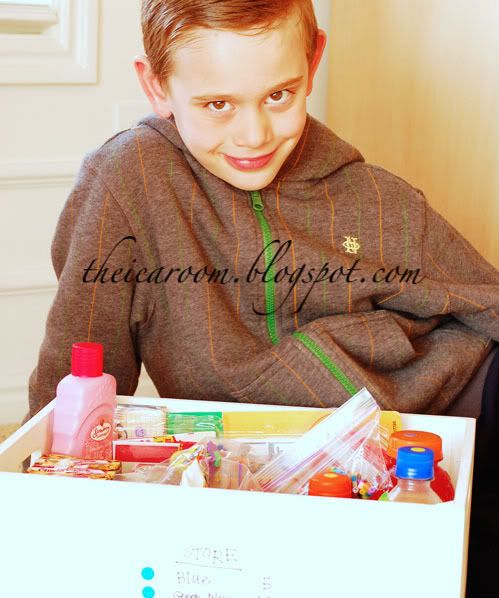 They can also save their points to buy reward cards or "Super Cards" (they are the same thing or a super card = a reward card). I also use the reward cards to reward any good behavior I notice among the kids. For example playing nicely, using good manners, helping their sibling, sharing their toys can all earn the kids a reward card. If they receive a reward card, they can turn them in at certain times during the day and be able to redeem their reward earned.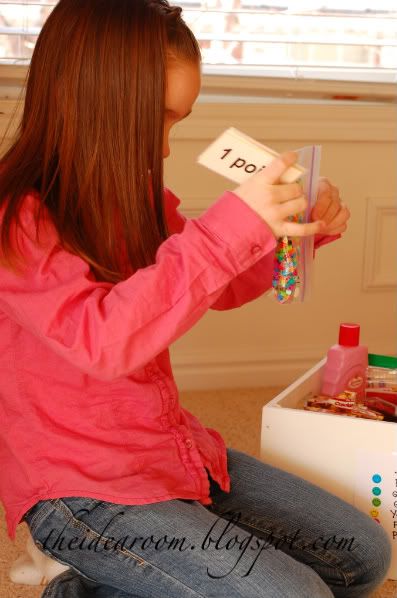 This system has really helped us to remember to focus on all the good things our kids are doing with and for one another. It has also been a good motivator for rewarding good and positive behavior. Maybe this or something similar will be something that could work for your family.
How about you? What are some of the things you have done in your home that have helped to motivate good behavior in your children? By all sharing, we can help and encourage one another in our quest to be better parents.
JOIN OUR NEWSLETTER
Would you like more Recipes, DIY, Printables and Organization Ideas?
---
Subscribing to the newsletter will enable us to periodically send you creative content exclusively for Idea Room subscribers.
*View our Privacy Policy here.