You guys! I just recently got back from an amazing trip to Israel.  Some of you may have already known this if you follow along on Facebook or Instagram.  Today I want to share with you how this all came about and share with you our first full day in Israel.
A couple of months ago I received an invitation from a group of students from Israel who are part of a non-profit organization, Stand With Us.  They were inviting us on a tour of Israel's culinary and historical sites, called Taste of Israel.
This group of students spent countless hours raising money, throwing fundraising parties, planning, and working with sponsors to make this trip happen.  One thing I totally did not expect was that I would come to care a great deal about each and every one of the students and the other bloggers.  In 5 days, I felt like we all became good friends…and I kind of miss them…I feel like I left something behind in Israel…like a piece of my heart.
We flew in and arrived in time to stop off at the hotel and freshen up before heading out to dinner at Haim Cohen's Restaurant.  Haim Cohen is quite the celebrity in Israel where he is one of the Master Chefs (judges) on the popular show Master Chef Israel.  We were lucky enough to be able to spend a bit of time talking with him and asking him questions.  He was so warm and gracious and welcomed us with an admirable humbleness.  Not at all what I would likely expect from someone with his prestige.  And…the food was amazing!
photo credit Ally's Kitchen
(Matan, Kevin, Jen, Ally, Haim Cohen, Heather, Me, Debbi, Shira, and Elad)
After a nice and relaxing dinner and getting to know one another, we headed back to the hotel for a good night's rest which was welcome after two long flights and a very long day of travel.  We stayed in the Dan Hotel in Tel Aviv which has an amazing view of the Mediterranean Sea and Jaffa.
The next morning we walked along the Mediterranean Sea and over to Jaffa which you can see in the distance to the left, in the above photo from my hotel room.  The Mediterranean Sea is such a beautiful blue color.
We really enjoyed our Israeli tour guide, Avigail, along with our new Israeli friends.  It was such a great way to feel like we were immersed in the Israeli culture instead of just being "tourists".  I feel so blessed to have been able to spend so much time getting to know EACH of the students, our tour guide, the food, customs and history of Israel.
In the above photo you can see the bell tower of St. Peter's Church in the Old town Jaffa.
We walked through the Old town of Jaffa and I LOVED the narrow alleyways.  It was amazing to be there and imagine the thousands of footsteps that have tread here for thousands of years of history.
We were able to see the house where, according to ancient traditions, Simon Peter lived.  St. Peter, regarded as the most important, and spokesman of the Apostles, resided in the house of Simon the Tanner in Jaffa.
(Acts 10 6): "He lodgeth with one Simon a tanner, whose house is by the sea side".
However, the Roman Catholic tradition holds that the house is located at the site of St. Peter's Church.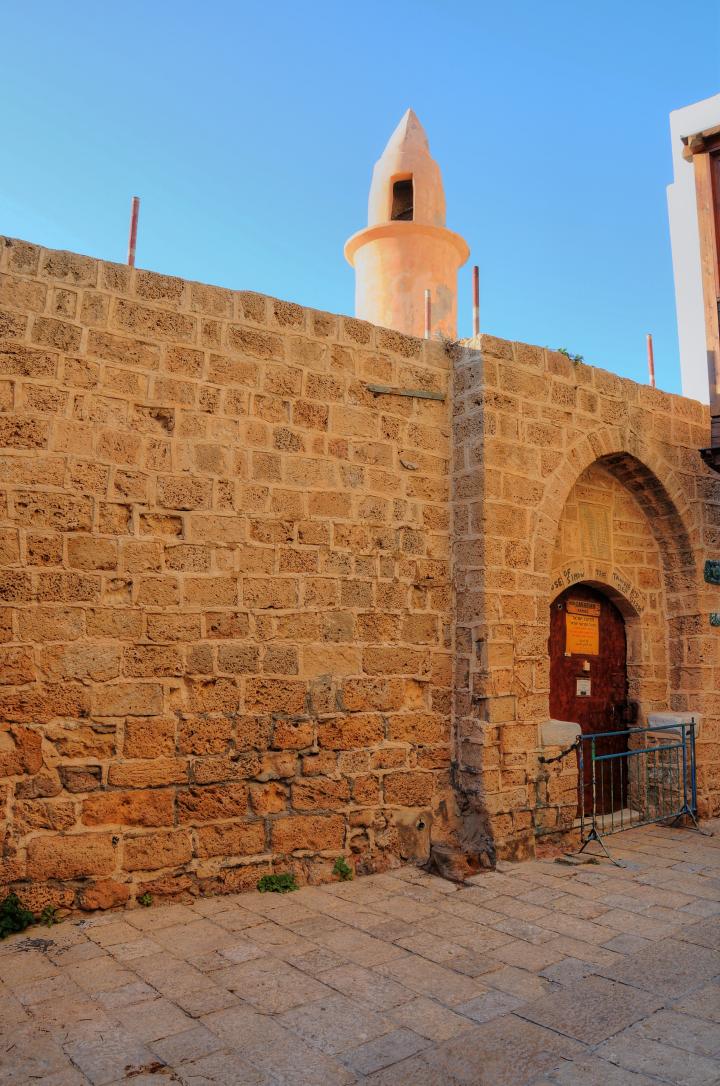 Jaffa is also tied historically to Solomon and Jonah in Biblical stories.
From the port of Jaffa, we walked a short distance over to Abu Hassan's for some of his famous Hummus.  Now…I personally am a HUGE Hummus fan.  I thought I knew what good hummus was.  I almost wish I had NOT experienced Abu Hassan's hummus…because I don't think they deliver to the states.
We stood huddled together in the street and shared a couple of large bowls of this amazing Hummus.  I am sure we were a site to see…a group of tourists fighting over every last bit of hummus and pita bread.
I NEED to figure out how to recreate this at home…because seriously…the hummus I can buy around here is just not going to cut it! You can bet I will be playing around with a good hummus recipe now…especially because I can actually eat it without getting sick.
*Update 11.8.13–I came up with a Hummus Recipe and shared it here: Hummus Recipe
We stopped by Dr. Shakshuka for a taste of…well…Shashuka.
Shashuka is made by poaching eggs in a delicious tomato sauce.  You then eat it by scooping the Shashuka right out of the pan with your bread!  You guys…it was so yummy!  I wish I could have eaten more of it…but because I have an intolerance to tomatoes, I didn't want to get sick…but I for sure couldn't leave Israel without trying it!
Then…because a lot of this trip was about the different culinary "Tastes" of Israel, we headed across the alleyway to Fragi for some Couscous.
Couscous is a pasta made from semolina flour mixed with water.  The couscous was then served with pumpkin and carrot.  This was perhaps one of my favorite dishes…other than the amazing Hummus!
After stuffing ourselves full of goodness, we walked a short distance to a bakery and drooled over the goodness.  Even though we were stuffed…one always find room for some dessert!
We shared this amazing Kanafeh, which typically in Jerusalem, is a neon orange pastry with a crust of shredded phyllo dough or semolina filled with soft goat cheese.
So unique and surprisingly tasty!  This dessert can be found in many different varieties depending on which country you are in.  One thing I noticed is that Israel was a melting pot of different cultures and countries and the food is a great mix of many with it's own little twist.  I was ultimately surprised at how much I was enjoying all of the foods, especially with my darn food intolerances.
And…surprisingly, I never once felt the sickness and bloating that I usually feel when I eat something I have an intolerance to in the States.  This is something that really surprised me.  I have a lot to learn and feel like it was a blessing in so many different ways to have this culinary experience.
We were able to spend some time browsing the local flea market in downtown Jaffa and then immediately headed over to an amazing cooking class at the Dan Gourmet Cooking School…the first Kosher Cooking Schools.
We made some delicious charred eggplant with Tahini and some Israeli "pizza" made with lamb (best darn pizza I have ever had…and…made with everything I CAN eat unlike American Pizza)!
After eating and chatting (two things we had a lot of practice at) we headed back to the hotel for a little down time to digest and freshen up before heading out to dinner at Herbert Samuel.  Pretty rough day right?
More amazing food…great conversation and an invitation to see the kitchen!  Then off to bed (in my stretchy pants because I ate too much) to get ready for our second day which we would be spending in Haifa.  Stay tuned….

JOIN OUR NEWSLETTER
Would you like more Recipes, DIY, Printables and Organization Ideas?
---
Subscribing to the newsletter will enable us to periodically send you creative content exclusively for Idea Room subscribers.
*View our Privacy Policy here.