Do you have any special Thanksgiving traditions at your house?  This is one Thanksgiving Craft we enjoy each year.
Each year my mom gives each of her children and their families a Thanksgiving Bucket. Then each family is supposed to fill the bucket with things that they are thankful for. Then after our Thanksgiving dinner, we sit around the fireplace, while are tummies are digesting our meal, and take turns sharing what we have written for our buckets.
It always invites a special feeling to our Thanksgiving Celebration. And though some of the kids (and adults…*ahem*) complain a bit, they always end up participating and enjoying the activity.
So this year I spiced up our bucket and have it on the kitchen table to remind of all month long to be thinking and adding things to the bucket that we are thankful for.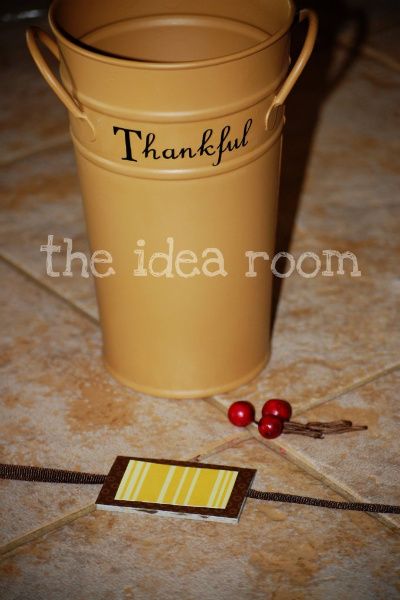 First, I added the word Thankful, then I simply took a rectangle piece of chipboard and decorated it with some scrap book paper. Glued some brown ribbon inbetween the paper and the chipboard and then tied it to the back of the bucket handles.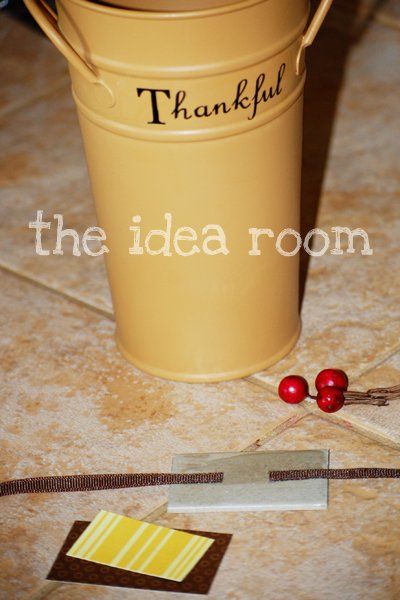 Then I added a small green leaf and some red berries that I snipped off the back of a wreath where you wouldn't notice they were missing.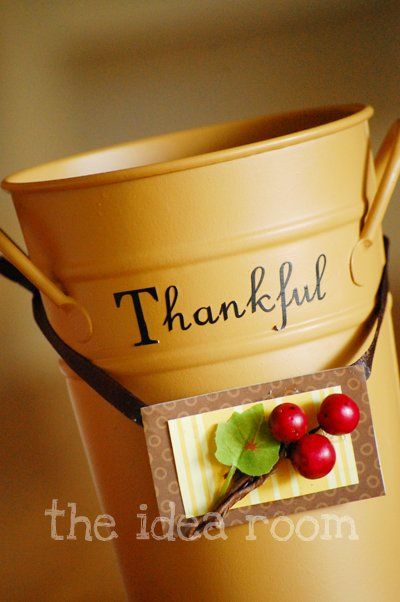 Then I whipped up some papers for the family to write down their blessings on. The kids are encouraged to write something each time they think of something they are grateful for and drop it in the bucket. It is a good reminder to us all of just how MANY blessings we enjoy and take for granted on a daily basis! It's amazing how focusing on all the positives can change your outlook and give you some much needed perspective.
I love Thanksgiving for that very reason!
I have provided you with a free download of our "Thankful" cards. I simply printed them out on white paper and then glued them onto some colorful scrapbook paper. They aren't very fancy, but if you would like to use them for your family, you can get them here:
What about you and your family? What are some of your Thanksgiving traditions that you enjoy?



JOIN OUR NEWSLETTER
Would you like more Recipes, DIY, Printables and Organization Ideas?
---
Subscribing to the newsletter will enable us to periodically send you creative content exclusively for Idea Room subscribers.
*View our Privacy Policy here.