Colorful Taco Salad with Cilantro Lime Vinaigrette
This vibrant & colorful Taco Salad is the perfect healthy lunch recipe. It's simple to make and full of flavor, making it great for summer.
Hi Guys, Brynn from The Domestic Dietitian here to share one of my new, favorite summer lunch recipes – Colorful Taco Salad!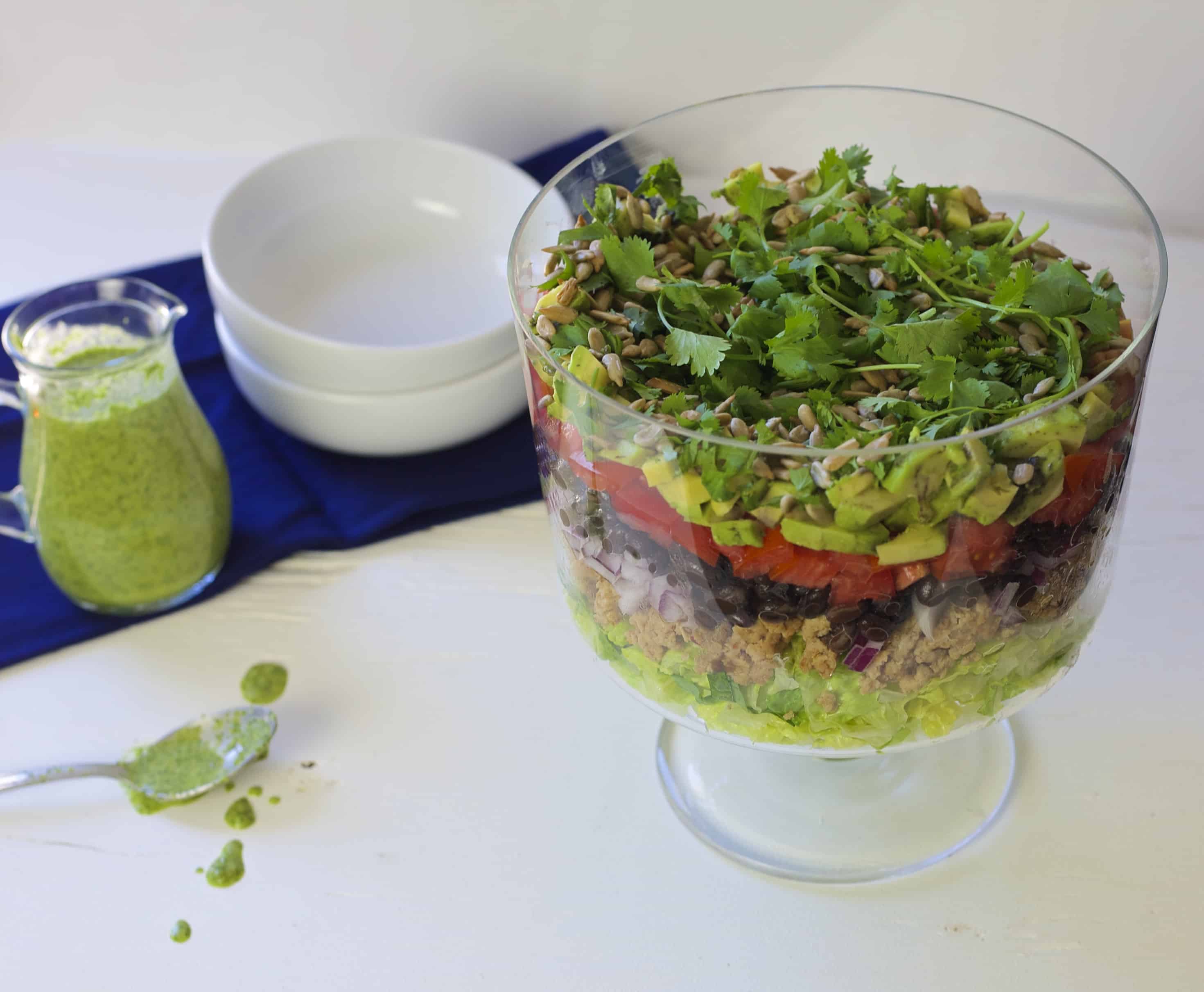 Taco salad has always been a favorite of mine, however, it's usually loaded with shredded cheese, sour cream, and an enormous fried taco shell. Not the lightest lunch idea, especially for summer.
I recently created this Colorful Taco Salad served with a light Cilantro Lime Vinaigrette as a way to enjoy all the great flavors of traditional taco salad, with less fat and more healthy vegetables and lean protein.

Building a Taco Salad
The great thing about this dish is that it's completely customizable. So if you don't like one of the ingredients listed in the recipe, you can easily omit it or replace is with something else. Some tips for building a healthy taco salad –
Include vegetables of various colors, not only to present a visually appealing dish, but to provide a wide range of healthy vitamins and nutrients
Add lean proteins, such as ground chicken and beans, to create a well balanced meal
Fresh herbs are a great way to add flavor without the need for excess salt or high calorie ingredients
Don't forget texture! A mixture of creamy (beans and avocado in this case) and crunch (sunflower seeds and fresh veggies) make a huge difference
Skip heavy, creamy dressings and choose lighter oil based vinaigrettes instead
Consider color when layering your salad and try to space similar colored ingredients out (i.e. lettuce and avocado not layered on top of each other)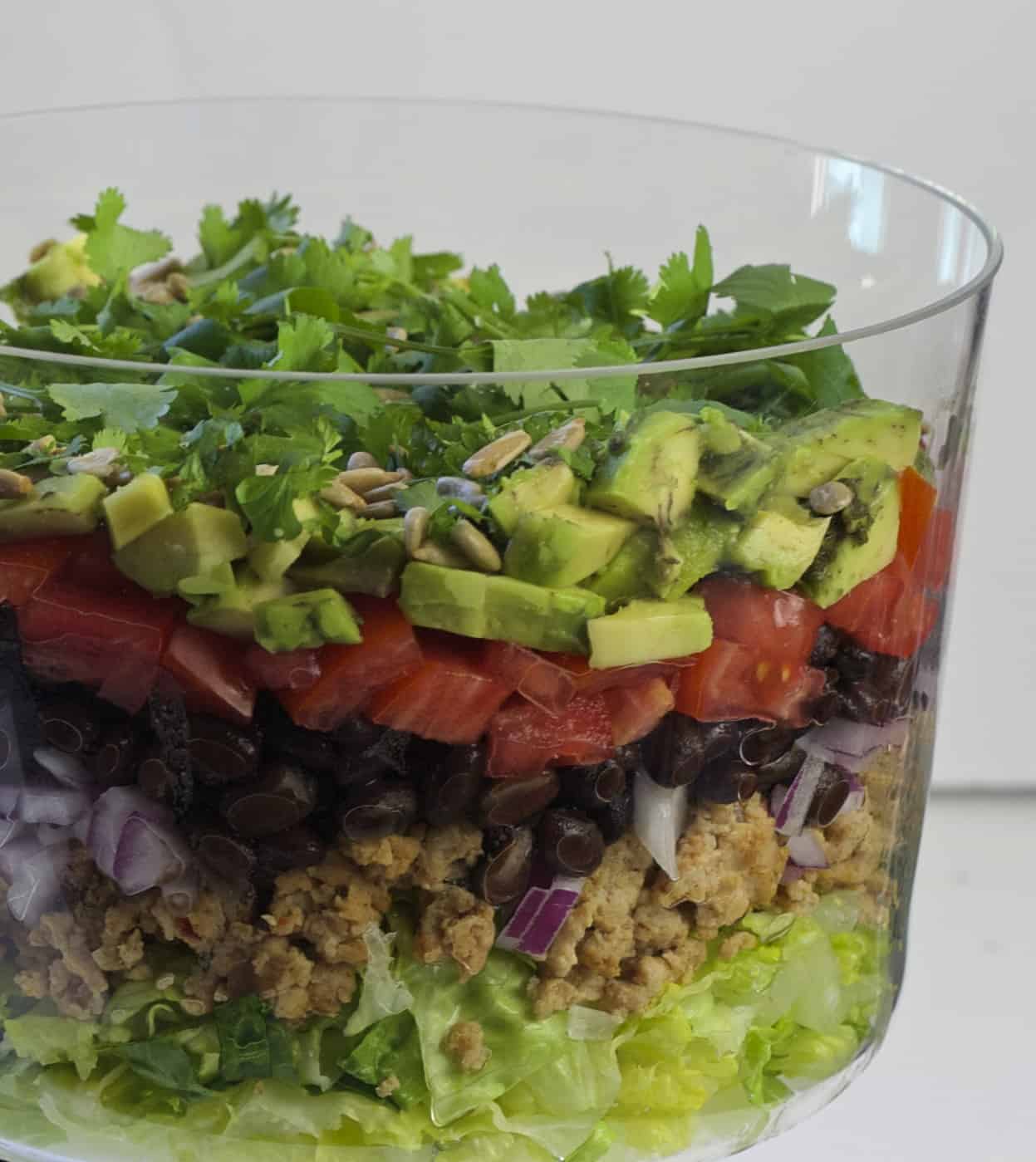 Colorful Taco Salad with Cilantro Lime Vinaigrette Recipe
makes 6 servings
Taco Salad Ingredients –
1 pound ground chicken (or turkey)
1 Tbsp Taco Seasoning (see recipe below, or purchase in packet)
1 large head Romaine Lettuce, chopped
2 cans black beans, drained and rinsed
3 medium tomatoes, chopped
1/2 purple onion, diced
1 avocado, diced
1/2 cup cilantro, chopped
1/4 cup sunflower seeds
Cilantro Lime Vinaigrette Ingredients –
1 cup cilantro, rough chop
1-2 garlic cloves
1/2 jalapeño, seeds removed
Juice of 3 limes
1/4 cup olive oil
salt and pepper, to taste
Taco Seasoning Ingredients (optional, makes ~4 servings) –
1/4 tsp paprika
1/4 tsp garlic powder
1/4 tsp onion powder
1/2 tsp ground cumin
1/2 tsp chili powder
1/4 tsp salt
1/4 tsp black pepper
Directions:
Preheat large skillet over medium heat on stove
Add ground chicken and add 1 tbsp taco seasoning
Cook until browned and cooked through (about 7 minutes), stirring often to break up chicken
Once cooked, remove from heat and let cool
Place black beans in saucepan over medium heat on stove. Cook for 5 minutes. Remove from heat and let cool
To assemble salad, place lettuce in bottom of glass dish, add cooled chicken, purple onion, black beans, tomato, avocado and cilantro. Sprinkle with sunflower seeds.
Set salad aside and make dressing
Place cilantro, garlic, jalapeño, and olive oil in mini food processor or blender. Puree until smooth.
Season with salt and pepper and needed.
Pour dressing over salad before serving or serve on the side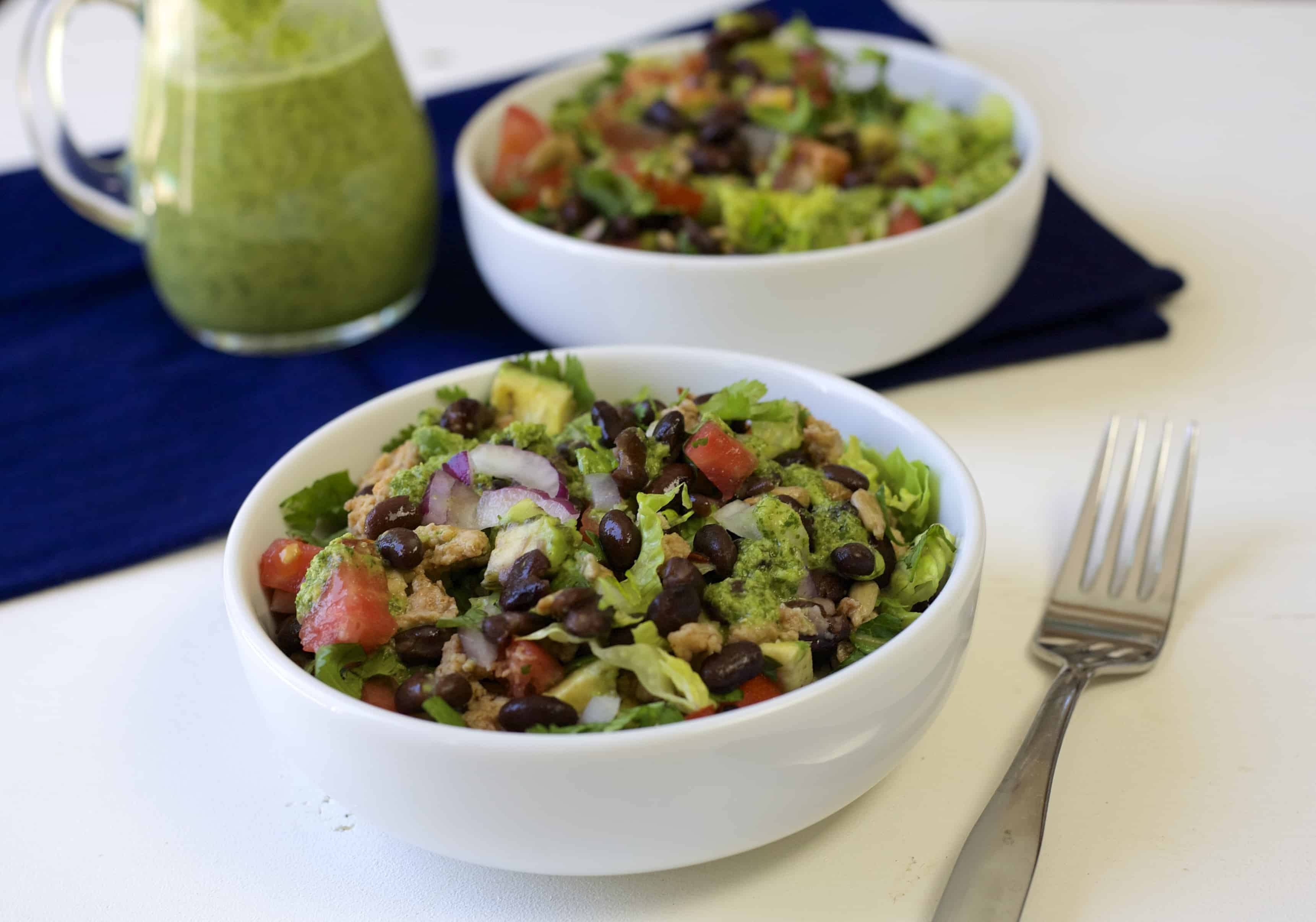 This Colorful Taco Salad recipe also makes a great meal prep dish! It can be made in advance, portioned into seepage containers and stored in the fridge for an easy, healthy lunch idea.
JOIN OUR NEWSLETTER
Would you like more Recipes, DIY, Printables and Organization Ideas?
---
Subscribing to the newsletter will enable us to periodically send you creative content exclusively for Idea Room subscribers.
*View our Privacy Policy here.