Hey Readers! We have one more great Idea Room Reader Project to share with you today! This time we have Lisa from Lisa's Recipe Cards. She will be sharing with us a fun recipe for Cookie Dough Truffles. Yum. How fun would these be to give to someone for Christmas or a Birthday? Here's Lisa…
They are really easy to make, but they do take some time to make. I like to make these on a day when I am home doing laundry or on a lazy Sunday afternoon when I am just chillin with my family.
First things first – make this awesome cookie dough recipe. This recipe is by far the easiest recipe I have found to make that does not include eggs. AND remember that because this cookie dough is eggless, it means it is safe to eat and makes it perfect for gifts and bake sales.
Then make dough balls using a Cookie Scoop
. This will help you make uniform dough balls. Place the dough balls on a small cookie sheet, lined with parchment or wax paper, and place in the freezer for a few hours.
Now it is time to coat the balls. I like to use chocolate bark because it melts easy and drys fast. (You can find chocolate bark in the baking isle in any major grocery chain.)
The easiest and fastest way to melt the bark is to do so in the microwave and in a coffee mug. Melt the chocolate in 30 second intervals – stirring each time until your chocolate silky smooth. The mug gives a deep dipping well without using a ton of bark. Plus when I am done with my dipping, I cover the mug with tin foil and save for my next use.
Now it is time to dip the dough balls. Dip the bottom and place back on the cold cookie sheet (lined with parchment or wax paper). Stick dough balls back in the freezer for about 20 minutes. Time to dip the tops. After the whole ball is coated, shake off all the excess bark and place back on the cookie sheet. When you are finished dipping the tops, DO NOT place back into the freezer or you will get condensation on your truffles. (Yup – I learned the hard way – as you can see.) When the bark has completely hardened, you can start decorating.
I don't have any fancy cake decorating tools so I use a Ziploc bag and scissors. I like to use white chocolate bark to decorate my cookie dough truffles. Melt the white chocolate as mentioned above and let cool for a few minutes. Then place melted bark into the Ziploc bag. Cut off a tiny corner and you have just made a piping bag. My little girl likes the swirl effect and my little dude likes the lines. Be creative and have fun with this part.
That's it – you have just made Cooke Dough Truffles that will make you a baking rock star.
Remember that this cookie dough is also great when it is used as a frosting like I did here.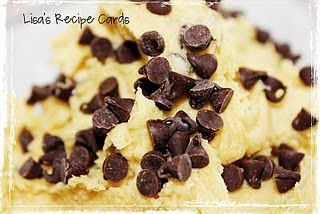 Another one of my new favorite creations in the kitchen is cake balls, cookie cutter style. Here is the link for my post for Mario Stars.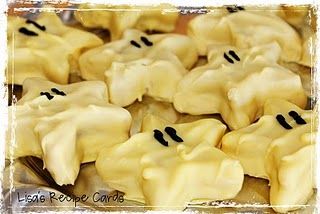 Thanks Lisa for sharing your yummy Cookie Dough Truffles with us today! Be sure to head on over to Lisa's site Lisa's Recipe Cards for some more great stuff!
★Amy