I made this shelf out of a discarded folding closet door. You can also use a regular door…just cut it in half length wise.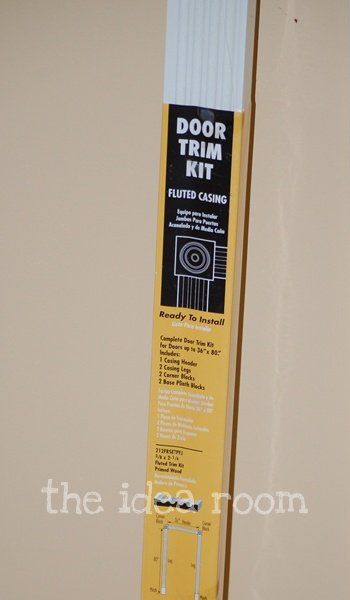 We purchased our door trim package from Home Depot to give the door shelf a finished look in a short amount of time.
If you are using a folding door to create your corner shelf, start by unscrewing the hinges. Place the two inward sides of the doors together so the inside corners touch. Reattach the hinges to hold the sides together. The sides will still flex, but the hinges will hold the sides together until the shelves are attached.
Determine how many shelves you would like. We inserted a shelf between each panel section of the door. Measure the length needed for the shelves by measuring the width of the door from inside corner to the door side. Then cut a shelf with two sides at that length. (It will be a triangular shape).
Once the shelves are cut, hold the shelves in their position on the door and mark the position of the top and bottom of each shelf. Ensure that the shelf is not tilted by measuring the position of each shelf corner (for instance, if the bottom shelf should be three inches off the ground, measure each shelf edge to ensure they are all three inches from the bottom of the door). Drill pilot holes in the door for the screws in the center of where the shelf will be. Hold the shelves in place and screw the screws through the pilot holes and into shelf.
Attach the decorative corner square. We positioned it in the center of the side and the center of the top shelf. Then attach the base molding to match the position of the corner square.
Measure the distance between the corner square and the base trim and then cut your side molding to match. Center the molding and attach with finishing nails. Use a nail punch to drive the nail head below the surface of the wood (cover nail holes with putty and sand to finish).
For the top molding, we used two layers to get the correct positioning in relation to the corner square.
The above picture shows the attahced base molding that was described above.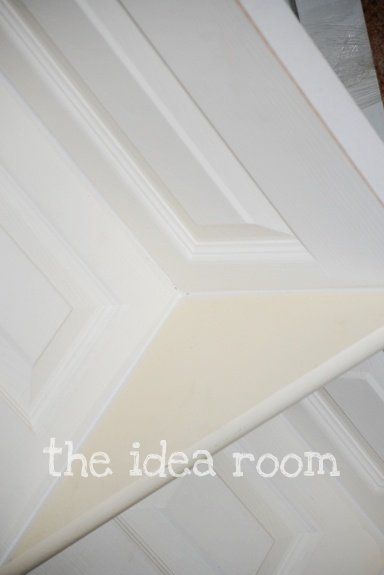 Caulk the shelf and the corner seams and you are ready for painting!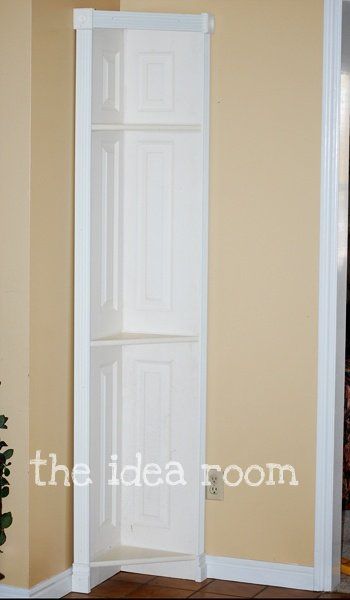 This project couldn't be easier and really dresses up the corners of your house that you just don't quite know what to do with. Or since this is smaller, it works great in a smaller room where a large piece would be too overpowering.
JOIN OUR NEWSLETTER
Would you like more Recipes, DIY, Printables and Organization Ideas?
---
Subscribing to the newsletter will enable us to periodically send you creative content exclusively for Idea Room subscribers.
*View our Privacy Policy here.