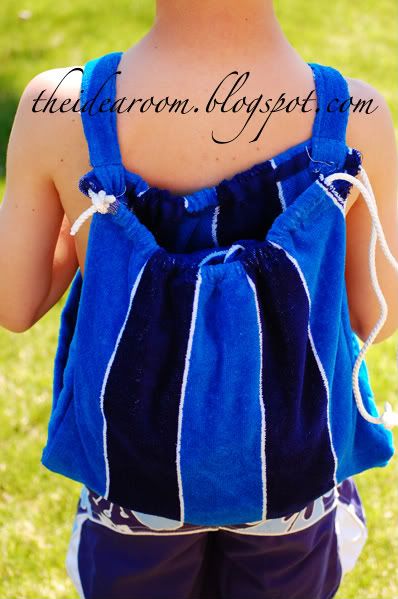 Take one of your towels (the other one will be left alone and will be the matching towel) and cut 2 squarish shapes. My original towel measured 30 x 60 inches. (I found mine at Target and they were $5.99 each). You can get two backpacks out of one towel. I cut my 2 squares about 15 inches x 14 inches. I used a 1/2 inch seam allowance unless otherwise noted. I also made sure that I had a 3 inch strip of material the length of the towel for the backpack straps.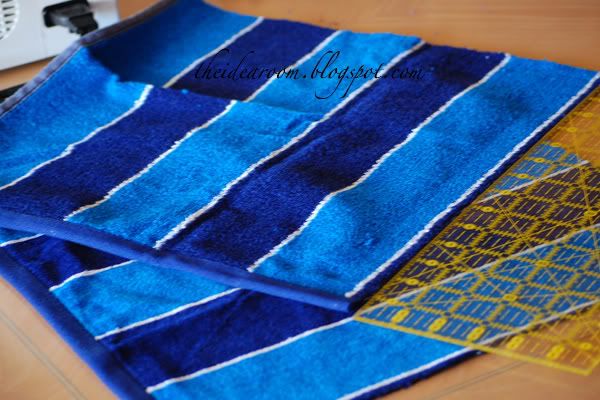 One peice of material should have a raw edge at the top (the other peice should already have a seam from the edge of the towel). Fold raw edge over at top and sew seam down about 2 inches from the top of the towel.
Fold the tops of each peice and sew a 1.5 inch casing to thread your pull string (rope) through. Do this by turning the seam into the inside of the back pack so your seam in on the inside of the finished backpack. Do this to both peices separately.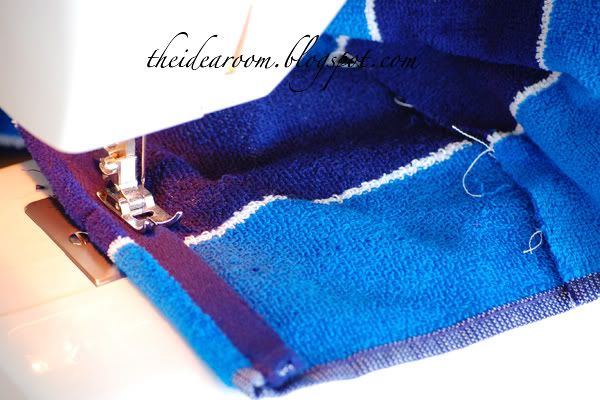 Now take the long 3 inch strip and iron the edge on both sides in about 1/4 inch. Then iron again in half length wise. Sew these two edges together as close to the edge. Sew from one end to the other. When sewn, cut strap in half, so you now have two straps.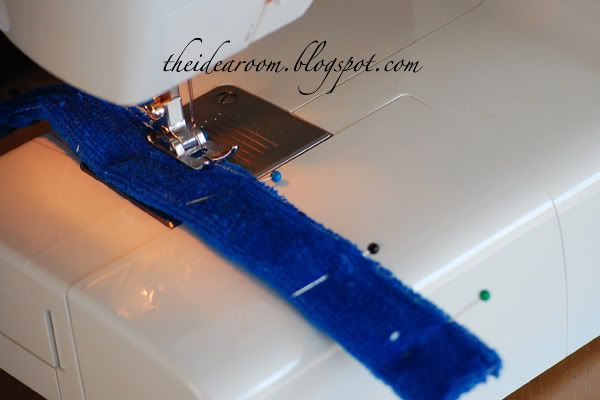 Pin your straps on one of the squares of material, so that they are inside of the backpack and come to the outside on the top and the bottom of the backpack. I had the longer 15 inch length be the vertical direction of my backpack (I hope that makes sense).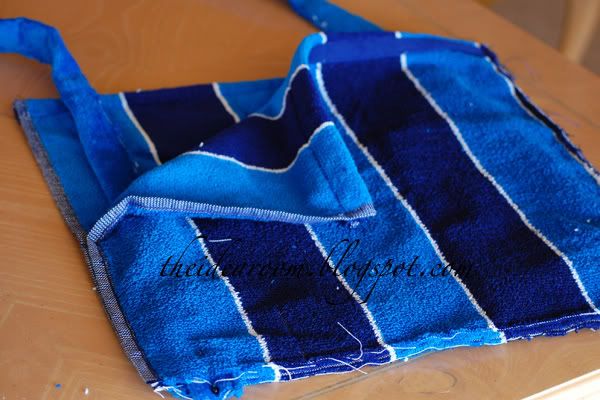 Now pin the two squares together, right sides together, and sew around all three edges leaving the top edge open. DO NOT sew through the casing. Stop right at your seam so that you can get your rope through without sewing the opening closed. I also added a zig-zag stitch just inside of my straight stitch to keep the terry cloth from unraveling (or your can surge it).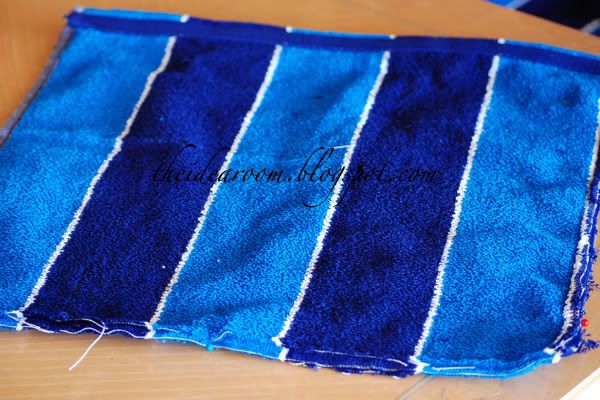 Now, reinforce the strap you have just attached. Sew right on your previous seams so as not to close your casing opening.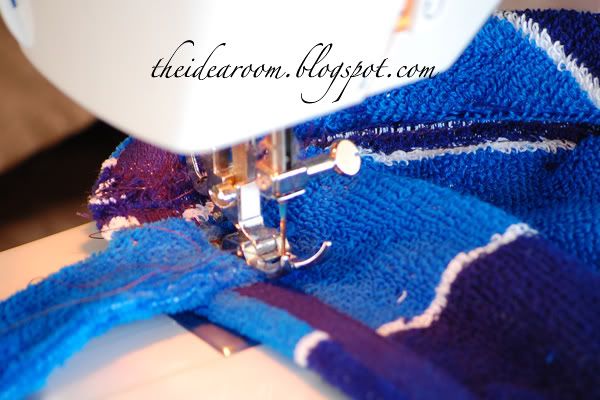 Do it on the other side of the strap as well. I went back and forth a few times to make it good and strong.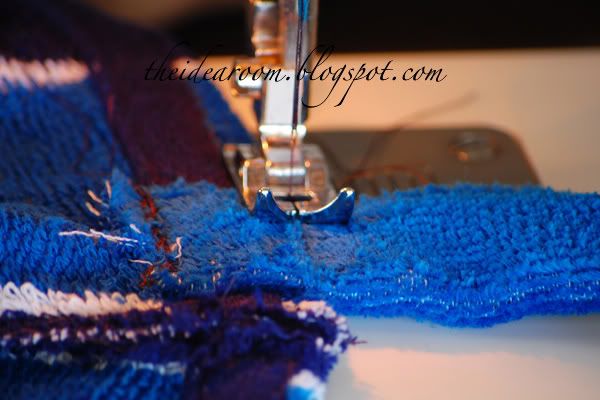 Now cut a length of rope to about 20-22 inches.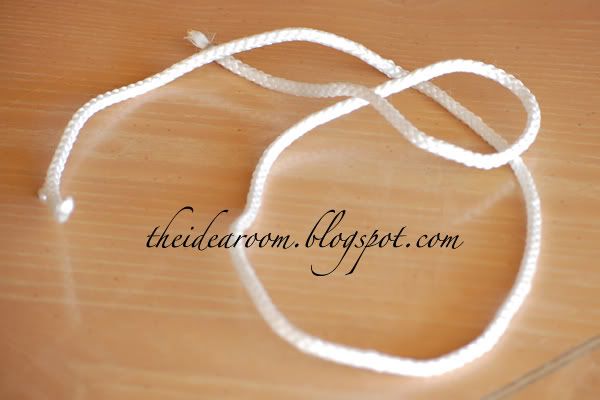 I tied a tight knot in one end and used a long knitting needle to help me thread it through my casing. (My son wanted a knot on each side of the back pack??? so that is why you see one on the other side too).
When you have pushed it through both sides, you should have the two ends of rope hanging out one end. Tie both ends into knots and then burn the ends of the rope (carefully) with a match to prevent them from fraying. Yeah! You are finished! Now get out there and enjoy some of that warm sunshine.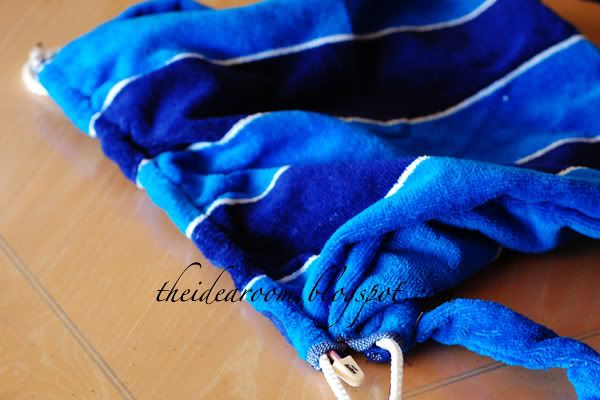 If there is some part (or all) of these directions that is confusing or written poorly, please let me know and I will try to improve them. Please feel free to ask if you also have any questions on any of this. I realize I am not that great at explaining things sometimes. I would also love to see pictures of yours if you end up making any. So send me a comment with a link! Happy Sewing.
**There are probably easier ways to make these, this is just how I made it being an unprofessional seamstress and all. I just really started trying to sew this past fall :)! If you have a better way, please let me know!
To make a swim bag and matching towel for little girls (or mommies) go here.
JOIN OUR NEWSLETTER
Would you like more Recipes, DIY, Printables and Organization Ideas?
---
Subscribing to the newsletter will enable us to periodically send you creative content exclusively for Idea Room subscribers.
*View our Privacy Policy here.