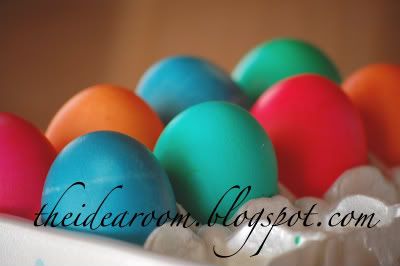 Directions:
Add 1 tsp of vinegar for every 1 cup of water
Add drops of food color until you're happy with the hue. (I usually get happy with the hue and then add a few more drops… I find that tends to make the eggs the color I was originally happy with). I like my Easter eggs darker in color.
Put hard boiled eggs in the cups (I use a spoon to put them in and take them out because I have cracked a few). If you want them darker leave them in for a long time. The eggs pictured above were left in for about 20 minutes. If you are dyeing eggs with kids, that may not be feasible with their patience level.
Let eggs dry. I usually save the egg carton and use it to hold the drying eggs. When dry, wipe eggs with vegetable oil (with paper towel or a rag) to give your eggs a glossy finish if you are going to be displaying them.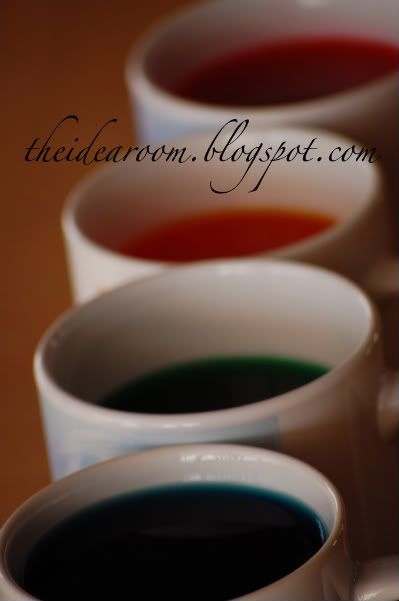 Since I made these early (for the pictures and for a coming post), I decided to be frugal and save the dye for when I dye eggs with the kids. I love it when I have the perfect jar just hanging around. And to think my hubby wonders why I have to keep so much "stuff" in the storage room.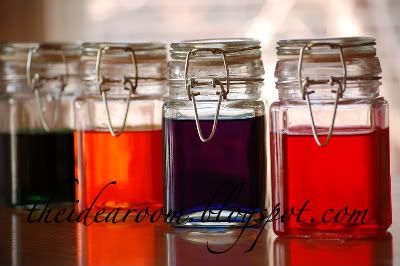 I do not have any pictures of eggs that we have done in the past that I could find to show you some of the different ways we have decorated Easter eggs. If you want some fun creative varieties for you and the kids, try the following:
-Wrap rubber bands around your egg in any creative manner and then dye your egg. Your egg will come out with some fun swirl designs.
-Put small stickers on your egg which will prevent the dye from dyeing certain areas on your egg. One year I did small round dots on some eggs and loved how they came out (but I like polka dots).
-Let your kids write on their eggs with crayons before dyeing your eggs. Use a white crayon to have hidden writing appear on your dyed egg.
-Tie dye your egg. Make a small wire hook that has a round area on the end to hold your egg. Hook the wire on the edge of your cup and let only a portion of your egg sit in the dye. When that area is a color you like, put a different area of your egg into a different color of dye. Repeat for as many different colors you would like.
-Dye your egg one color and then when it has dried, get a small amount of another color on your brush (I have used tempura paints) and then rub the brush bristles holding the egg close and splatter paint on your dyed egg.
Be Creative! Let the kids go wild. Then when you have no idea how you are going to eat all these wonderful creations, make egg salad sandwiches for dinner.
JOIN OUR NEWSLETTER
Would you like more Recipes, DIY, Printables and Organization Ideas?
---
Subscribing to the newsletter will enable us to periodically send you creative content exclusively for Idea Room subscribers.
*View our Privacy Policy here.