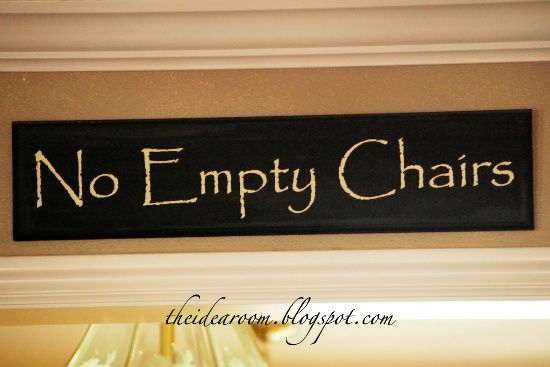 Several years ago I read a book, (Steven R. Covey; 7 Habits of Highly Effective Families) that was about families and how we could organize and run them more efficiently. It talked about looking at your family/home as a business (but of course with more personal relationships). He suggested you should gather your family together and come up with a family motto and/or theme. Something that represents what goals you have together and what you expect in your home. I loved the idea and we have since incorporated both a family motto and theme in our home.
Our family motto is "No Empty Chairs." This is something very personal and specific for our family. It may not work for your family, but something will. The key is to find something that fits your family and your beliefs about who you are together and what your ultimate goal as a family is. A goal is never reached that is never reached for.
Ours means that we expect that all of the chairs in our home will be filled. Meaning no one will be gone or left out. This also has some deeper religious significance for us as we are striving to be a "Forever Family."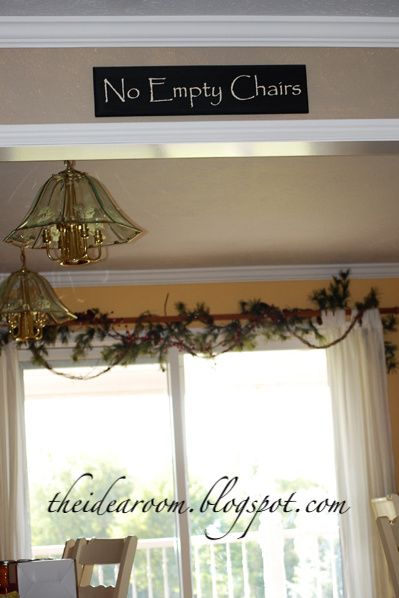 This sign hangs in our Family Room. The room right next to the kitchen. The two rooms we spend the most time in together. This way we see it in our comings and goings.
We took our family theme from out of our scriptures (Doctrine and Covenants 88:119). It is a verse of scripture that represents what we expect within the walls of our home. Is our home always representative of these things? NO! But it is a reminder to us of the things we are working towards as a family. I had it made out of vinyl lettering and it is directly above our food pantry in the kitchen. A place where the kids are drawn multiple times a day.
I know many of you may not be familiar with that particular scripture or may not be religious. That's okay! Everyone has some theme that will work best for their own family. I just share ours to give you an idea of what you could do for your own!
It has been interesting to listen to the kids describe these to visitors that come into our home and ask about their meaning! They really do listen when we are sure they are hearing nothing!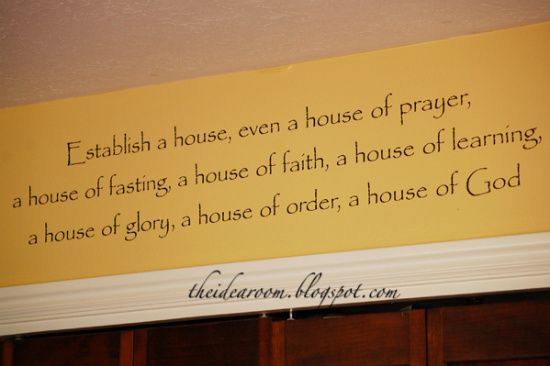 What do you think about having a family theme or motto in your home?
JOIN OUR NEWSLETTER
Would you like more Recipes, DIY, Printables and Organization Ideas?
---
Subscribing to the newsletter will enable us to periodically send you creative content exclusively for Idea Room subscribers.
*View our Privacy Policy here.