Today I have another Idea Room reader project to share with you. Aren't my readers creative? This time we have Tricia from Be Prepared, Not Scared! She shares with us a fun Halloween game. If you are looking for a fun and easy game for an elementary classroom party or just for fun, look no further. Tricia shares one with you today and even provides you a FREE printable! Here's Tricia…
Have you ever heard of the game . . . Don't Eat Frank?
All you need to play the game is a
package of small halloween candies like M&M's or Candy Corn,
and the Game Cards.
I'll supply the game pieces . . . YOU supply the candy!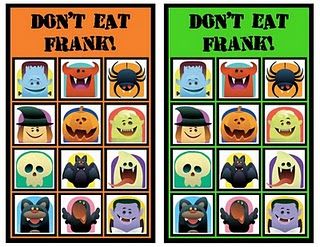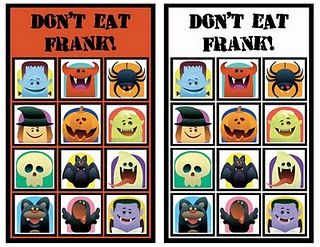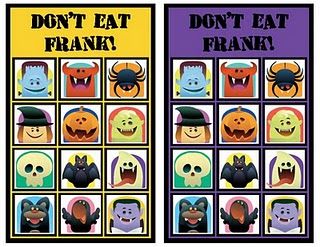 This is a great game for classroom parties.
Divide the class into groups or if stick together as one group if
you are playing as a family.
Put a piece of candy on each of the squares on the card.
Have one person leave the room.
The rest of the group will choose one of the
Halloween caracters to be "FRANK".
The person can come back into to the room.
He or she can eat the candy from the card until they get to the
square that was chosen to be "FRANK".
As soon as they go to pick up that piece of candy
every will yell, "DON'T EAT FRANK!" and their turn is over.
Let everyone in the group take a turn.
Each time they leave the room the rest of the group
will choose a NEW FRANK!
It's a Super Fun and Super Easy
way to keep EVERYONE entertained!
Here's the PDF:
"Don't Eat Frank!" Game Cards PDF
*Game cards need to be CUT and LAMINATED!
More Halloween Fun to Come!!!
Be sure and check out Tricia's site! She has some really great projects and ideas. Her blog is one of my favorites! Thanks Tricia for sharing your fun Halloween game with us today!
★Amy
JOIN OUR NEWSLETTER
Would you like more Recipes, DIY, Printables and Organization Ideas?
---
Subscribing to the newsletter will enable us to periodically send you creative content exclusively for Idea Room subscribers.
*View our Privacy Policy here.