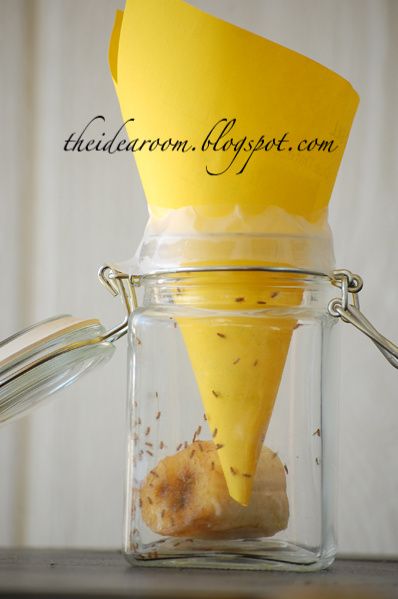 It has been a crazy week around here with three afternoons spent canning and making freezer jam so the craftiness and cleanliness at our house has been suffering! So I am catching up on that this weekend. But I did find a clever and efficient way to get rid of all the pesky fruit flies that have been swarming my kitchen due to the large quantities of produce it has processed.
I remember hearing somewhere, long ago, that placing a funnel with a tiny opening into a jar containing a cut piece of fruit would make a good Fruit Fly trap. And guess what? It really works! They were all trapped within about 12 hours! I used tape and sealed the edges when I discovered some of those sneaky flies were escaping and that worked like a charm. Then when all the flies were trapped, I just released them back into the great outdoors.
Seeing all those flies in the jar brought back a lot of memories of my 8th grade science class. Remember Heidi? We had to breed them and then spent hours counting, sorting, charting and recording genetic traits! I LOVED it! Weird I know, but it is actually the first time I remember my interest in science was sparked. I was amazed that we could actually predict the type of genetic traits we would get. Anyways…I am sure none of you wanted to know all that!
This time of year seems to bring on the fruit fly infestations. Use this trick to remove them from your home and in the meantime, I will get some more ideas coming!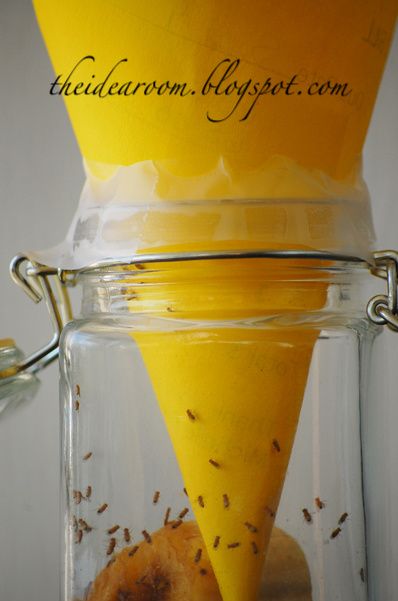 JOIN OUR NEWSLETTER
Would you like more Recipes, DIY, Printables and Organization Ideas?
---
Subscribing to the newsletter will enable us to periodically send you creative content exclusively for Idea Room subscribers.
*View our Privacy Policy here.