I recently shared a post over at the KidsSteals blog and shared how to make some fun Watermelon shaped sugar cookies.  No watermelon was actually used in these cookies thank goodness, they just look like fun summery slices of watermelon.  I wanted to make sure that I shared them here with my readers as well in case you may have missed them.  They are really very easy to make and just take a little bit of food coloring and your favorite sugar cookie recipe (or use Our Favorite Sour Cream Sugar Cookie Recipe) to whip up a batch for yourself.  
Summer officially comes to an end this Labor weekend, but we are still enjoying warm temperatures and trying to make summer last as long as possible when we can.  These would be fun to take to your Labor Day BBQ and activities to share with your friends and family.
I will share with you how I made them.
1.  Separate your cookie dough into two halves and set one half aside. 
2.  Take the other half and split it in half again so that you have three total sections of cookie dough. 
3.  Add several drops of red food coloring to the largest ball of cookie dough and thoroughly mix the color in evenly.  
4.  Color one of the quarters green and then leave the third one uncolored.
5.  Roll out each section of cookie dough separately so that it measures about 1/4 inch in height.
6.  Take a round cookie cutter or a cup and cut out circles in your red dough.
7.  Cut thin strips (I cut mine about 1/2 inch)  off of  the green and white cookie dough with a pizza cutter.
8.  Cut the red circles in half and place on a greased cookie sheet.
9.  Take a strip of green and line it up on the bottom of each red half circle.
10.  Add a strip of white so that it is the middle of the red and green but on top of them both.
11.  Take your clean finger and gently press the white into the red and green dough to ensure it stays in place.
12. Trim any excess dough on both ends using your pizza cutter.
13.  Gently press a few mini chocolate chips into the red area to represent the watermelon seeds.  I placed the pointed part of the chip down.
**Optional–Take a scalloped (flower) cookie cutter and use it to cut out a bite mark in your cookie.
Bake at the required temperature and time limit for your recipe.  Then enjoy with your favorite people or give them away!
And because the watermelon cookies were not cute enough I decided to experiment with the left over cookie dough and see what other fruit cookies I could come up with.  You know how much I enjoy playing with food right?  I made some lemon and orange slices and used the leftover green from the watermelons to make a couple of lime cookies…but must have forgotten to take a picture of them.
Simply take a round cookie cutter, or a glass, and cut out round cookie shapes from your dough.  Cut the circles in half.  Then cut some more strips of the uncolored dough with your cookie cutter to make the white sections on the lemon and orange slices.  Bake as usual.
For the apples, I cut out circles again and then pinched in the top and the bottom to make the apples indented.  Then I cut a smaller circle in the uncolored dough and placed it on top of the colored apple.  Add  a couple of regular sized chocolate chips to make some apple seeds and a cut piece of Black Licorice for the stems.  Add a leaf if you would like by just molding a piece of green dough into a leaf shape.  Bake as usual.
Serve up your delicious fruit.  I may have finally been able to eat my recommended daily allowance from the fruit group that day!  I would love to serve these at a baby, bridal shower or party due to their uniqueness.  Aren't they fun?  And the kids love to help with these kind of things at my house.  Great project for a rainy day now that the fall weather is right around the corner.
Linking up here: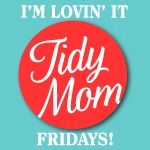 JOIN OUR NEWSLETTER
Would you like more Recipes, DIY, Printables and Organization Ideas?
---
Subscribing to the newsletter will enable us to periodically send you creative content exclusively for Idea Room subscribers.
*View our Privacy Policy here.