Happiness and sunshine…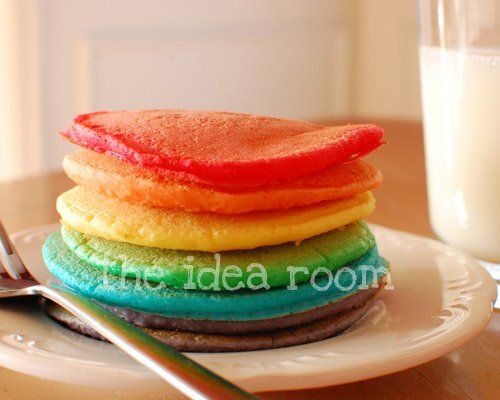 We are in the full blown January blues over here. Too much cold and snow and not enough sunshine. These rainbow pancakes are perfect for these long and lingering winter days.
I wish I had come up with this idea myself. I first saw these when Lorie from Be Different, Act Normal had featured them from i am mommy. You also need to check out i am mommy's Rainbow Stuffed French Toast…YUM!
So, on a day we were feeling a bit blue…we whipped up these Rainbow Pancakes for dinner. So easy, yummy and FUN to eat.
I simply made up a double batch of buttermilk pancakes using this recipe:
Buttermilk Pancakes:
2 cups all-purpose flour
2 tablespoons sugar
2 teaspoons baking powder
1 teaspoon baking soda
1/2 teaspoon salt
2 eggs
2 cups buttermilk
1/2 cup milk
1/4 cup unsalted butter, melted
Instructions: Combine the flour, sugar, baking powder, baking soda and salt in a large bowl.
Lightly beat the eggs with the buttermilk, milk and melted butter.
Just before you are ready to make the pancakes, add the liquid ingredients to the dry ingredients all at once, stirring just long enough to blend. The batter should be slightly lumpy.
If you want to add fruit or nuts, stir them in now, or you may sprinkle them on the pancakes while they are on the griddle.
Heat a lightly greased griddle or heavy skillet over medium-high heat (375 degrees on an electric griddle).
Pour 1/4 cup batter per pancake onto the griddle or skillet, spacing the pancakes apart so they do not run together. When bubbles appear on the surface of the pancakes and the undersides are lightly browned, turn and cook for about 2 minutes longer, until lightly browned on the bottom.
Serve immediately.
(yields about 24 four-inch pancakes.)
*Before cooking the pancakes, I separated the batter into 7 bowls and added food coloring to make the colors of the rainbow. Then cooked them by following the rest of the intructions.
Need another winter pick me up or a great Birthday Party cake idea? Check out this Rainbow Cake!
JOIN OUR NEWSLETTER
Would you like more Recipes, DIY, Printables and Organization Ideas?
---
Subscribing to the newsletter will enable us to periodically send you creative content exclusively for Idea Room subscribers.
*View our Privacy Policy here.