I haven't posted a recipe for a while and thought I would share this super yummy Chocolate Peppermint Roll from Hershey's. We made this a while ago and it was so good. We only ate half of it and then decided to freeze the rest for later. We ate it for the second time when it was still frozen and it tasted just like an icecream cake roll! YUM! If you love peppermint and chocolate, you will definitely want to give this one a try!


**We added crushed candy canes to our filling and used 1/2 tsp. peppermint extract.
Ingredients:
4 eggs, separated
1/2 cup sugar plus 1/3 cup sugar, divided
1 teaspoon vanilla extract
1/2 cup all-purpose flour
1/3 cup HERSHEY'S Cocoa
1/2 teaspoon baking powder
1/4 teaspoon baking soda
1/8 teaspoon salt
1/3 cup water
PEPPERMINT FILLING:
Beat 1 cup (1/2 pt.) cold whipping cream in medium bowl until slightly thickened. Add 1/4 cup powdered sugar and 1/4 cup finely crushed hard peppermint candy or 1/2 teaspoon mint extract and a few drops red food color, if desired; beat until stiff.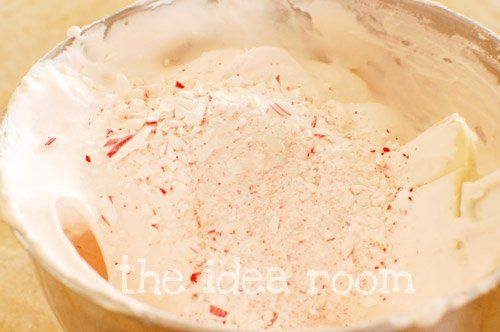 CHOCOLATE GLAZE
2 tablespoons butter or margarine
2 tablespoons HERSHEY'S Cocoa
2 tablespoons water
1 cup powdered sugar
1/2 teaspoon vanilla extract
Directions:
1 Heat oven to 375°F. Line 15-1/2×10-1/2×1-inch jelly-roll pan with foil; generously grease foil.
2. Beat egg whites in large bowl on high speed of mixer until soft peaks form; gradually add 1/2 cup sugar, beating until stiff peaks form. Beat egg yolks and vanilla in medium bowl on medium speed 3 minutes. Gradually add remaining 1/3 cup sugar; continue beating 2 additional minutes.
3. Stir together flour, cocoa, baking powder, baking soda and salt; on low speed, add to egg yolk mixture alternately with water, beating just until batter is smooth. Using rubber spatula, gradually fold chocolate mixture into beaten egg whites until well blended. Spread batter evenly in prepared pan.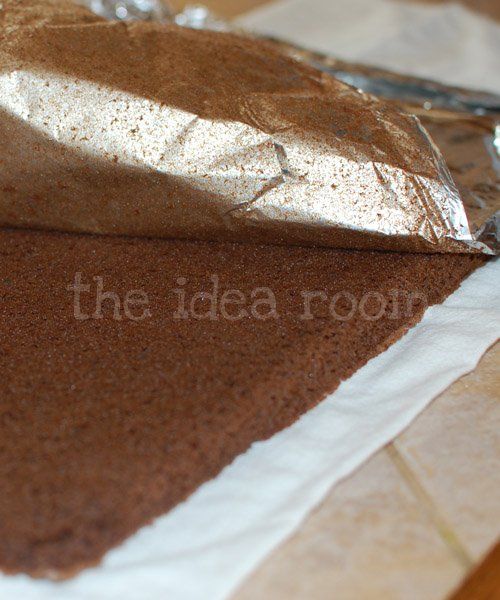 4. Bake 12 to 15 minutes or until top springs back when touched lightly. Immediately loosen cake from edges of pan; invert on clean towel sprinkled with powdered sugar. Carefully peel off foil. Immediately roll cake in towel, starting from narrow end; place on wire rack to cool completely. Prepare PEPPERMINT FILLING. Carefully unroll cake; remove towel. Spread cake with filling; reroll cake. Glaze with CHOCOLATE GLAZE. Refrigerate until just before serving. Cover; refrigerate leftover dessert. 10 to 12 servings.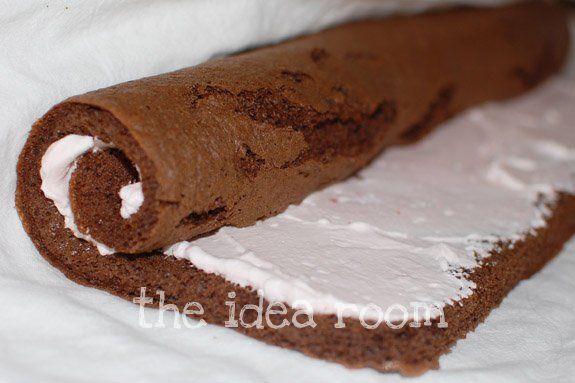 Melt butter in small saucepan over very low heat; add cocoa and water, stirring until smooth and slightly thickened. Do not boil. Remove from heat; cool slightly. (Cool completely for thicker, frosting-type topping) Gradually add powdered sugar and vanilla, beating until smooth. About 3/4 cup glaze.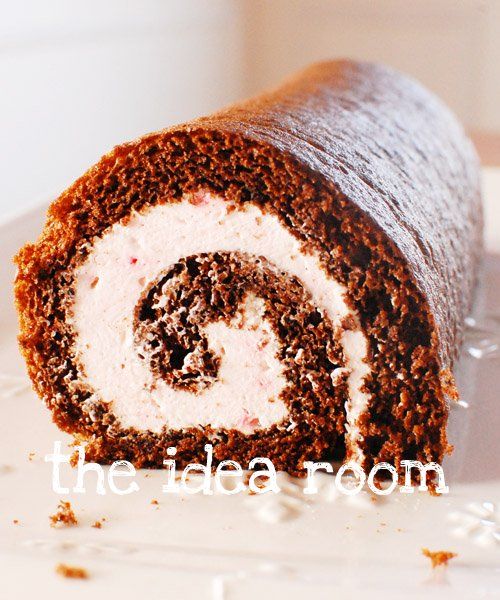 ★Amy
JOIN OUR NEWSLETTER
Would you like more Recipes, DIY, Printables and Organization Ideas?
---
Subscribing to the newsletter will enable us to periodically send you creative content exclusively for Idea Room subscribers.
*View our Privacy Policy here.