This wheat bread recipe is super easy to make and very good. So good the kids will gobble it right up! This bread also freezes well for later use.
I have been super busy with intermittent bouts of laziness this week. Ever been there? I know I gave you a sneak peek to some home projects we have been busy with earlier. I wanted to share some of them with you but must admit, I haven't had much motivation to write up a post yet! I've been feeling a bit worn out this week. But no worries, I plan to have them ready for you next week. Plus that will give me the weekend to finish up some loose ends we didn't quite get finished. So please forgive me. I do have a yummy wheat bread recipe for you that I promise is fail proof!
WHOLE WHEAT BREAD
I am NOT a bread maker. I want to be, but it just is something I have never been great at! But I did find a recipe that even I can make each time with GREAT results.
My kids devour this when I make it. It is so simple and doesn't take much time at all to make. I have now made several loaves and they have turned out great every time. That is progress people! Go ahead and give it a try and let me know what you think. This bread also freezes well for later use. I just slice it before freezing and then pull it out as it is needed. I love it warm with some homemade freezer jam. YUM!
WHEAT BREAD
For a printable version of the wheat bread recipe click below:
Wheat Bread Recipe
This wheat bread recipe is super easy to make and very good. So good the kids will gobble it right up! This bread also freezes well for later use.
Ingredients
1

cup

warm water (110-115 degrees F)

1

Tbs

milk

2

Tbs

oil

2

Tbs

honey

2

Tbs

brown sugar

1

tsp

salt

1 1/2

cups

all-purpose flour

1 1/2

cups

whole wheat flour (I use Red Mill Pastry Wheat Flour)

2

tsp

instant active dry yeast (active dry yeast will work also)
Instructions
*Combine first 6 ingredients in a large mixing bowl; stir.

Add flours and yeast, and knead until dough is smooth and elastic, about 10-15 minutes. Place dough in a greased bowl, turning once to grease top. Cover with a clean towel and let rise until doubled, about 40 minutes.

Punch dough down; knead for a few minutes until smooth and then form into a loaf. Place in greased loaf pan and cover. [more info on loaf pan sizes] Let rise in a warm place until almost doubled in size, about 30 minutes.

Bake at 350 degrees for 30-35 minutes. If loaf starts browning too soon, lightly lay a piece of foil on top of the loaf to prevent too much darkening.

Remove bread from oven and allow to rest in pan for a few minutes. Remove to a wire rack and cover with a cloth. Slice and enjoy while still warm!
BREAD LOAF PANS
We have these Wilton Long Loaf Bread Pans (can be seen in the video too) and love baking our bread recipes in them. You can find them here. These pans tend to bake the bread better without leaving you with burnt edges and a uncooked center!
I usually like to double the recipe when I can so that we have enough to store some in the freezer to pull out later. It is like a fun little surprise that you can discover later when you are desperate for a good snack and you don't feel like making something!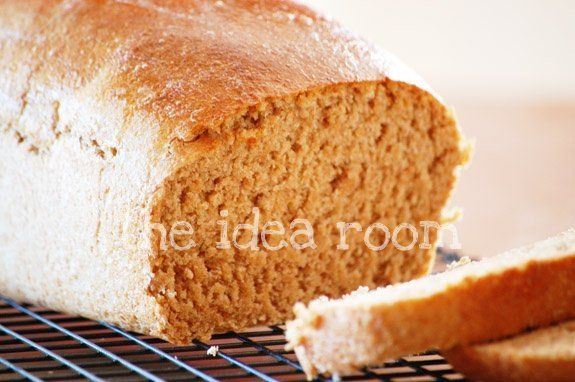 One of the best ways to save some time and money is to implement a good meal planning system or strategy.
Want to grab a copy of our meal planner to use in your own home?  Click on the button below. When your get your meal planner there will be specific instructions for how to put it together. I hope you enjoy it! This has made a difference in our home and I hope it can do the same for you! Feel free to ask any questions if you have any! I am happy to answer them!
BREAD RECIPES
If you liked this recipe, you may want to check out some of our past recipes:
JOIN OUR NEWSLETTER
Would you like more Recipes, DIY, Printables and Organization Ideas?
---
Subscribing to the newsletter will enable us to periodically send you creative content exclusively for Idea Room subscribers.
*View our Privacy Policy here.