We started a new tradition this Valentine's Day at our home. I made a "love pillow" to help the kids do kind but anonyomous things for one another. The rules are that if you find the pillow on your bed, then someone has done something in secret for you. You then have 24 hours to do something nice for someone else (ie. make their bed, hang up their wet towel, do one of their chores, hang up their laundry, etc.). When you have completed it you put the pillow on their bed.
It has been pretty fun to see how excited and secretive the kids get about what they are going to do. My child who has difficulty making his own bed, suprised me the other morning by making my bed! Hmmmm! We have seen some good things happening here….we hope it becomes a long-standing tradition.
You can do this at your home to. You don't have to make a pillow, just use a designated stuffed animal or just leave a note. But if you do want to know how I made this pillow, click here for the Tutorial.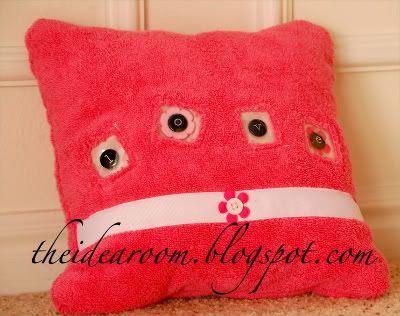 JOIN OUR NEWSLETTER
Would you like more Recipes, DIY, Printables and Organization Ideas?
---
Subscribing to the newsletter will enable us to periodically send you creative content exclusively for Idea Room subscribers.
*View our Privacy Policy here.