You all should know by now my love for chocolate, but even better…is the combination of peanut butter with my chocolate. When I was a kid, I would sneak a spoonful of peanut butter and dip it into the bag of chocolate chips. My mom did NOT love this little trick.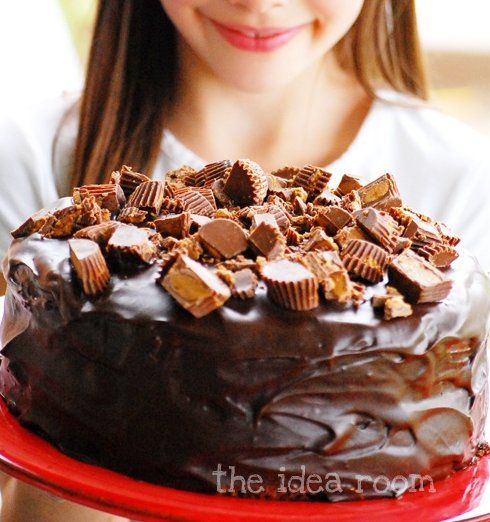 Apparently I have passed this love on to my eldest daughter. She recently celebrated a birthday and could not make up her mind about what kind of cake she wanted. She wanted a "grown-up" cake and not a "silly" little girl cake. Then I remembered seeing this cake over at Bakerella. I knew I had to make it for her.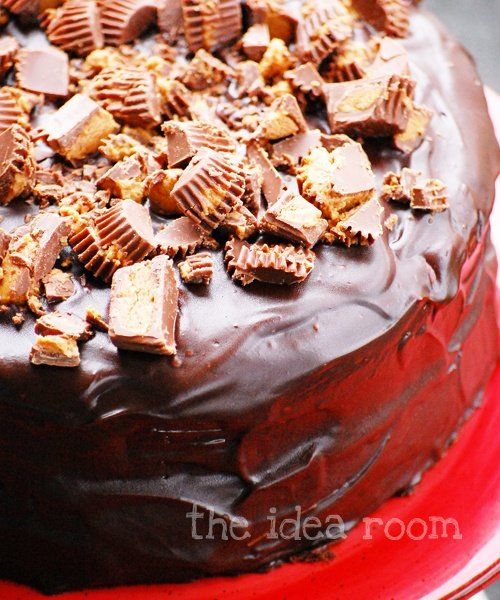 She loved it…and so did I. Really one of the easier cakes I have made. If you like peanut butter and chocolate, you will love this.
For a printable version of this recipe click here.
Peanut Butter Cup Cake
*recipe originally from Parents.com
1 devil's food cake mix
3 eggs
1 cup buttermilk
1/2 cup vegetable oil
2+ cups chopped peanut butter cups
8 oz. dark chocolate, chopped
1 cup heavy cream
1/2 cup peanut butter
Preheat oven to 350 degrees. Coat two 9-inch cake pans with non-stick cooking spray. Line with wax paper and coat paper.
In a large bowl, beat cake mix, eggs, buttermilk and vegetable oil on low for 30 seconds. Increase speed to medium-high and beat for 2 minutes. Scrape down sides after 1 minute. Fold in 2 cups of the chopped peanut butter cups.
Pour batter into pans and bake at 350 degrees for about 30 minutes or until toothpick inserted comes out clean.
Cool cakes completely.
Place chopped dark chocolate in a medium bowl. Bring cream just to a boil and then pour over chocolate. Whisk until chocolate melts. Add peanut butter and whisk until smooth.
Trim each cake layer so the tops are flat. Place one layer on a cooling rack and pour 1 cup frosting on top. Spread evenly with a spatula. Add second layer and pour remaining frosting over top and sides of cake. Smooth out with spatula.
Allow frosting to set for a minute and gently press remaining chopped peanut butter cup pieces all over top and sides of cake. Place in refrigerator for about an hour to set. Remove and serve.

JOIN OUR NEWSLETTER
Would you like more Recipes, DIY, Printables and Organization Ideas?
---
Subscribing to the newsletter will enable us to periodically send you creative content exclusively for Idea Room subscribers.
*View our Privacy Policy here.